February 11, 2022 /
Forecasts
Why Only Some Alts Can Follow Bitcoin?
The forecast that only 20% of altcoins will support Bitcoin growth is fully justified so far.
We can see how XRP returns to TOP 6 cryptocurrencies, and Shiba Inu takes a course at a price of $0.01. Meanwhile, Solana, Cardano, Polkadot and other coins are in a small minus, while the local growth in bitcoin is still in force.
BTC
Bitcoin has paused growth and may require a return of $43,000 to restart it. And this really happened, but the price could go a little lower, for example, to $42,600.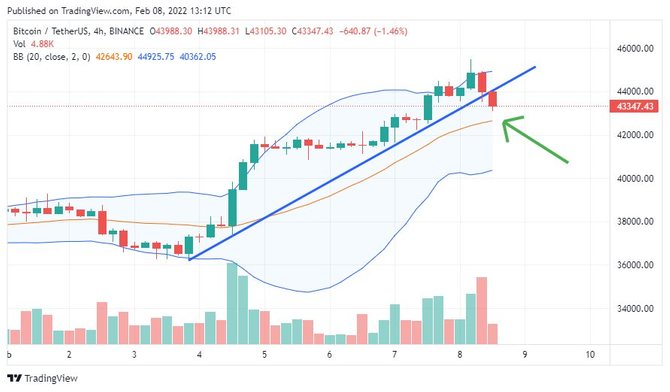 In this case, we are following Bollinger bands, and if we hold at the upper border on the four-hour chart, this will be a confirmation of the current strength of the bulls. And then it may very well be that the price of $48,000 will be reached this week.
A fall below this level does not cancel the local growth and the $48,000 target, but you will probably have to go to it through a stronger correction, even the possibility of testing the strength of the $38,000 level.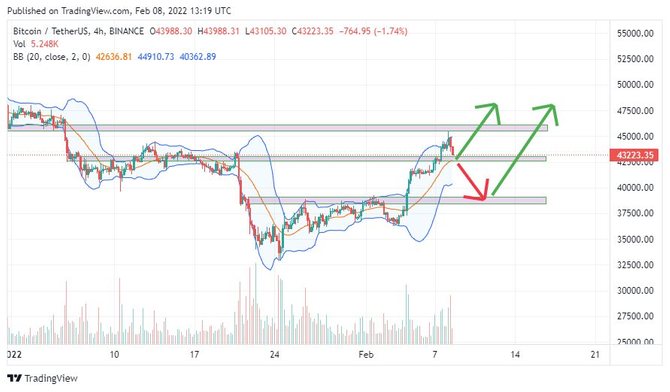 But this is only a small part of the global picture, we recall that there is not a single correct indicator and everyone chooses key points and tools for himself in order to decide on the current state of the market.
And as long as the price is below $48,000, we tend to view the current situation solely as a bounce, and not a global reversal.
At the same time, of course, we want to see $50,000 and $60,000 and $100,000. But in order to give such a forecast, we need to see the real reasons for growth.
There is actually good news. For example, the Canadian division of the audit company KPMG decided to invest in Bitcoin and Ethereum. And there is also a prospect, so, in February, the Biden administration promised to show its cryptocurrency regulation project and just imagine what will happen if it turns out to be loyal enough to the industry.
Also, as the price rises, institutionals return to the market, this week they brought $85 million to crypto funds, of which $71 million flew directly to Bitcoin.
Glassnode analysts once again got hope that we hit the bottom when we were falling $33,000. These reports are publicly available and you can read them yourself, unless we draw your attention to this chart.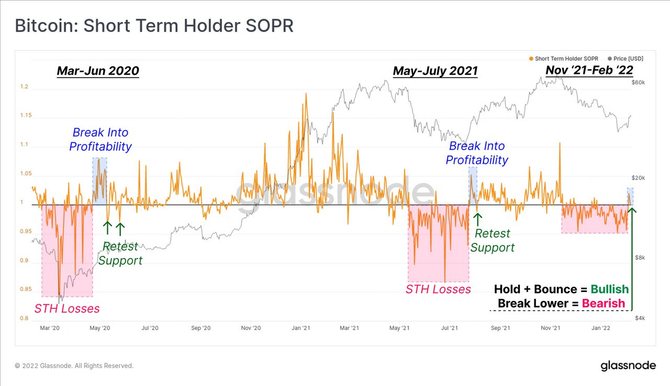 It shows the dependence of the cryptocurrency market state on whether short-term investors receive profit or loss. The indicator is important, as it indicates the presence of demand, that is, a buyer in the market. Now it is on a profitability retest, if it goes up, it will give a signal to move to a bull market, but if it goes down, then the bears are still with us and it was just a temporary respite.
SHIB
SHIBA INU has gained more than 50% in last days.
And even now the price has rolled back a little, resting on another resistance. They do have a plan to reach the $0.01 rate with coin burning. Bigger Entertainment is stimulating this process, conducting various activities so that Shiba Inu holders spend their cryptocurrency on goods and services, and part of these funds will be burned. Thus, as the emission decreases, each individual token will grow in price. They also hold big parties like they did in December when they burned 176 million SHIB and the next big event is scheduled for February 14th. If at that time Bitcoin does not change its mind about going to $48,000, we can get another local Shiba Inu pump.
There is more good news for this coin, so we should see the testnet of the announced Shibarium update soon. True, the developers do not give any specific dates, we will not be surprised if they are just waiting for the most opportune moment, for example, another Bitcoin rise, in order to maximize the pump. And a very interesting study, which says about a 2-fold increase from 500,000 to 1 million addresses between November last year and February, these are long-term owners of Shiba Inu.
XRP
The main news for XRP today is that it has again surpassed Cardano and Solana in terms of market cap and is on the list of altcoins that lead in growth over the past seven days. Moreover, the price almost returned to the boundaries of the triangle on the weekly chart, which was fundamental for its course over the past year.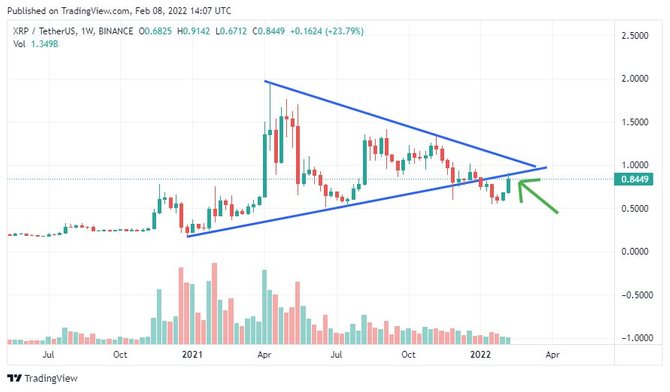 Also, Alessio Rastani pointed to an increase to $8.7, and the first trigger that this is possible during this year was an increase above $0.8, which we have already received.
It looks, as they say, good, but where does the strength for the second day of pampas come from? The secret lies in the comments of the lawyer who is following the Ripple vs. SEC process.
But people are already tired of anxiety, they want to hear something good, and therefore they have drawn the conclusions that they themselves have come up with for a long time. As a result, everyone believed that very soon the court would justify Ripple, and the price of XRP would please everyone with a flight to the moon.
It is important to understand that the court decision will be a fundamental factor for XRP and all preliminary statements and comments from Ripple supporters, even if these people are lawyers, they were all subjective and could give a distorted picture of what is happening. So stay alert and stay tuned. The next disclosure of documents in the trial will take place on February 17.
ADA
Let's take a look at the Fear and Greed Index indicator, which has now returned to the neutral zone.

This has not happened since November, when Bitcoin was even more expensive than $50,000. And also look at the altcoin season index, which cannot decide on further movement.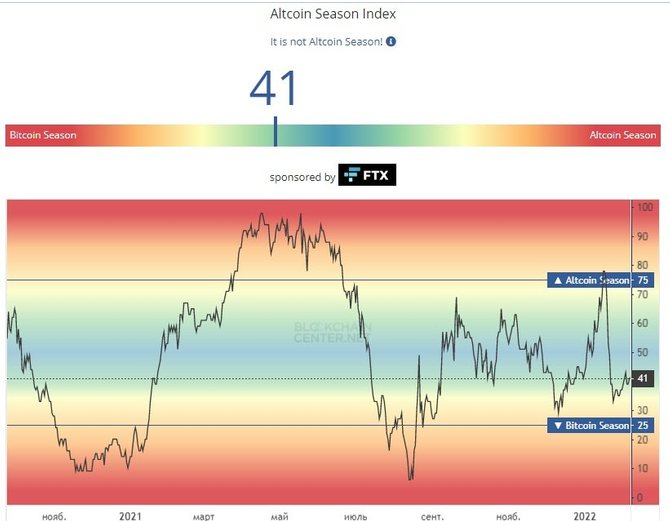 In total, there is no fear in the market, but altcoins for the most part stand still. Why might this be? Our opinion is that buyers have become more picky and want to understand the reason why they should take this or that coin. And if there is such a reason for Shiba Inu and XRP now, then for Cardano, on the contrary, there is none. Now, in general, all popular blockchain platforms, such as Solana, Polkadot, Cosmos, etc., do not feel the best way, the hype on them has passed. And Cardano has an additional problem – they do everything very slowly.
Not so long ago, we really wanted to believe that Cardano got a second chance and its ecosystem would finally work. The decentralized exchange SundaeSwap was launched, the first liquidity came to the network and the brake pedal was pressed again.
After that event, only two active decentralized applications were added to the blockchain, one of them has the amount of blocked funds of $98,000, and the second one has zero.