Why Did Elon Musk Crash Bitcoin By 16% In Just a Day
Bitcoin collapsed by 16%, market capitalization lost $ 200 billion, and Elon Musk was to blame for everything. Now Twitter is urging the regulator to pay attention to its market manipulation.
Note, that Elon did not just crash Bitcoin, he also left extremely direct hints of Tesla's new investments in cryptocurrency. XRP is best suited for this role and Ripple supporters are already expecting some cool new news.
Tesla
Just one tweet about Tesla stopping accepting BTC payment provoked a drop of $ 9,000, or as much as 16%. The cryptocurrency market lost $ 200 billion of capitalization, exchanges liquidated traders' positions for more than $ 3 billion, most of it, of course, fell on longs on Bitcoin. So, Elon said that Tesla no longer accepts bitcoins for payment, because a lot of electricity is spent on mining, coal is burned to obtain it, which is very harmful to nature.
Many immediately asked Elon what had changed in mining and how he did not know that he needed electricity before. They also provided graphs that show the real ratio of the costs of mining and servicing the banking system.
There were also more harsh statements, for example, the popular trader Dave Portnoy commented on the situation as "dark shit".
But there were those who sided with Musk. They noted that the message said that Tesla is not going to sell Bitcoins. Although they did it in the last quarter for 10% of the available quantity, but now they will no longer be. And there is also a conspiracy theory that Ilona was forced to do this by the company's board of directors, because he is not solely running Tesla.
But let's pay attention to the ending of his message, about the opportunity to invest in other cryptocurrencies that consume 1% of electricity from Bitcoin mining.
Is it Cardano, Polkadot, or XRP? But in reality, it could be XRP, because Elon supported Dogecoin, Ripple can now lend a helping hand. And if Tesla is going to buy other cryptocurrencies, then such a dump was just in their hands, they brought down prices in the entire market and bought.
S&P 500
So far, everyone threw stones at Elon Musk and cited evidence of his incompetence in the matter of electricity consumption. Which is largely true, banks spend much more electricity on servicing fiat currencies, but Tesla is in no hurry to abandon the US dollar and Chinese yuan.
Another important reason for BTC drop, namely the growth of inflation in the United States, faded into the background.
According to data for April, annual inflation in the United States was 4.6%, the last time such figures were 13 years ago.
In theory, high inflation should accelerate stock prices, because money depreciates, therefore, it needs to be spent as soon as possible. And the faster you spend them, the higher inflation becomes, this is such a vicious circle from which you cannot get out without the help of a regulator, which has only one instrument of influence – to come and make extra money from the market.
When inflation rises, people try to defend against it and move funds into high-yield assets, such as stocks, to earn more than inflation destroys. And there is also a growing demand for defensive assets such as gold, where emission seems understandable and limited.
Now, Bitcoin can be safely included in this asset class. That is, news about high inflation should, on the contrary, push the markets to buy, especially bitcoin, where the emission is as limited as possible and the supply on the market is constantly decreasing.
Thanks to the Internet, investors are aware of how the Fed will fight inflation, namely raising rates and rolling back quantitative easing.
Probably, today or tomorrow we will hear the regulator's promises to keep the zero rate for as long as possible, because they expected such inflation and, in general, the situation was under complete control. These verbal interventions will have to end the market downturn this time, unless something unexpected happens, such as the bankruptcy of a large fund.
For the crypto market, this is a good scenario, because another collapse, as it happened in March 2020, is completely useless for us, and the fact that Bitcoin will collapse in the event of the collapse of the S&P 500 has a probability of at least 90%.
Many times, when analyzing the price of bitcoin, we mentioned the 21-week moving average. And so the price and this line met, albeit thanks to the collapse arranged by a couple of Elon Musk and Fed: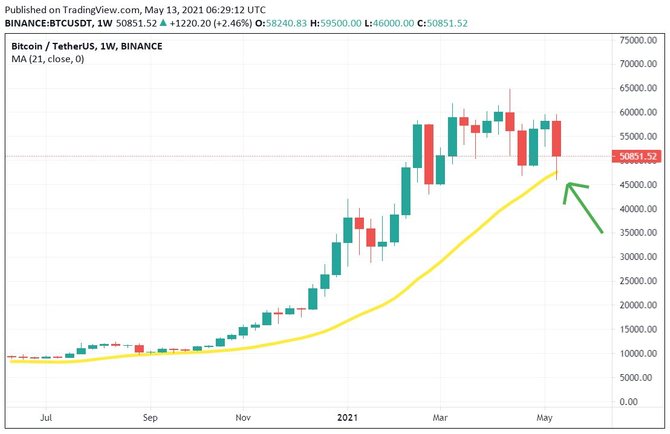 Moreover, the price bounces off this level, which is confirmation of the bull market that we received repeatedly in 2017. Therefore, if the bulls withstand the current dump and drive the price higher, it will be possible to talk about continued growth for another two to six months and wait for new highs from bitcoin and the entire market.