January 28, 2022 /
In the world
Why Fed Could Destroy Stock And Bitcoin In 2022
In this article, we will discuss the last Fed meeting, what exactly Powell scared the markets so much and what will happen to inflation now.
We will also discuss Bitcoin price, because the world's leading financial holdings and world-famous investment funds do not share the pessimism about the fall and see $90,000 this year, and in a few years they even call the price of $1 million.
Fed
In anticipation of Fed meeting, the US stock market was growing, and Bitcoin reached $39,000 at the moment. And here are the results of the meeting: Fed, as expected, keeps the rate at the same level, and tapering will end in March.
In fact, after Biden supported Powell's candidacy for a second term as chairman of Fed, his rhetoric became tougher. But this time he really said a lot of things that are very scary for the markets.
The first is the inflation rising. Today it is already equal to 7% in United States, and earlier we were promised that it would grow a little more and then it would definitely decline.
Then, according to the new version of Powell, there are risks that inflation will grow until mid-2022, if not further and before the end of the year, the Fed is unlikely to be able to return it to the desired level of 2%.
The second trouble is rate raising. Previously, Fed talked about plans to raise rates 3 times by 25 basis points. Now, Powell said that this year Fed will respond to inflation and they have many opportunities to change the rate. We are talking about Fed meetings, which will be exactly seven more before the end of the year, and it turns out that, in theory, at each of them they can raise the rate if inflation data so requires.
And the third important thing is the shrinking of Fed's balance sheets, which are about $9 trillion today.
Powell stressed that tapering will end in March, the rate will rise for the first time and sales will begin. He also added that Fed's balance sheets are very large and require significant reductions. Powell added that the sales would be conducted "in an orderly and predictable manner" so as not to crash the markets.
Note, that Fed really does not pursue the goal of crashing the stock market and with it cryptocurrencies, gold, and so on. But now there is growing inflation on the one hand, and on the other hand, the threat of falling markets. And so they will have to play the game when they need to raise the rate and sell assets from the balance, but at the same time not arrange a new crisis. In 2018, such actions, with the simultaneous sale of assets and raising the rate, resulted in a correction in the S&P 500 by 20%. How they will do it in 2022, we will find out very soon, the next meeting, when the Fed will start raising the rate on March 16.
BTC
Jurrien Timmer at Fidelity Investments, believes that $35,000 is a fair Bitcoin price and we are unlikely to go much lower than it.
The analyst warns that deviations from the model could be significant, but the current price based on his demand model is at $39,000 and the lower we are from that level, the more oversold bitcoin is. At the same time, the bitcoin-to-gold ratio indicates that the price is near the bottom.
And we also see a bullish divergence forming on the short-term momentum chart.
Note that his model points to $110,000 per bitcoin in 2023, and during this year prices may already rise above the current high of $69,000.
Here is a forecast from Fidelity, we recall that we are also waiting for a rebound in bitcoin by $40,000 and even higher, but in our understanding it will be only a temporary increase and then the rate may go to a new bottom.
Many people think that at the bottom you just need to buy more and average, not be a hamster and wait for prices to go up again. If your analysis shows that such a coin is sure to grow, then, of course, your strategy is correct.
Just look at these charts. Litecoin after the last peak lost 90% and exceeded it last year by only a few tens of dollars: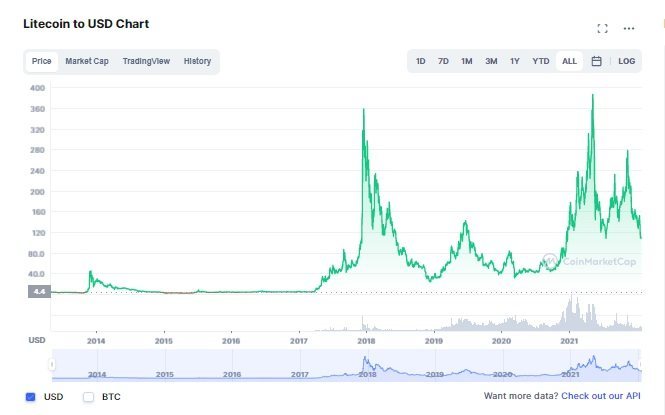 TRON, the TOP 8 project in terms of TVL today, is a fast and cheap blockchain with a large number of users, but the price has not reached the highs of January 2018: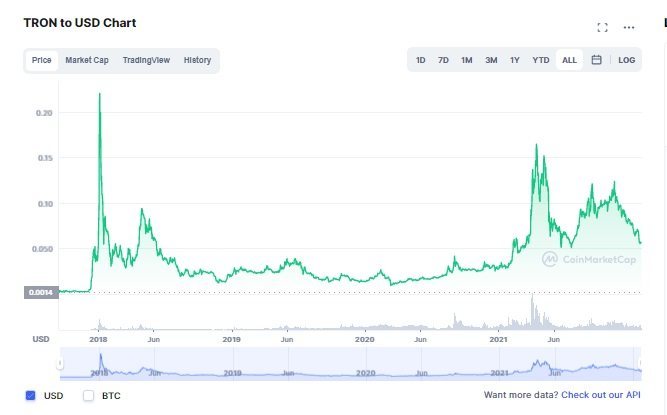 Stellar is like XRP, only no one judges them and there are agreements with a number of countries, including Ukraine, to participate in the development of a national digital currency: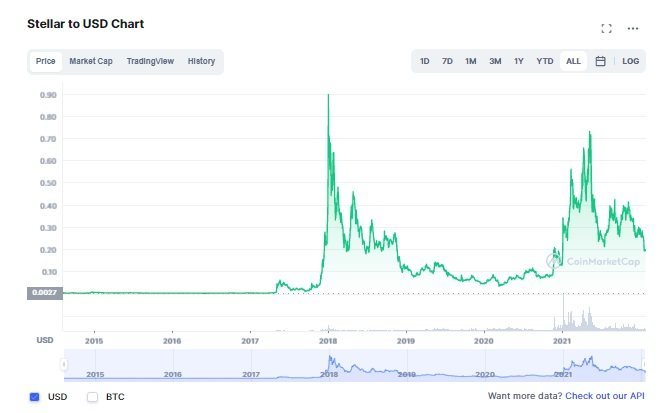 And how about Zcash, it was they who came up with the zero-knowledge proof on which many second-level protocols for Ethereum and Mina, beloved by many, are now built: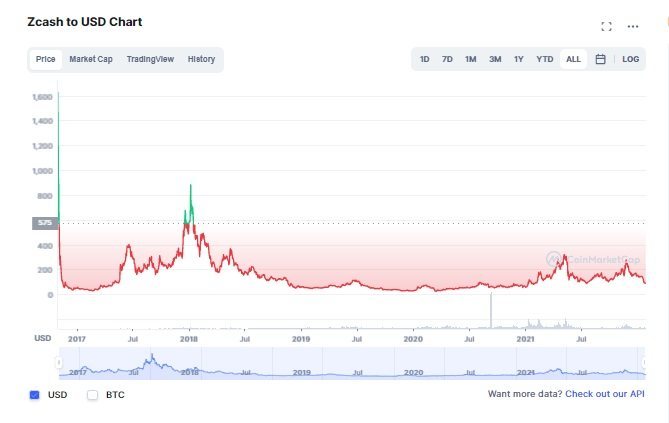 We can keep showing similar charts for a very long time, so if you believe your coin is guaranteed to make a new high, by all means, hold on and buy more. But we agreed to talk about cryptocurrencies without rose-colored glasses, and the reality is that even top projects can severely deceive your expectations.
Now let's move on to the good news. The first is the Tesla report. According to company documents, they are still investing in Bitcoin. In the fourth quarter of last year, Elon Musk didn't buy anything, but he didn't sell anything either.
And the next good news is the report of analysts from the investment fund ARK Invest, which was founded by Kathy Wood. They prepared a report in which they analyzed new investment ideas and predicted the price of bitcoin at $1,360,000 in 2030. This will become possible because 10% of the supply will be used as a currency in developing countries, 1% will settle in government reserves, 5% will be owned by the richest people in the world, 2.5% will be institutional investments, 5% will be in corporate reserves and also Bitcoin will take half of the gold market. In total, the capitalization of bitcoin after eight years was estimated at $28.5 trillion.