January 27, 2022 /
trading
When Will Bitcoin Fall? Is It Time To Sell Altcoins
Cryptocurrency market will have a better opportunity to sell perhaps in the coming days. That's right, it's to sell but not to buy.
Today we will tell you what to expect from Bitcoin price and why it's time to get rid of other altcoins, discuss the latest news of cryptocurrency regulation in the United States and Russia. Let's analyze IMF's expectations of the world economy for 2022, because Bitcoin is already too big to ignore global processes.
BTC
Yesterday Bitcoin reached $38,000, a figure that is completely unimpressive if you remember what prices were last year. But if we assume that a couple of days ago we were falling by $33,000, this is a very good result. However, today the price has dropped to $36,000 again. This has already happened in the market and after such a vigorous recovery, the market falls to a new bottom again.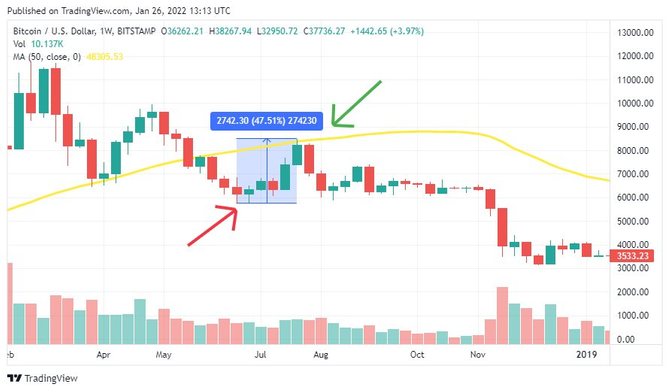 In 2018, it was during such a fake reversal that the price rose by 45% at the moment and calculate for yourself how much it will be if we grow from the current local minimum now to $ 48,000.
We cannot know the future and do not give financial advice, but we remember the history and that's why here and now we prefer to exercise maximum caution on Bitcoin. And this rebound, which has just begun, and it is still unclear where it will end, it is logical to use it to fix a position on altcoins if you are very stuck in them.
The current market shows greed for altcoins, they are bought faster than bitcoin at the first successful opportunity, so it is logical to expect local pumps and a good opportunity to exit before falling to the bottom of the "crypto winter", which threatens drawdowns of 90% or more from current highs. And we remind you that not all altcoins last year updated their local highs since January 2018, therefore, this trend may repeat, and other coins, except Bitcoin, with an eye to the next 3-4 years, need to be extremely careful. You can never get anything in the end.
Again, this is not financial advice, but just a personal point of view and you should make any decisions yourself.
Here is another point of view, from the famous trader Tone Vays. His forecast for the short-term distance is a rebound to $40,000 and then to $44,000. And there is an even more optimistic option, when the current rebound will turn into a new growth and in 2022 we will again see bitcoin at $ 69,000 and above.
The past 2021 has shown that Bitcoin is capable of doing completely unpredictable things, that is, writing a new story. Why not do it again, in this case we will keep in mind a similar scenario and in case bitcoin comes back to $48,000, we will monitor further actions and decide whether we have broken the bear market or not.
News
Let's move on to the next topic and analyze the regulation of cryptocurrencies in the world. The hopes of the entire global crypto community are now pinned on this country, because if they give the green light, then other countries will start doing the same.
Already in February, Biden administration should present its draft regulation of cryptocurrencies. This will only be a preliminary plan, which will propose what Congress should vote on and what functions the Securities and Exchange Commission and the Commodity Futures Trading Commission will perform. Then the positions of the authorities and regulators will be coordinated and the document will acquire a complete concept.
The good news is that this will take some time. However in February we may be scared by terrible laws, but it will take several more months, if not a whole year, before they really work. The bad news is that Biden administration is doing this. They are Democrats and there are people in their ranks who plan to impose serious restrictions on cryptocurrencies. But the supporters of cryptocurrencies in Congress are Republicans and a serious political confrontation may begin here. Interestingly, in this case, Bitcoin may become one of the main political topics in the autumn by-elections to Congress. And where politics is involved, there is always populism and thoughtless statements.
In Russia, there is a struggle between Central Bank and everyone else. What is really good is that politicians are completely confused about the timing, talking about six months, then about the end of 2022 and then even about 2023, when new laws will be adopted. So we have a certain delay.
IMF
We also want to discuss the actions of the IMF. The organization has not abandoned its practice of blackmail and called on El Salvador to abandon Bitcoin as a legal means of payment. Now El Salvador and the IMF are discussing a new loan, we are talking about the amount of a billion dollars. Imagine such a situation, the IMF allocates a billion, and El Salvador buys the bottom of bitcoin for the "whole cutlet", we are even afraid to imagine the level of burnout from the leadership of such an all-powerful organization. So far, the country's president, Nayib Bukele, has provided the IMF with this answer on his official Twitter.
Let's analyze separately the IMF forecast regarding the slowdown of the world economy in 2022, which became an occasion for many fans of armageddon to recall the terrible crisis of 2022. The indicator of the US stock market screams that it has been overbought since 2017, and forecasts that this is the end and everything will collapse soon are heard from about the same time, if not earlier. And what really scares the IMF so much that they lower their estimates?
To begin with, they revised the forecast for global GDP growth down by only 0.5% — not by 5%, 2% or even 1%, but only by 0.5%. The risk factors that the IMF analysts are laying down are the continuation of the supply failure, the continuation of the pandemic and the rise in inflation, which will force the Fed and other world banks to refuse to stimulate the economy. All these factors were known in advance, and so far we see that the problems with logistics are gradually being solved, and the coronavirus, if some new very dangerous strain does not appear, also ceases to be the main problem and somehow everyone is already used to it. That is, only inflation remains, and here, if the situation with logistics and coronavirus continues to return to normal, we should expect it to slow down. Which, in turn, will not lead to a hard blow to monetary policy from the Fed and other countries, and this will give us chances to continue the high demand for risky assets, which are stocks and cryptocurrencies.
Bitcoin and the S&P 500 have already faced a Fed rate hike between 2016 and 2019.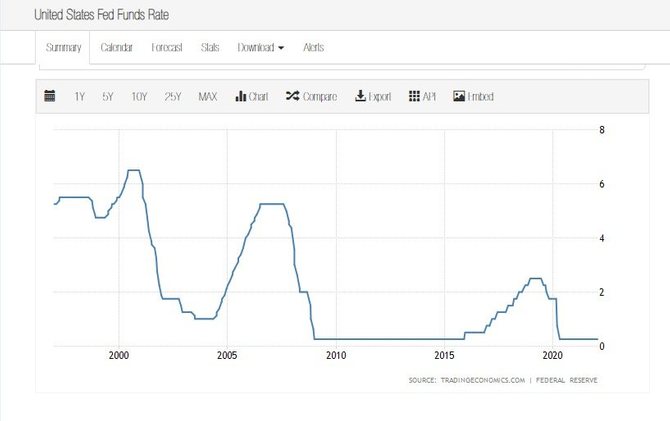 This led to market corrections, but not to a collapse. And now everyone who predicts Armageddon and because of the rate hike and the sale of the Fed's balance sheets is betting on tough action. And in fact, in 2018 and 2019, the Fed already sold assets, but immediately stopped it when it saw a threat to financial markets.
They have no goal to collapse the market and move to tough actions and mass sales, they can happen only in the case of a "black swan" that will blow up inflation and break all their plans. Whether this bird will fly to us or not, no one knows.