What Cryptocurrencies You Should To Invest In The Bear Market: TOP-7 Altcoins
Today, about Bitcoin, we will only say that if everything is fine with the bull market, and prices of $ 100,000 and more await us. Then it's time to take a closer look at altcoins.
Cardano
The first altcoin will be Cardano, during the recent collapse of the crypto market, its price was able to turn around on strong support at $ 1: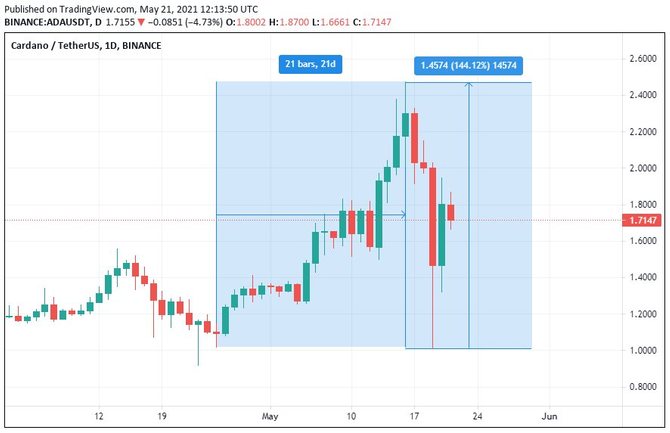 The difference between this support and the last high is as much as 144%, but last time it took the coin only three weeks or 21 days for such a rise. Therefore, it is not a question of money or time, but of the existence of an appropriate reason.
We will not focus on community support and a cool development team, everyone knows about Cardano. Better yet, let's say about its media presence: stars and companies all want Cardano. Even miners are interested in staking. And most importantly, the update on adding smart contracts is getting closer, after which Cardano will finally become a fully operational blockchain platform and the first crypto projects will start entering it.
Polygon
Why was Cardano the main coin but not Ethereum? There's potential: developers, community, anticipation for cool updates, and tons of DeFi already running? Because the price of $ 1.7 like Cardano is now psychologically more attractive than $ 2,700 for Ethereum. And at the same time, the current state of the Ethereum blockchain is such itself, there are many cool projects, but their performance is very limited.
The # 2 cryptocurrency is Polygon, formerly known as the Matic Network. It is a Tier 2 solution for Ethereum with support from Binance and Coinbase and a throughput of 65,000 transactions per second. A large number of decentralized applications have been launched on the Polygon network and the ecosystem continues to evolve. If you continue this process, no Ethereum 2.0 will be needed anymore. And in order not to offend Polygon, let's say that its price also claims to be $ 10 per coin.
Uniswap
On May 5, the Uniswap decentralized exchange switched to the third version of the platform, which increased trading volumes by 80%. Today it is the leading crypto trading platform in its format and it is obvious that they will retain their leading positions.
Working on the Ethereum blockchain imposes certain restrictions due to the speed and, most importantly, the cost of transactions. But just this moment can become a point of growth. Connecting a second-level solution, the same Polygon or access to other blockchains, will attract new users and significantly increase the value of the Uniswap token.
Also, a good potential for increasing the price may be in the search for new options for using the exchange token. Vitalik Buterin has already suggested making an analogue of Chainlink out of it. It's actually as real as other new use cases for Uniswap tokens. The last maximum for this coin is about $ 45, so you can not be afraid to set a goal of $ 100.
DOGE And SHIBA
We included these coins in this collection because we see the possibility of a new shot, you can call them just a feeling. Importantly, neither Dogecoin nor especially SHIBA has a steep foundation for growth.
Buying these cryptocurrencies today is just a risky game. The chances that you will lose money are extremely high. Therefore, it is worth getting involved in this business only for those who have some amount that they are ready to trite to throw away. As they say, what if you get lucky and fire again.
Please note that if you contact Dog Tokens, you need to constantly monitor the market in order to pop out in time. They can either fire at any moment or quickly collapse to the bottom.
EOS
EOS has long been a forgotten cryptocurrency until its developer Block.one announced the creation of a crypto exchange with the innovative Bullish technology. The announced investment in a new project in the amount of $ 10 billion and support from Thiel Capital, Galaxy Digital, Nomura and other well-known investment companies did their job and the coin issued + 50%.
At the moment, after a pullback, the buy price looks very cheap, taking into account the 2018 high of almost $ 22, you can set a modest goal at x2 from this level of $ 40. To achieve it, in fact, it is enough just to competently download history with a new exchange.
Klaytn
Blockchain platform Klaytn in March of this year, the coin broke into the TOP-20 cryptocurrencies and was traded at $ 4, today it has dropped by 62%, which makes its price attractive for purchase.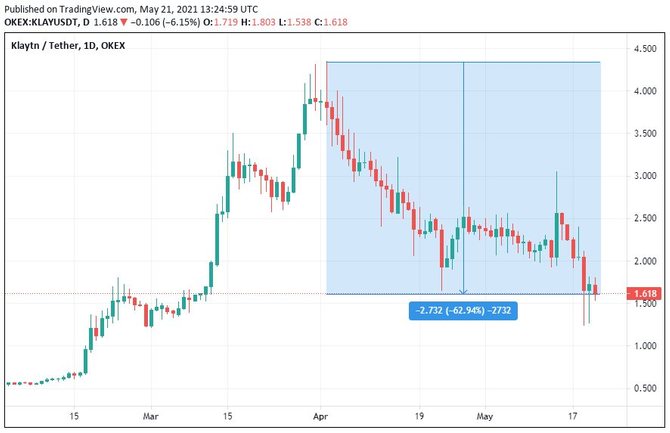 There is strangely little information about this project in the media. Although in fact, this blockchain is a mixture of a private and a private platform, which is a turnkey solution for running your own decentralized applications. The list of partners includes Samsung, Binance, ConsenSys and other companies. And the developer is the South Korean company Kakao, whose main product is the messenger of the same name with an audience of 150 million users.
With such a starting base, the cost of Klaytn is clearly below what it deserves. We will not specifically name the figures and recall that this article is not a financial recommendation. But we can advise you to conduct your own analysis of the project.