February 28, 2021 /
Business
What Cryptocurrencies To Invest In March 2021: TOP-8 Altcoins
TOP-8 cryptocurrencies included: Bondly, Cardano, Chainlink, Tezos, Umbrella Network, Orion Protocol, SuperFarm, and Ethereum.
Note that the list of coins based on news events can cause a specific cryptocurrency to grow larger than the market. At the same time, Bitcoin price is a fundamental factor for the entire crypto market and all hopes for March largely depend on its course.
This collection contains both well-known projects and completely new cryptocurrencies focused on the DeFi sector and NFT tokens.
Bondly
The first to go today is a small Bondly token: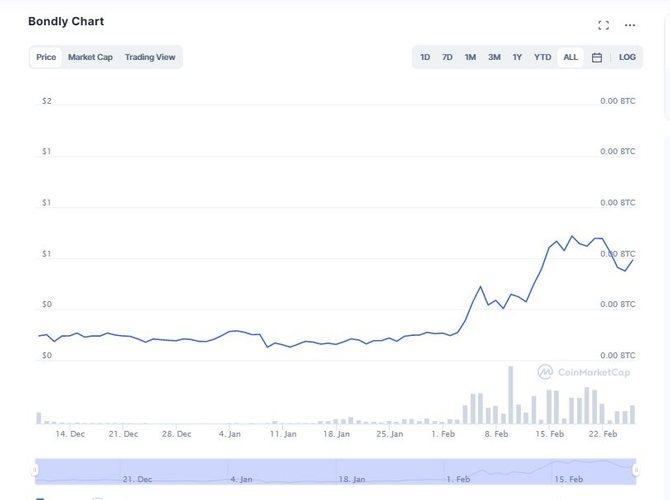 As you can see, its growth is still very modest. The coin belongs to the sector of decentralized finance and is intended to create NFT tokens for works of art. YouTube star Logan Paul used the service to sell $ 3.5 million worth of tokenized items in just 24 hours. This project works in the Polkadot system. It's important to add that Bondly may soon appear on Cardano blockchain.
Cardano
Cardano is at the second position in this list. The team keeps developing its ecosystem through new partnerships. Also, in the previous selection of altcoins, we already talked about this coin, because a hard fork will be held on March 1, which will add the ability to create custom tokens without smart contracts. The first goal was designated there at $ 1 and it was achieved, the next level was $ 2.
Chainlink
The third token is Chainlink. Recently, the coin remained in TOP-10, but it did not please with its rapid growth in comparison with Cardano or Polkadot. But everything may change soon, because the developers have presented an important update. Part of the transactions will be moved outside the main blockchain to speed up data exchange and reduce the cost of the network. This is really necessary in light of the fact that Chainlink is aimed at future mass adoption as the main system of blockchain oracles.
Tezos
In fourth place are several cryptocurrencies. Earlier it was reported that the Swiss bank Bordier & Cie added functions of buying, storing, and selling four cryptocurrencies for its clients at once. We are talking about Bitcoin, Ethereum, Bitcoin Cash, and Tezos. Tezos is the most unexpected in this list, so we give it the fourth place.
Umbrella Network
The fifth altcoin was the Umbrella Network: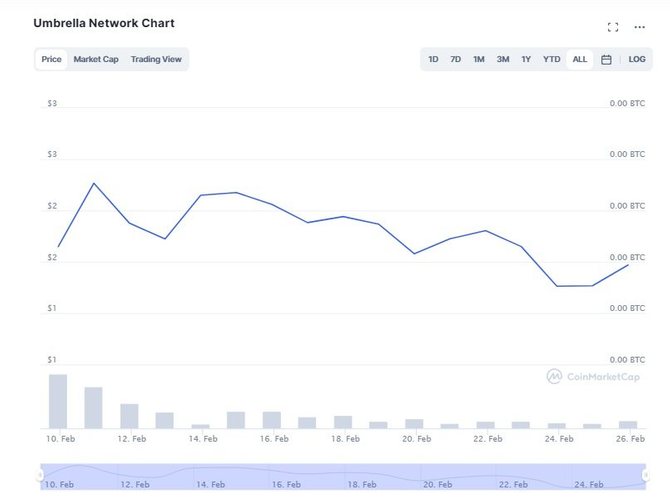 Brand new and not overbought coin. The project is creating a decentralized network of oracles and is reporting 110,000 registrations to their recent token sale. This is 10 times more than expected, and where there is such a high interest in the project, there may be growth. They promise that the project will be completely decentralized and managed exclusively by the community, that is, the owners of tokens.
Orion Protocol
TOP-6 is a token that already gives X, but as they said at the beginning, this does not mean that the growth is over. Speech about Orion Protocol, this is another representative of decentralized finance: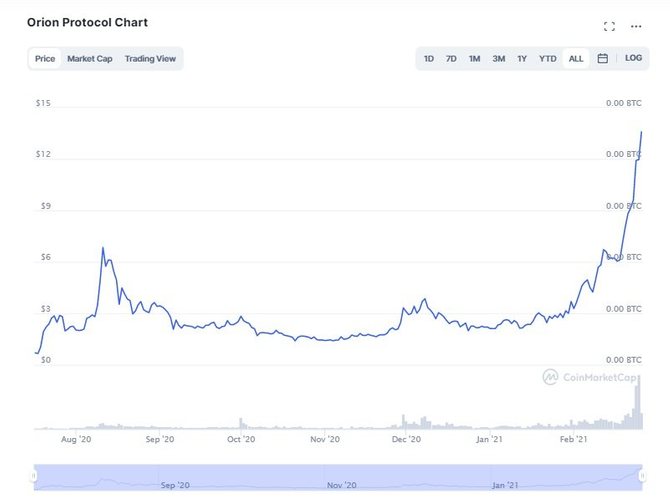 Now its users are waiting for the launch of staking, about a month left. In the meantime, the developers have presented a calculator where it will be possible to calculate the future profitability.
Note that this forecast is based on important events that will attract new buyers, who are also investors. But bitcoin can put an end to it at any time if the market breaks into a deeper correction.
SuperFarm
The seventh line is taken by another debutant SuperFarm. The token is only a few days old.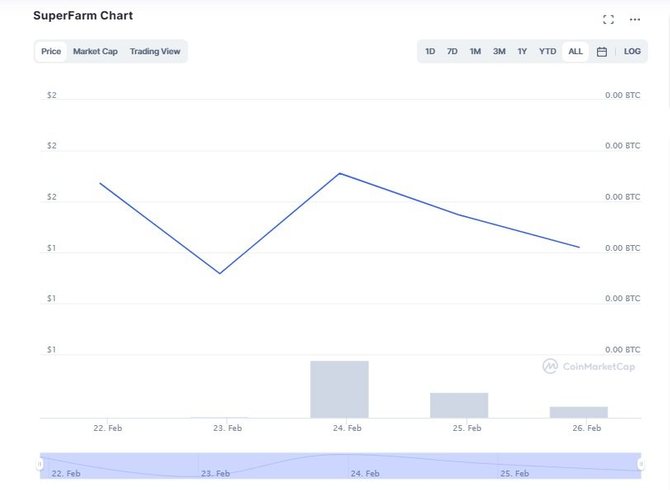 It is a specialized blockchain that focuses on making NFT tokens as easy as possible. Users can both create new tokens and trade them with each other. Many are now saying that NFT will be as cool as DeFi, time will tell.
Ethereum
In last place is Ethereum, and the reason for it should be the launch of a $ 75 million exchange product from CoinShares.
There can be a lot of criticism about Ethereum now, which is why it grew so little in February. But note that we did make $ 2,000. And when Bitcoin rallies, Ethereum moves faster than the market. Plus, a Berlin update is on the way, which should help solve the problem of expensive transactions.
At the same time, several teams are actively working on second-level solutions to offload the blockchain.