February 5, 2021 /
Interesting
What Altcoins You Should Buy In February: TOP-7 Coins
Let's analyze 7 cryptocurrencies that may rise in price in February. The first and second positions take Bitcoin and Ethereum. The price of BTC is $ 38,000, and ETH has already reached $ 1,700 now. According to forecasts, Bitcoin may rise to $ 56,000, and Ethereum is on the verge of parabolic growth.
Other altcoins include UNI, ADA, ATOM, and others. What other cryptocurrencies should you buy in February to make a profit, read below.
BTC And ETH
On the one hand, it is obvious, on the other hand, completely unexpected, if only because Bitcoin is not an altcoin. According to the classics, altcoins are all other cryptocurrencies, except for Bitcoin.
But let's not find fault with the words, confirmation of the further growth of Bitcoin – the increase in its popularity on Reddit. 2.2 million people have already subscribed to the special sub-forum, and a record was set for 100,000 new users per day.
Also, analysts from Glassnode claim that bitcoin network metrics are at record highs. And based on them, analyst Willie Wu gave his forecast, calling $ 29,000 the lowest possible point for Bitcoin:
As you know, all drawdowns below $ 30,000 are actively bought back. And in the near future, Willie Wu set the upper limit for Bitcoin at $ 56,000.
A promising forecast, we will be glad if it comes true. But let's add a little from ourselves, because despite the current growth at the moment to almost $ 38,000, a correction is still possible: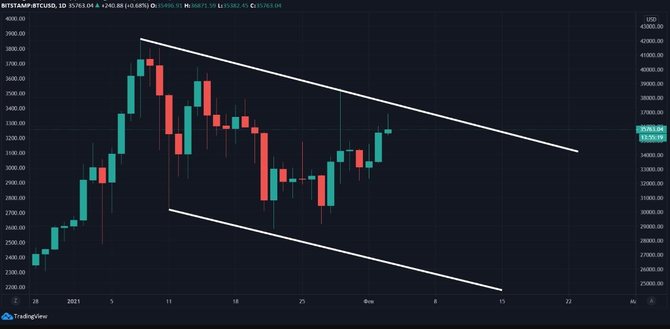 Its low point may be below $ 30,000, and to cancel such a scenario, two resistances should be broken first at $ 38,000 and then at $ 40,000.
The second coin is Ethereum. The main argument in favor of the TOP-2 cryptocurrency in terms of capitalization is called the update of the maximums on the monthly chart: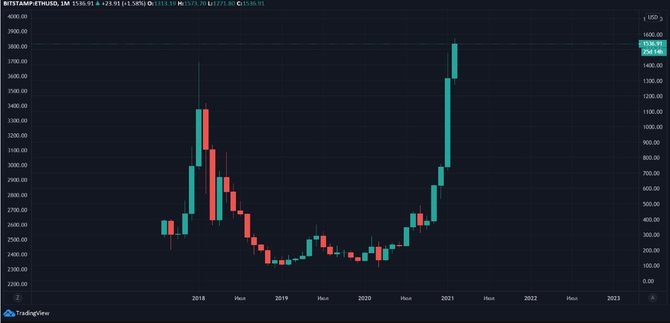 After Bitcoin did something like that in November last year, there was a parabolic growth from $ 14,000 to $ 40,000. It is possible that Ethereum's turn has now come, and let us remind ourselves that futures on CME will be launched on February 8. Today the rate has already reached $ 1,500 and this is the first signal that indicates the possibility of such a scenario.
UNI And SUSHI
The third and fourth places were taken by the tokens of the decentralized cryptocurrency exchanges Uniswap and SushiSwap. According to data for January, the total trading volume on decentralized platforms exceeded $ 53 billion, and most of it was provided by Uniswap and SushiSwap for both cryptocurrencies: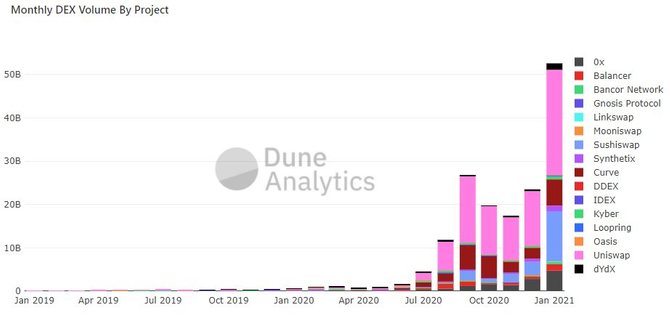 In terms of tokens, there is now a clear upward trend, the UNI coin is generally in the TOP-15 cryptocurrencies in terms of market capitalization.
The trend of SUSHI token is also looking strictly up.
Both altcoins are expected to continue to grow amid increasing demand for decentralized exchanges. The story with GameStop stock and Robinhood broker, we think you know. A centralized site can restrict its users at any time in its own interests.
And here are the first calls for you, on the BitMEX crypto exchange from February 16, it will be impossible to open a position at a price higher or lower than the market price by 5% or more:
And one more important point, both UNI and SUSHI coins belong to the sector of decentralized finance, which continues to rise. The total amount of blocked funds came close to $ 30 billion.
Synthetix And ADA
Synthetix is ​​currently in the TOP 25 cryptocurrencies and the price keeps rising. Although, perhaps, someone will be scared by the fact that the growth is almost vertical. This may hint at the maximum rate. But where is the maximum no one knows.
And the sixth altcoin for February was Cardano. It makes no sense to present this coin separately, it has firmly established itself in the TOP and in less than 60 days it will become completely decentralized. The point is that the Cardano developers will cease their participation in the network as validators. Such an event may well become a reason for further growth.
ATOM
The seventh place takes Cosmos project aka ATOM. Cosmos project creates an engine on which everyone can launch their own blockchain and a platform for their interaction with each other. The principle of operation there is different, but the idea itself is now in great demand, and many believe that this is how the Internet of the future will look like.
In February, Cosmos is waiting for an important update in the form of the launch of a protocol for interoperability of blockchains built on its engine. Their ecosystem already includes 143 projects and soon they will be able to fully work with each other. An important step that can help the price continue to grow and the token will enter the TOP-20 or even the TOP-15 in terms of capitalization. At the moment, it holds the twenty-fifth line on the coinmarket cap, and the price recently updated its own maximum.