August 6, 2021 /
Interesting
TOP-5 Cryptocurrencies You Need To Get Rid Of Right Now
Bitboy Crypto, aka Ben Armstrong, named TOP of altcoins worth selling right now before they drop to zero. The list of cryptocurrencies not worth keeping on your balance sheet includes Bitcoin Cash, Bitcoin SV, EOS, SHIBA INU, and ICP.
EOS
EOS cryptocurrency became TOP-1 for sale in Ben Armstrong's rating. Once it was a top-end project that was among the top ten cryptocurrencies, but today the coin is at the end of the TOP-30. At the ICO stage, they raised a record amount of $ 4 billion, which set an absolute record. But the finished product was not at all what the developers had promised.
The network had cheap and fast transactions, but its ecosystem is not in demand in general and they do not have any disruptive applications, like Ethereum, which EOS was supposed to kill. In addition, the project was left without the main developer, Dan Larimer, last year.
Larimer is a good dev, but he constantly gives up his projects and, in fact, he does the same all the time only in a new form. He created BitShares and Steem, today it is 260 and 170 in CoinMarketCap ranking.
As a result, Ben does not see any prospects for EOS, and we want to note two important things that he forgot about. Before leaving the project, Den Larimer and his associates tried to restore his popularity through the launch of the social decentralized network Voice, which turned out to be of no use to anyone. And now Den is going to make another useless network, which he will leave, according to the established tradition.
Second and much more important, $ 4 billion for the ICO at some point turned into $ 10 billion, because these were mainly funds in bitcoin and Block One developer company did not sell them.

They own 140,000 BTC, although now they have dropped in price to $ 5.5 billion, but at some point they managed to announce a new cool project, Bullish cryptocurrency exchange. These same BTC should become the security for the exchange, and well-known investors such as Peter Thiel and Michael Novogratz entered the project. As a result, at the moment, EOS has risen in price by 50%. But then the matter stalled and the latest statements like "we will make the exchange public" could not support the price. It is possible that this event will continue to be used to influence the EOS rate, but it is obvious that it works extremely weakly in the current bitcoin market.
ICP
Internet Computer gets the second. ICP has lost 90% since its listing on the crypto market. BitBoy says that after trading began, insiders dumped $ 2 billion worth of tokens. At that time, private investors did not get access to their coins, that is, they could not even sell while prices were high. But the funds took the profit, because initially the coin appeared immediately in the TOP-10 at a rate of $ 400, whereas today it costs only $ 39.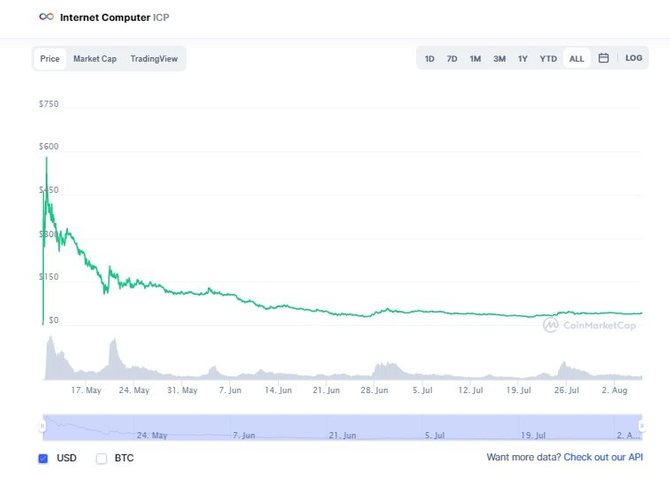 Ben Armstrong does not believe in a project with such an approach and attitude towards investors. He refers to the history of the class-action lawsuit against Internet Computer, as well as the funds Polychain Capital and Andreessen Horowitz. It is not yet clear how it will end, but the funds did sell part of their tokens, and at the highest prices.
ICP began trading freely just a week before the panic sell-off on May 19. Bitcoin has already started to collapse, falling below $ 50,000 and the trend was talking about the continuation of the correction. Therefore, it is not surprising that the funds began to fix profits, you can blame them, they say, such bad "whales". But they, like everyone else, came to this market to make money, and in such a situation it was logical to sell. Another question is that if private traders did not have such an opportunity and the court proves it, then such developers should not be trusted.
Despite, Internet Computer was extremely unsuccessful in entering the market, but in general they have good fundamental factors. Provided that after the price collapse, the developers will not scatter in any direction, so who else is holding the coin, you need to closely monitor the project.
BSV
Bitcoin SV is the next project headed by Craig Wright. As a result, he promised to make their own real Bitcoin, but the market is placing all its places, and today this cryptocurrency is in 42nd place in terms of market cap.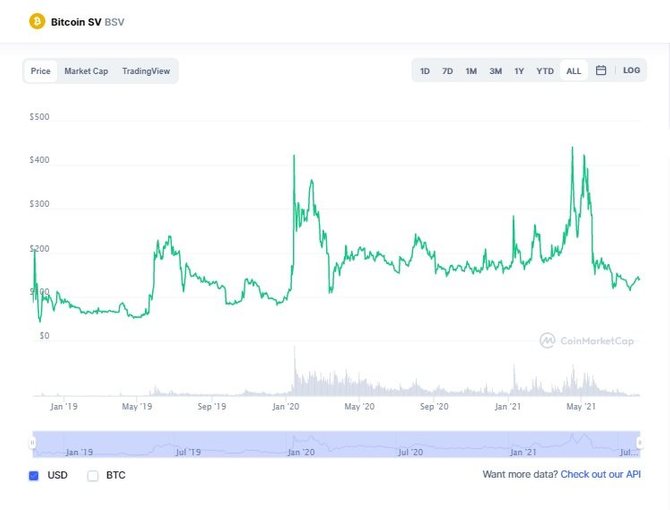 Bitcoin SV blockchain has already come under a 51% attack, but nothing was known about the victims. According to Ben Armstrong, this is because this blockchain is a zombie network and there is no one there. By the way, a new successful attack was carried out just a couple of days ago.
Such a project must and will fail. Because greed is the only explanation for all of Wright's actions.
BCH
Bitcoin Cash has become the most unsuccessful and not viable project, according to BitBoy, and let's be honest, it was a surprise even for us. Ben recalls the story of how Bitcoin Cash became the first bitcoin hard fork, set a bad example, and then all and sundry began to make their supposedly better bitcoin. But the first cryptocurrency is doing well and therefore its clones are no longer necessary, and the parasitism on the name "bitcoin" only made it worse and did not allow them to build their own brand.
What is wrong in this reasoning, Bitcoin Cash purposefully used the bitcoin brand, calling itself real bitcoin and even substituting the concepts on its own website, which indicated bitcoin as Bitcoin Core. It was a whole company headed by Roger Ver and that, but they definitely had their own brand in the crypto community, as did many supporters who shared the idea of ​​large blocks.
Interestingly, the project began to be forgotten when Roger Ver left the project management and became less and less active on social media. Lately, he hasn't even posted anything on Twitter since the end of April. We do not know where he disappeared, but things have clearly gone much worse, and the price of Bitcoin Cash speaks for itself, few people are now thinking about returning to the 2014 maximum of $ 4,000.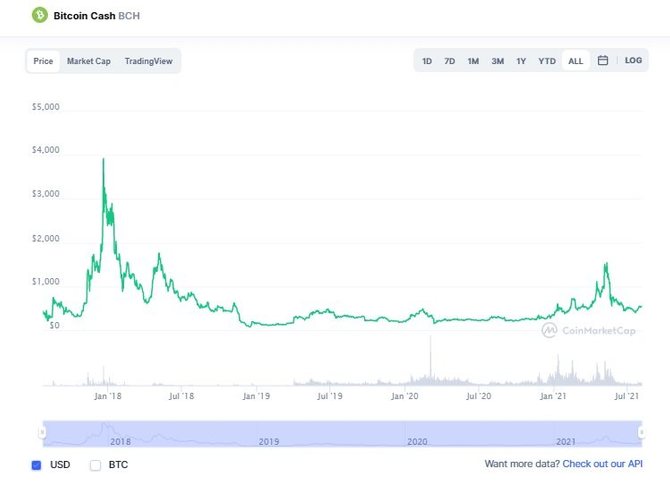 However, when the crypto market goes up again, Bitcoin Cash will have its share of this holiday.
SHIB
The ShibaSwap decentralized exchange has been launched and is ranked 20th in terms of trading volumes. It is also included in the TOP 10 decentralized applications on Ethereum in terms of the number of users. And add to that the growth in the Shiba Army as measured by the number of followers on social media. The question is, what then is wrong with the price and why should you sell?
What are the problems? No. 1 is the fading of the DeFi hype, this sector is developing, but no one is in a hurry to buy everything. People have been taught by bitter experience, especially after a series of hacks and scams of various projects. The second problem is the current crypto market and the fact that Elon Musk cannot pump even his beloved Dogecoin. The third – Vitalik Buterin donated a lot of SHIB to the fight against Covid-19 and these funds are constantly being sold.
We do not want to convince of anything, whether to believe in SHIBA INU or not is a personal matter and let everyone choose for themselves. But this chart is extremely bad.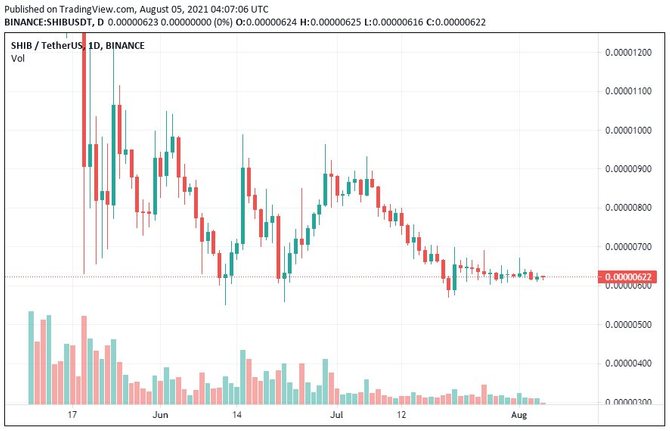 The price is pressed against support, below which there is an abyss, there is nothing and at any moment the token can simply collapse by 200% or 300%. Maybe nothing will happen, but theoretically there is such a danger.