December 1, 2021 /
trading
TOP-5 Altcoins You Should Invest In December
Today starts December and there is no definitive certainty can correct November movement, however, many statistics data, prices, and networks of the first cryptocurrency point on upward trend in the long term.
We propose to discuss five cryptocurrencies, all of which are well-known altcoins that have hidden growth potential in December and further in 2022.
SHIB
SHIBA INU is the quintessence of risk, and if you do not have this coin, then it is better to stay away from it. But sometimes you really want to risk at least a small amount, drive away such thoughts and do not give in to excitement, but we must tell about it for the following reasons, and first of all it will be interesting to those who hold SHIBA INU today.
SHIB token broke the downtrend and has already grown by 30%: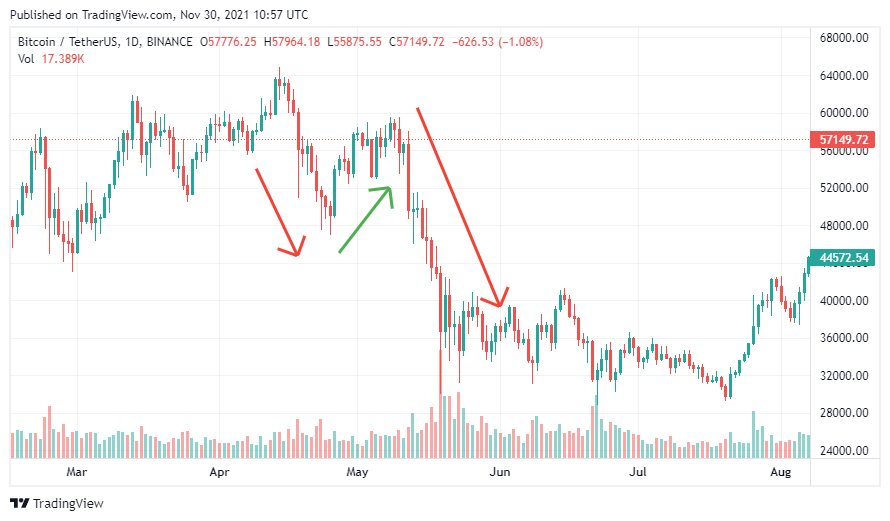 The main reason for this is the listing on the well-known cryptocurrency exchange Kraken.
It was announced a long time ago but was constantly postponed, allegedly due to problems with regulators. According to rumors, SHIBA INU cannot get into Robinhood listing in any way due to the same problems, but if greed from the management prevails over-caution, this will all happen and the pump will be even bigger.
Also, SHIBA INU team does not stand still, they launched the DEX exchange and added NFT when these stories were on the hype. And now, when the hype to blockchain games and the metaverse has begun, they have attracted a native of Activision to the project. You also need to be able to follow the trend and SHIBA INU does it. So we are waiting for the announcements of SHIBA games.
And another bonus for this pump is the "whale" Gimli, which bought 25 billion SHIB tokens.
And now he has these tokens for $ 57 million at the current exchange rate.
Right now, the SHIBA INU price is trying to pass through an important resistance, but the network is already writing predictions that, if successful, there will be an upside potential of another 70%: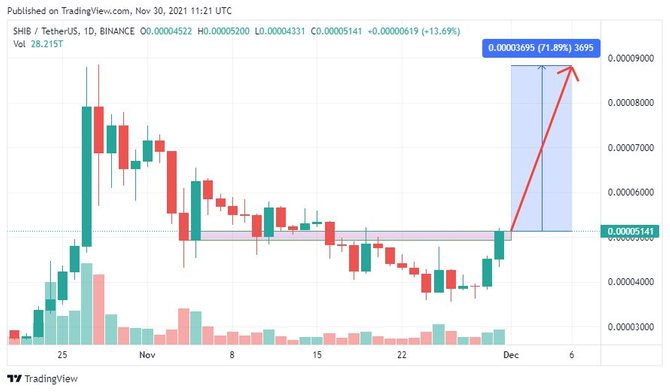 The risks are huge, but it looks attractive, which is why we told you.
Ethereum
TOP-2 cryptocurrency in TOP-2 positions in today's article. Why we keep waiting for big things from Ethereum. Yesterday we reviewed the Ethereum forecast for Bitcoin, and there we have strong growth potential of about 146%: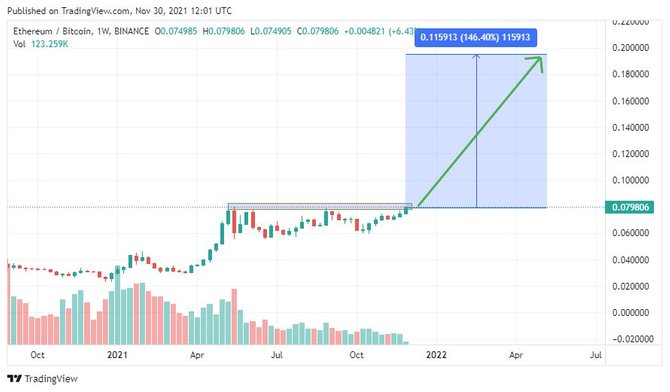 The idea is that Ethereum will lead other coins into the altcoin season and we get a repeat of December 2017 story.
At the same time, Ethereum looks great on the chart when trading for U.S. dollars: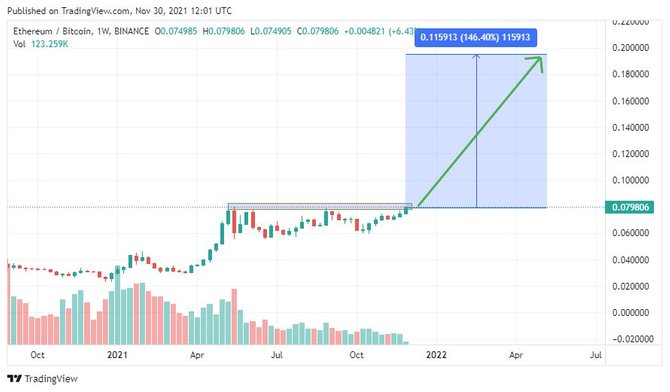 Despite how bitcoin scares the market with its corrections, TOP-2 cryptocurrency keeps the key level on the weekly chart and continues to increase its market share. On the daily chart, Ethereum is approaching an all-time high, and this will be done very quickly if Bitcoin supports the market with growth: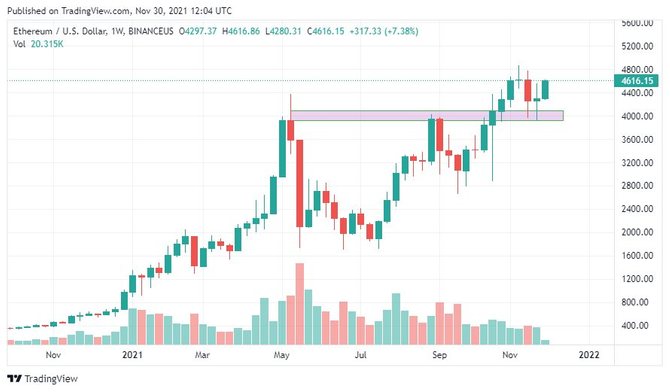 And also recall that on December 6, micro-futures on Ethereum will appear on CME exchange, which may be the reason for the price growth.
About the fact that Ethereum, despite all the problems, remains the leading blockchain for DeFi and NFT, and it is on it that all crypto-innovations appear, you already know.
BNB
BNB may well reach $ 1,000, these are not sky-high XXX – 60% profit in a few months. Today, BNB price is in an uptrend and again approached a large resistance range from $ 630 to $ 690: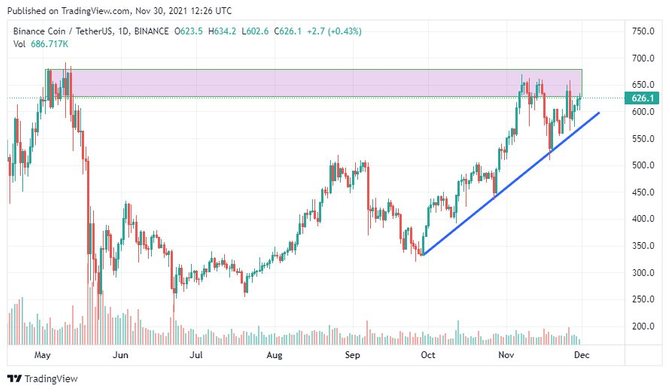 If we overcome this block, then we get a new maximum price and unlimited growth potential. We associate the breakthrough of resistance with Bitcoin, as well as with the growth of Ethereum. But the further reasons for the growth are quite interesting and here I must say that we very much hope that Binance will behave like SHIBA INU.
SHIBA developers are always in the current trend and Binance does not lag behind them, and maybe even are their role models. So they quickly got their bearings in launching the network for DeFi Binance Smart Chain, then the exchange launched its NFTs, and now they have hardforked the blockchain to add burning BNB when paying commissions, similar to Ethereum. We expect that soon we will hear about projects in their network connected with the metauniverses, in fact, they are already there, we just need to arrange a new hype.
And also another potential growth point is Binance's obtaining a license to operate, which the TOP-1 exchange still does not have and it provides services based on various agreements with the authorities. Changpeng Zhao promised to resolve this issue and if he keeps his word, the BNB token will receive an excellent increase in price.
LTC
The penultimate position went to Litecoin, which today cannot please with some cool news or reasons that will push its price up in the near future. But "digital silver" still has a huge credit of trust and a user base who believe in this coin and are waiting for it to show itself in full force, predicting its price even at $ 1,000.
One of the traders pointed to the upside potential based on reaching the bottom in Litecoin to Bitcoin pair.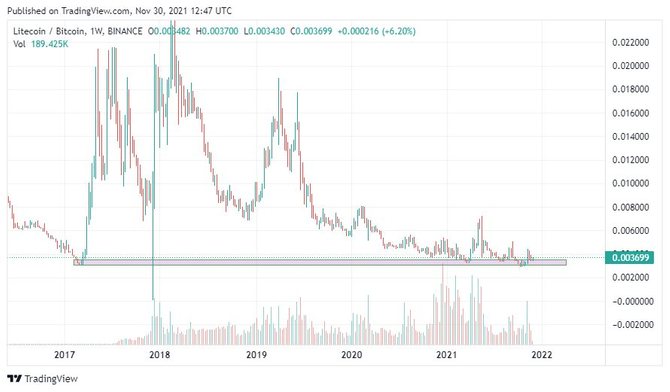 This level of support has been around since 2017, and the graph shows that there were decent volumes at the end of last year and the beginning of this year. And what Litecoin has shown for today does not mean that all the accumulated positions were traded, so there really is a potential for a pump.
In a pair against the dollar, the chart looks many times worse, the uptrend is rather weak and we cannot overcome the first important resistance at $ 220, and this is not the only selling zone on the way to the current maximum of $ 400: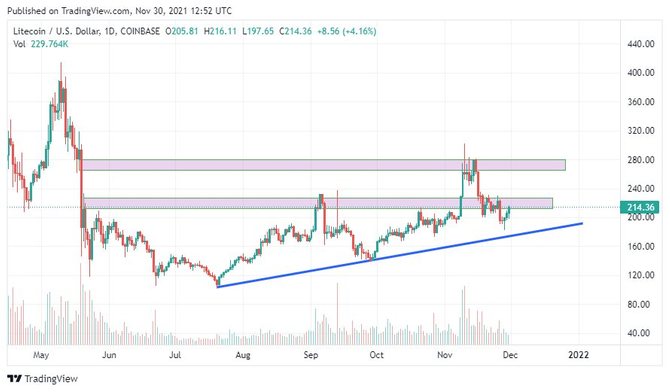 But we are waiting for Litecoin's accomplishments not only because we ourselves are among its supporters, but also because now top English-speaking crypto bloggers have begun to pay increased attention to it. They have not been previously seen in this and it seems that preparations are really underway for a pump on Litecoin.
TRON
If you look at the weekly report on the state of the blockchain, everything is in order there: more than 63 million accounts, over 2.6 billion processed transactions and $ 12.8 billion blocked funds in DeFi-protocols.
According to the latest indicator, TRON is among the top five blockchain platforms.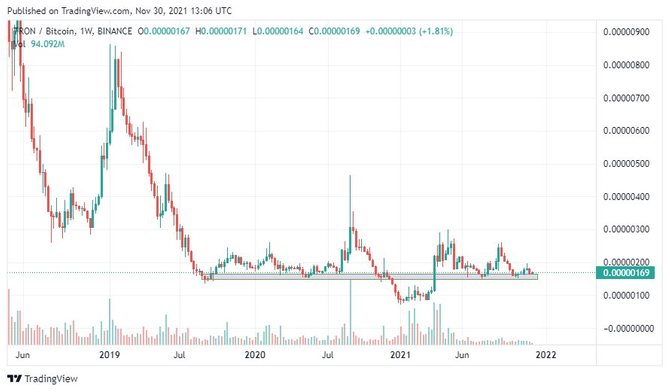 The weekly chart in the pair to Bitcoin shows the presence of strong support, so we can complete the consolidation and prepare for growth:
TRON looks worse against the dollar and is now in the sideways.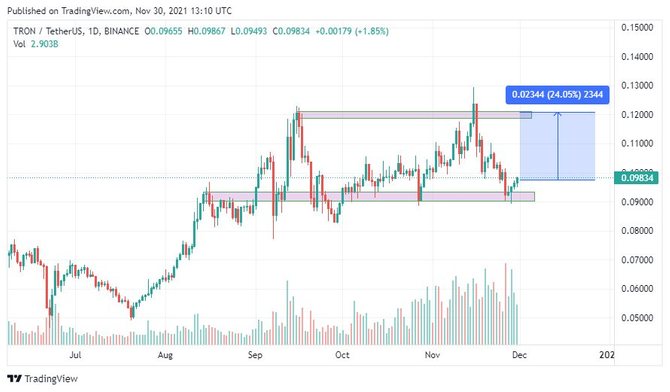 We are now at the lower border with good support at $ 0.09 and there is upside potential towards the resistance zone at $ 0.12 cents, or 24%. And then we will hope that Justin Sun will spin up his HYIP machine again.
We remind you that a lot will depend on the bitcoin rate.