February 20, 2021 /
Главные новости
TOP-4 Altcoins Forecast: Cardano, Stellar, Bitcoin Cash, Dash
The forecast for the growth of altcoins is based on the continuation of the upward trend in Bitcoin. This is a fundamental factor today.
Cardano
To date, Cardano takes the fifth place in terms of market cap with a claim to TOP-4 and even TOP-3. The upside potential of the coin is significant, and Tether, with its $ 32 billion cap, could easily step aside.
Cardano is up 270% in 2021. Somebody says that the coin is overbought, but it is not: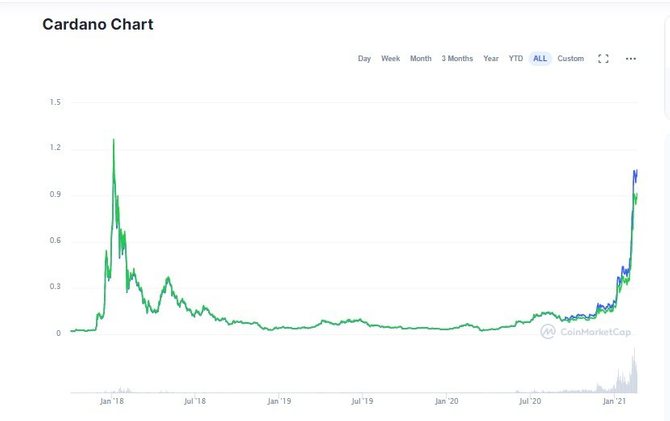 The current maximum was set in January 2018 and is equal to $ 1.3, the market cap at that time was almost $ 34 billion. And given that we are in a bullish cycle for Bitcoin and the entire crypto market, it is logical to expect an excess of this maximum and further growth.
Why do investors believe in Cardano? The main bet is on a technology that is already much better than that of the main competitor Ethereum. In a rough comparison, Ethereum is like a bicycle that developers are now trying to attach to an electric motor called Ethereum 2.0. Moreover, they have been doing this for an extremely long time and it is still completely unclear who will be the first to finish developing their platform.
Cardano developers do not exchange for intermediate options and immediately create a modern sports car. It is also worth noting that Cardano is rightfully considered the most decentralized cryptocurrency, and 72% of the coins are used in staking, which creates a shortage in the market.
Cardano's main problem is that they are still making the perfect blockchain platform. While on Ethereum, developers are already running various applications and protocols. The main developer of Cardano, Charles Hoskinson, is confident that in the long term Ethereum will not become a monopoly, and as new projects appear and new people enter the world of cryptocurrencies, they will choose Cardano.
Stellar
Stellar is the clone of XRP. But this project is honest, as its developers assure. Jed McCaleb stays behind the project, who is the creator of XRP. Previously, he left Ripple and is actively selling their cryptocurrencies in tens of millions of tokens monthly for several years. Jed wants to create something more and bring goodness to all people who do not have normal access to the banking system. This is how the Stellar cryptocurrency appeared.
Why is Stellar more honest than XRP? First, they never got caught up in Ripple-style scandals. The latter can freeze any XRP wallet and throw out a node that refuses to install updates from the network. Secondly, Stellar is run by a non-profit organization, and they made a very bold move when they kept only a small amount of tokens and destroyed the rest.
Ripple still controls over 50% of all XRP coins in existence. As a result, Ripple is now in litigation with the American regulator, and a number of sites have temporarily stopped trading XRP. Stellar has such problems. By the way, there is a conspiracy theory that Stellar is Ripple's backup plan if XRP goes bad. But then decide for yourself whether to believe or not.
Stellar, like other altcoins, has been actively growing since the beginning of the year and still has not reached its maximum: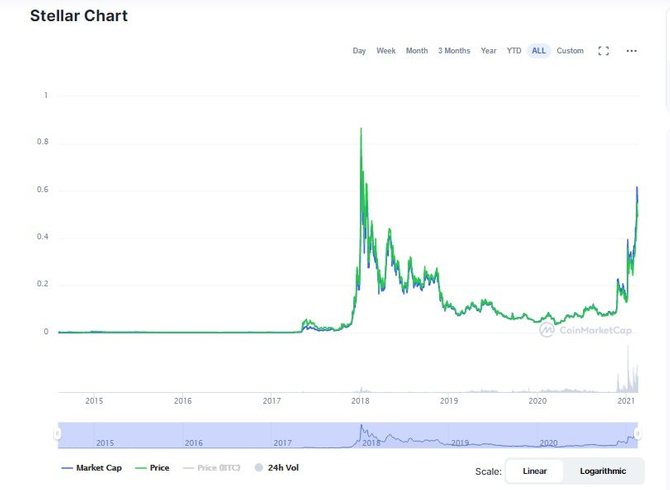 Note, its price does not correlate with XRP, so possible problems with Ripple will not affect the price of the coin. And the project team is actively working on implementation, from the latest high-profile news, support for the USDC stablecoin, and the conclusion of a memorandum with the Ukrainian authorities on the development of the blockchain and the creation of a national digital currency. It is not known what will turn out there, but the document really is.
As for the goals of Stellar, $ 1 is the first, then we can easily reach $ 2 in case of a favorable coincidence.
Bitcoin Cash
We open the Bitcoin Cash chart and everything suddenly becomes very sad: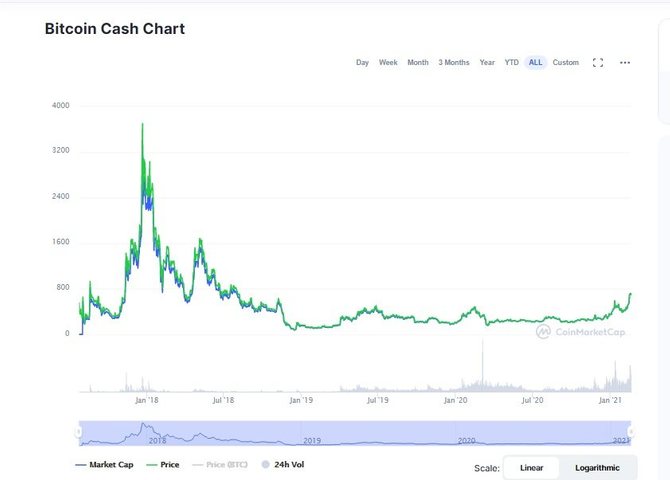 The coin is very far from its maximum of $ 4,000. So far, of the old-school altcoins, only Ethereum has updated its maximum, but the rest are at least going in this direction.
What is the reason? Perhaps the secret is Roger Vera's activity. Yes, you can open his Twitter and find a lot of interesting things, but you must agree that for about the last year Roger has not been the same and left his first roles in the crypto community. His Bitcoin Cash colleague Jihan Wu is trying to do something for the project, he even launched a trading platform. But he was kicked out of Bitmain, albeit with good compensation, and he sold the BTC.com mining pool:
And in general, everything is fine with the network itself in terms of transactions and low fees, but without the hype, the price grows very restrainedly.
It seems to us that Bitcoin Cash at $ 1,000 can be seen soon, if Bitcoin continues to move towards $ 60,000 and especially to $ 70,000. As for the explosive growth, it is worth it all together to call Roger Ver, he could arrange it.
Dash
Dash is known and loved, but the price of this altcoin is in no hurry to please us especially if you look at the global chart: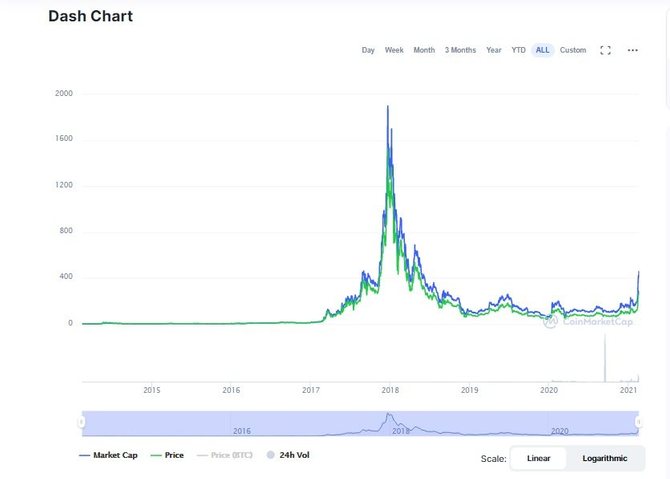 Strong growth began at the end of January and we saw + 282% in a few days. It was prompted by the announcement of the start of Dash pay-as-you-go in 155,000 US stores. In general, it should be noted that Dash has always been good at marketing, especially in terms of promotion in the form of acceptance as a means of payment. What else plays into the hands of continued growth now is the planned large-scale platform update. We are talking about both improving the blockchain itself and the payment application for smartphones. As they are introduced, the price can make new leaps.
But who does not like Dash are regulators in Japan and South Korea, they are generally against anonymous cryptocurrencies and therefore the altcoin was removed from a number of exchanges. The developers came up with an interesting move, they officially abandoned the anonymous cryptocurrency brand, although they left the functions for hiding payment data.
Altcoin Forecast
We are worried about Dash, in the sense that now there are many promising newcomers on the cryptocurrency market and investors may simply lose it. But if we talk about the price, then we are less pessimistic about Dash than about Bitcoin Cash. If Bitcoin Cash only needs to bet on the growth of Bitcoin, then Dash has reason to grow amid new news about the adoption and renewal of this cryptocurrency. If they do well, then Dash could turn around and begin its return to the TOP of the market.