October 16, 2021 /
Forecasts
TOP-3 Profitable Altcoins In October
Today we will talk about TOP-3 altcoins such as Polkadot, VeChain, and Waves. All cryptocurrencies have great growth potential in October and the following months.
DOT
Polkadot needs no introduction. Its price has added over 20% on news about the imminent launch of parachains, auctions will begin on November 11.
Indicators show that the bulls are returning to Polkadot, it is logical that the next target is $ 50 to set a new price high. And then we can talk about growth to $ 100, which will allow us to repeat the recent success of Cardano and enter the TOP-3 cryptocurrencies in terms of market capitalization.
How realistic is such an optimistic scenario for Polkadot and can the price go even higher? As we have said more than once, no one knows the future, and we will not give financial advice. Nevertheless, we have experience of how the native Kusama cryptocurrency for Polkadot grew at parachain auctions, and by the way, some of this growth will go back to it. So Kusama also needs to be watched.
Polkadot event is long-lasting itself, auctions start in early November this year and will last until early March next. In fact, all this time Polkadot will have information support for growth. And one more important point – this is the start time of the event, if the bulls' predictions turn out to be correct and bitcoin leads the cryptocurrency market to the native this fall and winter, then the expectations for the growth of Polkadot can be multiplied by two or even three times at least.
VET
The second altcoin that stopped hiding among the rest and intends to go on the offensive was VeChain, a business platform that specializes in the implementation of blockchain technologies in supply chains. The reason for the growth of the coin was the information about the upcoming blockchain update.
It is already tested and ready to be deployed on the main network, the main innovation is a significant increase in throughput.
Thus, VeChain network will be able to quickly connect and serve an unlimited number of companies, the update is presented as revolutionary and, accordingly, the market pleases with growth expectations.
Here are a couple of predictions, for the first in 2022 the price will rise to $ 1.4.
That is, by 1000%, in general it is very tempting. And the second forecast, according to which the price will reach $ 1.6 in December this year, and in 2022 the growth will continue and reach $ 3 per coin. That is, plus 1250% back in December and or an increase of 2400% for those who will not be able to sell in 2022. A very cool forecast, although its author specified that bitcoin must break through $ 65,000 and continue to grow, otherwise VeChain may fail.
We cannot be as optimistic as the predictions that were given, agree with the dependence on Bitcoin and note that the reason itself for VeChain is worse in strength and in terms of dates than that of Polkadot. Because it does not have a long-term continuation, so if, after updating the network, we see how new companies, preferably well-known ones, begin to switch to using this technology, then there will be a completely different conversation, but for now we are aiming at a resistance of $ 0.15 in the market – this is + 30% of the current price and if we pass it, it will be possible to make plans for further growth.
Waves
Waves coin, which at the beginning of this year cost $ 5, is already more expensive than $ 30 today and it may very well be that it is not the limit.
An interesting fact about Waves is that, unlike Polkadot or VeChain, they have everything in order with the main blockchain and the platform works, and the coin does not need news about upcoming updates to grow. Instead, back in 2020, Waves stepped up the development of areas such as DeFi and NFT on their platforms. They decided to be in the mainstream by launching stablecoins, investment services, building bridges with other blockchains and creating collectible games. This approach, coupled with fairly good marketing, has paid off in the form of 483% YTD growth.
Today Waves continue to move in the same spirit without slowing down, and this coin has an extremely interesting chart for the future growth prospects.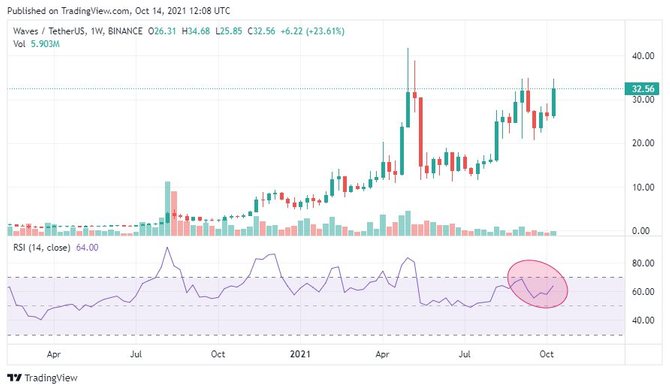 This is a week where, if the candlestick closes at the current level or higher, there will be a new closing high. Separately, we note the relative strength index, which is not in the overbought zone, there is still a reserve there, and an excess of the local maximum by RSI will also be a good sign of the trend continuation. The daily chart also gives a bullish picture, so you can make plans to storm the zone from $ 37 to $ 41 with an eye to renewing the historical high.