May 26, 2021 /
Interesting
The Future Of Bitcoin And Altcoins. Ray Dalio Bought BTC
Bitcoin price soars by 15% in a day and is trading at $ 40,000 again. This followed by a steep rise in altcoins of 30%, 60%, and sometimes 100% at a moment, such as Polygon.
New cool news came. Billionaire Ray Dalio has invested in Bitcoin, and Elon Musk is engaged in environmentally friendly mining. Everything looks as if the worst is over and bitcoin is flying away by $ 100,000 again. There is such a possibility, but not all metrics indicate that the future will be great.
Ray Dalio
Billionaire and co-founder of the leading hedge fund Bridgewater Associates Ray Dalio became Bitcoin investor. He stated this during an online interview for the Consensus by CoinDesk 2021. The news is cool, as they say, Warren Buffett is next, well, or at least Bill Gates, although the latter is definitely not up to Bitcoin because of the divorce and juicy scandals.
According to Dalio, he has BTC. The assets of his hedge fund Bridgewater Associates are estimated at over $ 100 billion, but, apparently, the fund has nothing to do with it and Ray is talking about investing in cryptocurrency privately. He did not disclose or even hint at when and how many bitcoins he bought.
On the other hand, Dalio himself is a well-known and authoritative person. He has long spoken out against the accumulation of fiat, calling its cash trash. But earlier he was critical of cryptocurrencies, promising them serious problems with the regulator, up to a complete ban. Apparently, something made Ray change his mind and buy bitcoin, but he did not give up his fears. In the same interview, he said that Bitcoin's biggest risk is its success. That is, the more successful the first cryptocurrency is, the higher the risks that states will get scared and decide to restrict its use.
But why prohibit what is actually recognized as a financial asset? On the contrary, you need to start working with it. Over the weekend, a portion of the Goldman Sachs report was leaked to the network, where Bitcoin and Ethereum are considered as a new asset class:
Bitcoin's low correlation with other assets makes it an attractive investment choice. Bitcoin is the first truly new asset class.
Mining
Bitcoin hashrate has dropped in recent days, but don't give in to your fears.
We remind you that it is the hashrate that follows the price, and not vice versa. All this talk about the dangers of bitcoin for the environment is one big manipulation, well, they can't come up with something else bad about bitcoin, so they are promoting this topic.
As always in the case of Elon Musk. He again becomes a fan of bitcoin. And now I met with miners and discussed with them the transition to renewable energy sources:
And TV presenter, entrepreneur, and investor Kevin O'Leary spoke about the need to bet on "green" Bitcoin, and how institutionalists will immediately start buying it.
Elon is trying to restore his image in the crypto community and at the same time is thinking about finding new sources of income for Tesla. After all, everyone knows that Musk's company sells electric cars in the red, and draws profit for the quarter due to government subsidies and sales of quotas for greenhouse gas emissions. In the last reporting period, they also sold a little bit of BTC, without which they would not have been able to draw more profit than a quarter earlier.
Price
Bitcoin price broke through the downtrend on the 4-hour and daily charts, but ran into resistance at $ 40,000 again: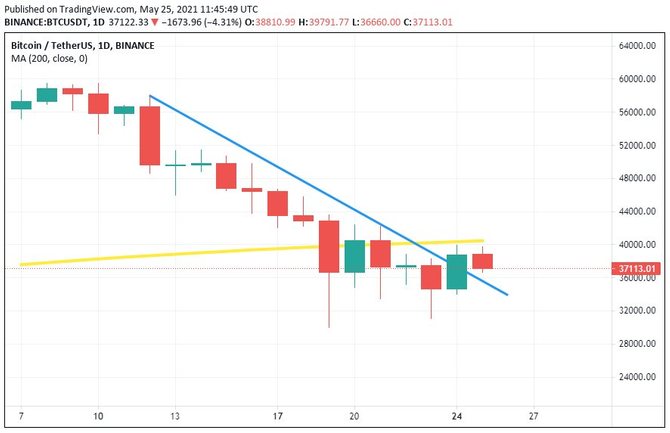 It is further strengthened by the 200-day moving average, so the bulls will need to muster all the strength to overcome it. A re-assault can occur after the price retests the downtrend line to turn it into support: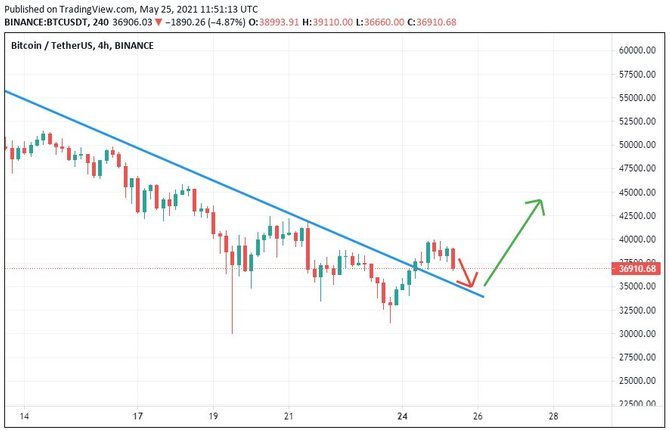 Each has its own bullish and bearish market indicators, personally, we will say again that Bitcoin will look strictly up again after the price exceeds $ 48,000, rather than $ 40,000: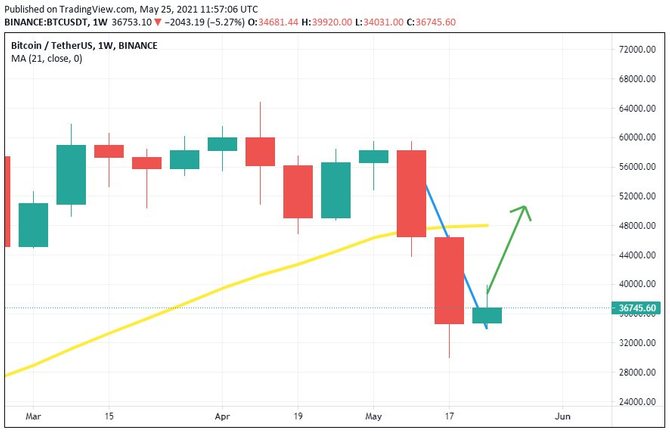 For the faithful, it is better to gain a foothold even above $ 50,000. And, of course, there are hints that the bulls have not yet seized the initiative.
The correction of bitcoin from the high of almost $ 65,000 could have ended at another $ 57,000, there was also a breakdown of the downtrend and even confirmation, but then the price collapsed down: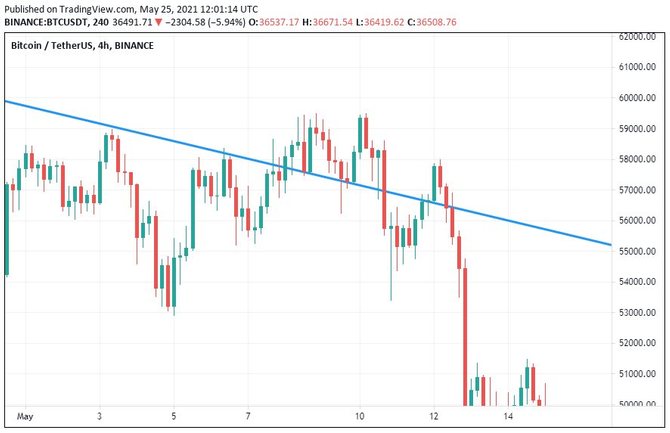 Therefore, the current chart, although it looks in favor of the bulls, is still too early to rejoice.
And what worries us most is the behavior of altcoins. The fact that they grew up yesterday is good only on the one hand. In practice, we would prefer that only Bitcoin go up and this would be a repetition of the previous cycle. And since its market share in recent days has increased slightly, altcoins are not going to lag behind the market, therefore, the fall may continue.