Should You Sell SHIBA INU: 5 Compelling Reasons
SHIBA INU was TOP-1 cryptocurrency in June according to CoinMarketCap. This Dogecoin clone and cryptocurrency meme has over 700,000 followers in Twitter. This movement that called SHIBA ARMY could reach 1 million people. Everything looks very cool, but in this article, we want to reveal 5 reasons why it is better to sell SHIBA INU right now.
Bitcoin
The first reason why you need to sell SHIBA is the current situation in the cryptocurrency market. We can maintain a positive attitude on B
itcoin as a whole for as long as we like and expect that the market will still turn around and move towards $ 100,000. $ 20,000, and maybe even lower for bitcoin.
We do not want to frighten anyone, we ourselves do not expect such a development of the event, but such a possibility exists, and we must warn about it.
What will happen to other cryptocurrencies if the bears win and Bitcoin surrenders in another panic selloff? You can find the answer on the chart of all altcoins for May 19, for SHIBA it was a 59% drop:
If this story repeats itself, then we will see an even greater drawdown, the price will go to lower levels and it is not a fact that it will ever return from there.
SHIBA ARMY is a big force, and since then it has grown to 713,000 followers on Twitter alone, if you collect all their social media, it could have a million accounts. But we have little faith that even such an army will be able to cope with the fall of the entire market and hold the course. Most of them are just waiting for a happy ending in the form of an incredible rise in price, they are unlikely to rush to the market to buy a coin, because it began to fall.
And then an extremely unpleasant scenario looms: prices fell, trust disappeared, there is no need to wait for new pumps in the bear market, and the token will continue to fall in price. Whether to wait in this case for the next growth cycle for cryptocurrencies, in fact, this is not a guarantee, because at the moment many altcoins have not reached the previous highs set in January 2018. And it is possible that it will now be so in the future, that some coins will appear on the market for only one cycle, and the next their price will no longer be profitable.
Baby Doge
The SHIBA INU community is actively fighting for the attention of the father of all "dog-tokens" Elon Musk, but apparently another favorite has settled in his heart. Remember the recent story when Musk wrote the name of his Shiba Inu puppy.
They tried to promote this tweet as a mention of the SHIB token and the price even grew a little, but then almost immediately returned to the starting point. You won't be able to just pick up and cling to any word anymore.
But worse is that Elon Musk chose a new object for his jokes and it became the new Dogecoin clone Baby Doge token.
A simple tweet with a hint of a children's song did its job and the token of the same name skyrocketed in price.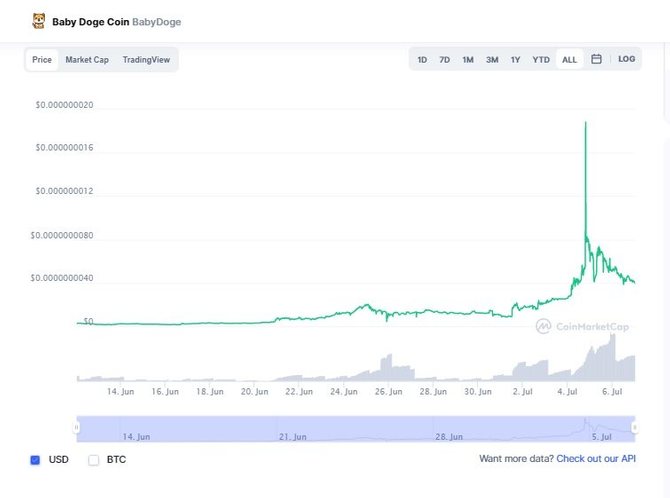 True, then it also quickly collapsed back to earth, but at the current time, the capitalization of $ 2 billion is still there.
The Baby Doge token has been launched on the Binance Smart Chain with a claimed 420 quadrillion tokens, which will provide forever an extremely low price per token. The owners are won over by helping real dogs build the world's most expensive animal shelter, a billion dollar project. And also those who already have Baby Doge will be credited with new coins.
When Elon Musk triggered the Baby Doge pump, neither Dogecoin nor SHIBA INU or other dog tokens rose in value. The market worked pointwise, but before one word about Dogecoin on Twitter, Musk was enough to trigger growth in all meme cryptocurrencies at once.
In fact, Elon Musk is a completely unpredictable guy, but so far we are seeing three trends at once. His pumps give much less effect than before, they act on specific tokens and he found himself another favorite instead of SHIBA INU.
SHIB
We know and generally do not mind this buy-and-forget strategy for investing in SHIBA INU. The bottom line is that today they took these coins for an amount that is absolutely not important for you, this is the money that you can lose and such a nuisance will not affect your lifestyle in any way. And the expectation that SHIBA ARMY will become the largest crypto community, the ShibaSwap decentralized exchange, which was launched on July 6, will become a really popular platform that will compete with Uniswap, and Elon Musk realizes his mistake and will only tweet about this coin.
As a result, the price will reach incredible heights, the community likes to call the price of $ 0.01, which is still unrealistic with the current emission. But as they say, why not try, because there is a chance that all the stars will converge and then such a minimal investment can really bring a fortune.
However, for example, the fact that after the launch of the decentralized exchange, the SHIBA token grew by 12% and then immediately began to fall, is alarming: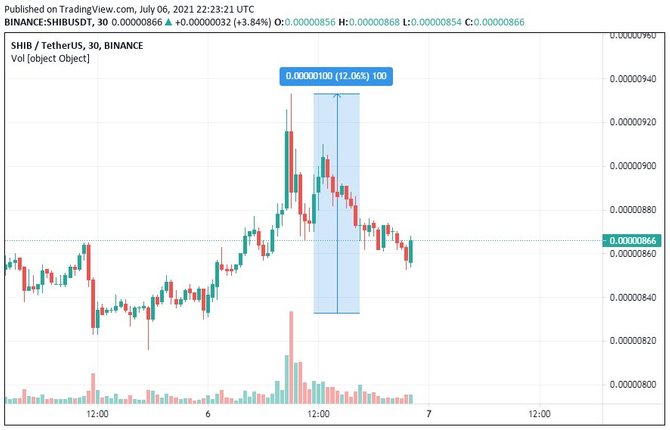 If this is exactly your strategy, you have made an informed decision and the main thing is that you actually do not risk anything except the amount of money, which personally means absolutely nothing to you. Then everything is all right. But if the main principle of buying such cryptocurrencies was violated, namely, you entered a significant amount for you, then let's open the SHIBA INU price chart and look at the formation of the support level, from which the price twice showed an increase of 79% and 74%: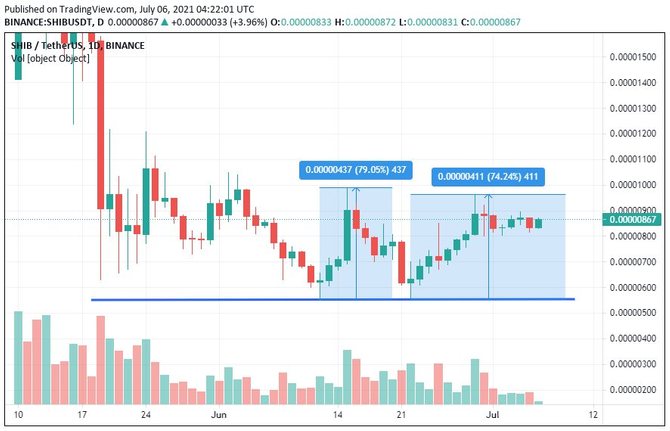 The rebound is getting smaller, a downtrend is traced along the declining highs and trading volumes are decreasing.
This is a bad sign, which may indicate a further fall in the price and, maybe, it will bounce off this support one more time or two, but then there will be a spillage downward, especially if the general direction of the cryptocurrency market does not change.
Therefore, evaluate why you entered SHIBA INU, what is the current price and how important the investment in this token is. In fact, taking the conditional 50% or even 80% of the profit is not so bad. In any market, it is important not to be greedy and remember to take profits whenever possible. And then no one bothers to re-enter the market when you receive confirmation that there will definitely be a new growth.