Ripple Price Surged To $ 4 Based On Rumors About Coinbase Support
Earlier today, on January 4, the average weighted rate of the XRP token reached a record value of $ 3.83. Such support based on rumors about forthcoming support of Ripple by the leading platform Coinbase.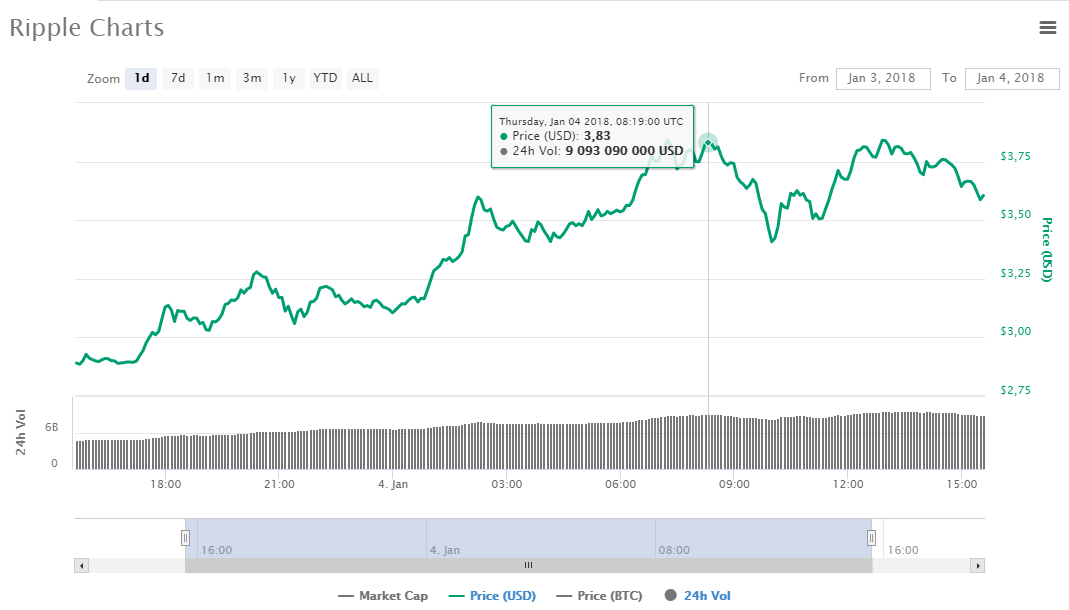 Ripple is a centralized network
At the same time XRP is not a cryptocurrency in the normal sense, and the centralized nature of the token is contrary to the basic principles, the community set as their goal a fight against the monopoly of the banks.
An analysts such as cryptocurrency fund Autonomous Partners founder and managing director Arianna Simpson said:
"Ripple is not at all decentralized. It is actually the antithesis of decentralization. I wouldn't be surprised to see the price continue to rise because I know that the team has a number of community and marketing initiatives in Q1 and Q2.
Nevertheless, if we look specifically at Coinmarketcap, then as of 11:30 UTC on Thursday, January 4, the weighted average rate of XRP was 3.58, while the market capitalization of the asset estimated about $ 138.8 billion. For comparison, bitcoin capitalization at the same time was $ 249.3 billion, Ethereum - $ 94 billion.
According to the chart above, over the past 24 hours, the XRP price rose nearly 32%. Not the last factor, which has had this effect, as yet unconfirmed reports in the network that already before the end of the month on support Ripple will announce the largest platform of digital assets Coinbase. Officially, the Californian company has not yet confirmed this fact. At the same time the Internet has screenshots of the platform source code that incluide ripple.
"q=ripple" is the query string. When looking up "dogecoin" you get: "q=dogecoin". The difference when looking up "ripple", is that you get 1 result. pic.twitter.com/qzhfojFEMr

— Ben Verret [Boycott Conbase] (@verretor) January 3, 2018
In addition, according to the screenshots, it assumed that Coinbase is preparing to add support for Dash and Stratis. Dogecoin in the Year of the Dog, unfortunately, is not yet expected.
Discuss