Research: Bitcoin Mining Profit Has Decreased
Bitcoin miners profit amounted to a record $ 4.7 billion for the first six months of 2018, however, the constantly growing competition and increasing complexity of mining make the first cryptocurrency less profitable and put the small players in losing position. This is stated in the new study of the analytical company Diar.
It is noteworthy that these figures for the first half of 2018 at the same time by $ 1.4 billion more than in all of 2017, while the miners themselves earn about 54,000 BTC per month.
Despite this, those who are forced to pay for electricity at retail prices, in September for the first time in recent years, went into minus, analysts say.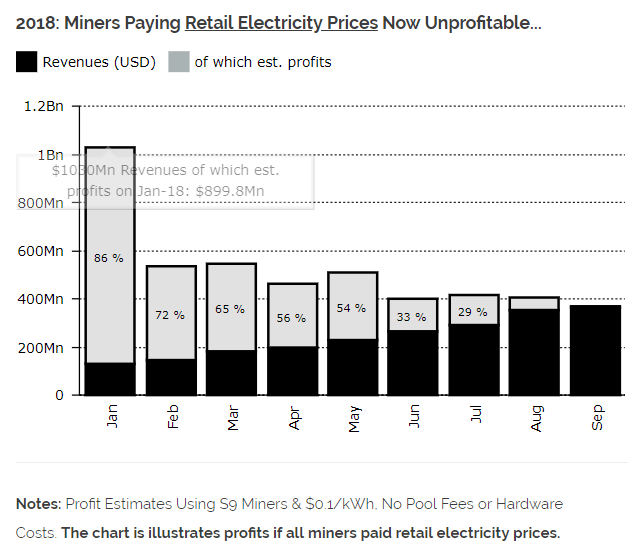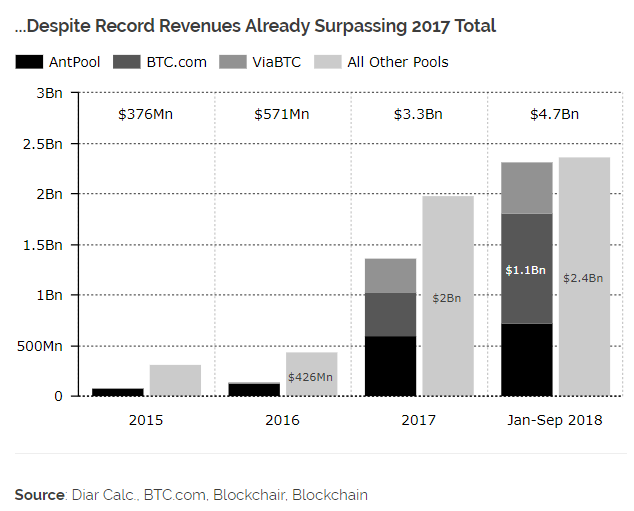 At the moment, one of the few countries where the cost of electricity still gives a certain commercial sense for mining Bitcoin, remains China with an average price of about $ 0.08 per kWh. However, at the current rate of Bitcoin, which remains at about the same level as most of 2018, the cost of hardware, staff salaries and other expenses make Bitcoin mining almost unprofitable for small enterprises.
According to Diar, only large pools, controlled by the Chinese manufacturer of mining hardware Bitmain, can still make profit on bitcoin mining. However, according to Bitmain's own data, 95% of the company's revenues are accounted for by sales of yardware, and not by its own cryptocurrency mining.
Moreover, in order to reduce electricity costs and preserve the profitability of its farm, Bitmain will be forced to distribute its computing power between different countries. In particular, in the first quarter of 2019, the company plans to open three new data centers in the United States.
"With low energy costs for leading industrial mining enterprises that operate at a profit of 50-60%, there is still room for market growth, but profits will continue to decline. Today, and most likely this will continue in the future, bitcoin mining is increasingly becoming the lot of big players with wide financial opportunities," the researchers conclude.
Recall that in September, F2Pool co-founder Xing Yu published a list of 23 mining hardware and cryptocurrency threshold prices, below which the mining of digital assets will be unprofitable.