January 29, 2021 /
Beginners
Polkadot Review: Forecast, Technology And Potential
What can unite Ethereum and Bitcoin? Ethereum co-founder, head of Parity Technologies, and leader of Web 3.0, Gavin Wood, decided to do it with the new cryptocurrency Polkadot.
Altcoin DOT appeared on the cryptocurrency market only last summer, but it has already grown by 450% since listing on leading cryptocurrency exchanges. In the future, it can grow to $ 100 per coin or another 500%. We will tell you what this altcoin is and what its price will be in a separate review on Polkadot.
Technology
Polkadot is one large blockchain hub, on the basis of which various blockchains operate. For comparison, let's take Ethereum, which is a blockchain platform for smart contracts. But Polkadot is a platform for various blockchains, each of which will run its own smart contracts.
There is one fundamental difference from the future Ethereum 2.0, which is based on sharding technology. Shards are actually the same blockchains that can interact with each other. Polkadot will have parachains instead of shards, which are not copies of each other.
Each parachain can have its own peculiarities of work, which will make it as efficient as possible for specific tasks, for example, for running games. At the same time, the parachains remain compatible with each other, and it is possible to exchange tokens and information between these networks without any problems. They will also have their own bridges between blockchains, for example, Ethereum has tokenized Bitcoin.
The tokens, tied to real Bitcoins, will eventually be on Polkadot and other cryptocurrencies will be ported there in a similar way.
The author of this concept and the head of the project is Gavin Wood. He is one of the co-founders of Ethereum, the author of the Solidity smart contract programming language, and the co-founder of the developer company Parity Technologies, which has long played a key role in supporting the Ethereum ecosystem. This is just a short track record, he enjoys great authority in the crypto community, and many consider him a cooler developer than Vitalik Buterin.
By the way, Gavin is not the first of the Ethereum co-founders who decided to create their own blockchain project.
Gavin Wood will play key roles in the development of the Internet of the future known as Web 3.0. This concept implies the decentralization of data, services, and user privacy. But as for Web 3.0, it is not clear who should pay for the use of this Internet, because according to this concept, each user will pay for using the service, even if you just went to the site to read the news or sent a message. This is probably the main problem on the way to implementing this idea, but Polkadot has a solution, according to their concept of using tokens.
Tokenomics
Polkadot's main goal is to build a system where transactions are fast and virtually free. The first problem will be solved by the Proof-of-Stake algorithm, and the second will be solved by the idea of ​​using tokens.
Something similar has already been implemented in the EOS blockchain, where if you want to launch your own project, take the trouble to buy an internal network resource RAM for the cryptocurrency of the same name. As for Polkadot, you can buy the right to launch your own parachain for DOT network tokens.
An important point: several projects can be launched on one parachain at once, therefore,  developers can chip in and thereby reduce its own costs.
In addition, since we have a Proof-of-Stake algorithm, DOT tokens can be sent to staking. This way you support the validators, and they will share with you the reward for processing transactions. At the moment, 60% of all DOT coins are involved in staking:
Staking On Polkadot Platform
And there is one important nuance here. When collecting information about the project, we came across the following: tokens can be taken from staking at any time. But at the same time, they will be frozen in the wallet for more than two weeks.
Note that DOT staking now seems to be a profitable business, but if your bet is speculative and you are waiting for the moment for a profitable sale on the exchange, then think before giving your coins to a steak, because due to this freezing you risk missing a convenient moment to exit market.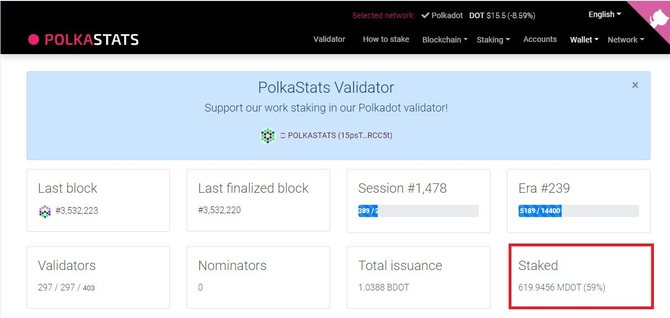 Note, that in the summer of last year, before the start of DOT listing on exchanges, a denomination was carried out, in fact, the emission of tokens was increased 100 times to 1 billion coins:
For each old token, 100 new ones were issued, so practically nothing has changed for the owners. But this was an important moment for the start of trading on the exchange, because everyone loves cheap tokens, and this technique allowed us to reduce the initial price by almost the same 100 times.
Since then, the DOT token has grown 450% from $ 3 to $ 16: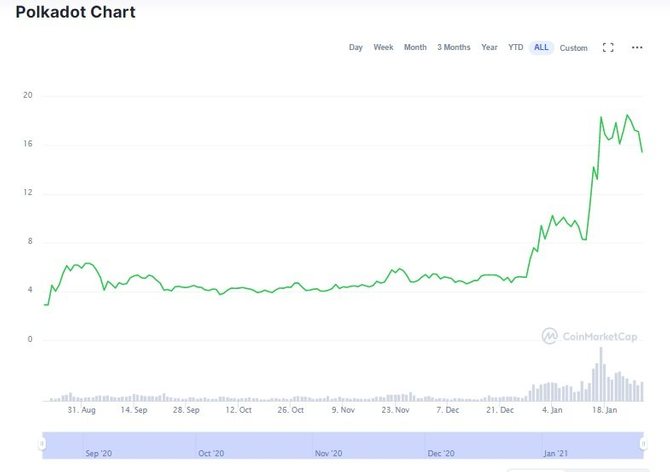 Forecast
So, Polkadot is promising a price tag of $ 100 almost this year. An approximate calculation shows that you need to grow by another 500% and then the capitalization will be about $ 90 billion.In general, this is acceptable for the current market, for comparison, the capitalization of Ethereum is now $ 140 billion.
But you must understand that if this happens, then it will be a short-term action and then the market will face a powerful pullback. Naturally, altcoins will also fly down after that.
Take a look at the price charts for Polkadot, Chainlink and Cardano, all of which showed wild growth from December 27 to January 21. And also look at the tokens of DeFi projects, the same Uniswap: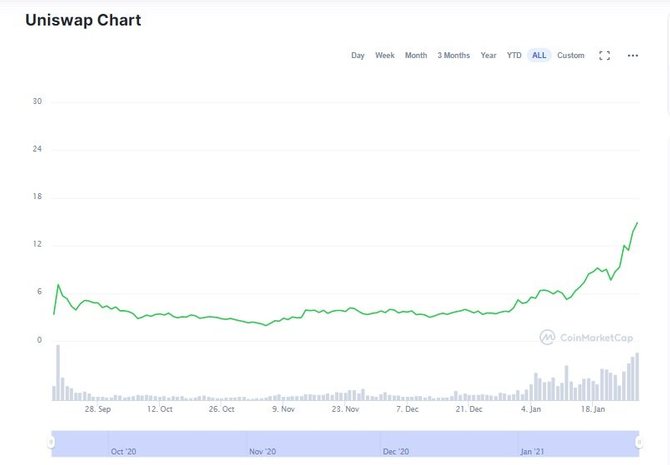 A similar picture, which may indicate too much hype around new projects. This does not mean that it is over and the price will not go even higher. At Polkadot, the price is also helped by a relatively small issue and a large number of coins in staking, that is, the supply on the market is too small. But it is obvious that the cost of new altcoins is already overvalued and is based only on the fact that buyers continue to believe in further and, most importantly, rapid growth. If it does not happen, then all of them can roll down the mountain.
In total, there are two scenarios for Polkadot to reach the $ 100 price tag. The first is growth following bitcoin, when it will lead the market to new highs, and the second in 3-5 years if the platform receives mass use, which will make this token price economically justified. The second is a short-term rally during the altcoin season.