March 15, 2022 /
Interesting
How To Collect Crypto Portfolio Like Elon Musk: What Coins Does Billionaire Invest In
Elon Musk took on inflation and said that you can protect yourself from it only by holding real assets today, such as real estate or shares of companies whose products you are sure are in demand.
And he points cryptocurrencies, indicating that he personally holds Bitcoin, Ethereum and Dogecoin.
We have to see at the confusing situation in the cryptocurrency market now. Some believe that we are already at the bottom and it remains only to wait for a new wave of growth. Others are waiting for even more drops. Only then it will be possible to talk about the return of Bitcoin to the current high of $69,000. Here is an interesting forecast: this model indicates a potential bottom of bitcoin and it says that it could be at $26,820.
https://twitter.com/TheRealPlanC/status/1503123676224532482?s=20&t=9r4gVV-vgz_2UHr7kcgZRA
And there is a third option, that cryptocurrencies will go through what is today called the "dot-com bubble" and only a few projects will remain from them, and the rest will be reset to zero and will never rise in price again.
BTC
Let's not argue with Elon Musk about his choice of cryptocurrencies and start with Bitcoin.
The whole history of cryptocurrencies began with bitcoin – it was the first real implementation of the concept of decentralized money on the blockchain, where no bank or payment system can interfere with the process of sending transactions. Today, the capitalization of bitcoin exceeds 42% of the entire market, and it is he who sets the tone for all other altcoins. Without growth in bitcoin, other coins are at best capable of a local short-term pump, and then everything decides what trend bitcoin is in now.
Bitcoin is the most decentralized cryptocurrency, and the US Securities and Exchange Commission has no claims against it in the sense that it can violate securities laws.
Without Bitcoin, we basically do not see a future for the cryptocurrency market. This is best supported by the fact that it is already recognized as legal tender in El Salvador. ETFs for bitcoin are traded in many countries, the world's leading banks provide their clients with access to investments in the first cryptocurrency, companies, funds and even countries keep bitcoin on their balance sheets, and we could talk for a long time why bitcoin is a mandatory attribute of any cryptocurrency portfolio.
Does Bitcoin have risks? The biggest of them is the claim to mining on the Proof-of-Work algorithm. There is bad news: the European Parliament decided to return to the issue of banning cryptocurrencies, which require a lot of electricity to operate. They explain this by saying that it is necessary to stimulate bitcoin to switch to Proof-of-Stake, completely unaware that such an idea goes against the very essence of bitcoin.
We are sure that many countries will not try to change Bitcoin, and those who do not understand this will only make things worse for themselves, as was the case in China with the ban on mining. In addition, here are statistics on how much electricity we spend on bitcoin mining and how much on gold mining, as well as other areas of human activity.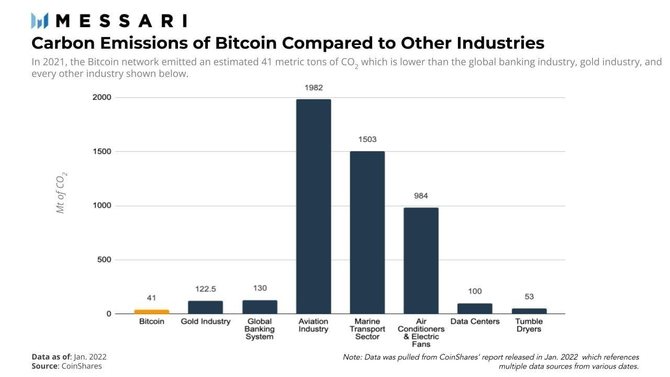 Obviously, what is really worth fighting, since we are so worried about the environment.
Therefore, in any case, we do not sell and, if possible, we buy more BTC.
ETH & SOL
These blockchain platforms run decentralized exchanges and decentralized finance apps. If you look objectively at this industry, many of them are worthless tokens, launched with only one purpose – to sell your token.
Nevertheless, in light of how the world has taken up arms against each other with sanctions, it is safe to say that the decentralized finance sphere will be in demand in the future, the only question is which projects will survive the transition period. It's like with ICO, everyone knows BNB and Binance, but once it was just ICO. But they have already forgotten about the many projects that went through the token sale, but did not provide a finished product or it turned out to be completely unclaimed in the current realities, such as the EOS cryptocurrency.
In total, there will definitely be DeFi, and such services will need a platform. First of all, this is Ethereum – a huge community, a large development team, big plans for future development to switch to a new algorithm in order to solve the problem of long and expensive transactions. But even in its current state, Ethereum occupies more than half of the decentralized applications market, it is on it that the most innovative and really useful projects are launched. And if we ever see a separate segment separate from the cryptocurrency market in the form of blockchain platforms, then Ethereum will continue to play the role of leader there, which it generally does now.
We would single out Solana project. There are actually a lot of complaints about her and this is a rather risky option. Despite the declared simply colossal bandwidth, the project has problems with centralization and the actual operation, there are a lot of reports about how the network simply freezes. But Solana has a cool bonus in the form of actually direct support for the FTX cryptocurrency exchange, which has now become one of the market leaders. If they develop Solana the way Binance does with BNB, then everything will be fine with this cryptocurrency.
BNB & FTX
The next altcoins that seem reliable are exchange tokens, specifically BNB and FTX. Each of them has one of the leading cryptocurrency exchanges behind them, and as long as they are doing well, their tokens will also at least follow the rest of the market and make new highs from cycle to cycle.
What are the risks? First of all, this is regulation, because now there are a lot of questions to Binance in different countries, they say that you are working without a license. Binance is actively pursuing this issue and is making progress on this front. In general, today this is too big an exchange for regulators to be able to close it, introduce certain restrictions and force it to play by its own rules, this is possible, but it is unlikely to be closed.
In FTX, in turn, such problems have not yet been observed. By the way, Binance itself previously invested in them, but now FTX has bought out its share from them and set a course to fight for the right to be called the TOP-1 crypto exchange.
Now almost every exchange has its own token, can they also be considered reliable for long-term investments in cryptocurrencies? We think that far from everything, you need to look at the jurisdiction of the site, how reliable its business is, and also that the exchange token has an application outside the trading platform itself. We also advise you to follow the process of the SEC lawsuit against Ripple. In theory, if the SEC wins, then they may then have similar claims against the exchanges that have launched their tokens.
LTC&DOGE
Lets look at Litecoin. Now it is in the ranking of cryptocurrencies by market cap on the 21st line, but we consider it a potentially profitable investment for the long term, for the reason that there are not enough BTC for everyone. This is personal opinion and not financial advice, but in the future, not only Bitcoin will act as a means of payment and a store of value. Of all the cryptocurrencies that, like bitcoin, offer us a decentralized payment network, we consider Litecoin to be the most reliable and the one that has the highest decentralization and level of user trust.
The fact that it is necessary for its price to go up again has already been said several times before. It will be enough if the conditional JPMorgan or Goldman Sachs calls Litecoin the way it is called in the crypto community – "digital silver". After that, many who have chosen Bitcoin as a protective asset will open their eyes that Litecoin can become their lifeline.
And the second altcoin is Dogecoin. Because we said at the beginning that we would not argue with the choice of Elon Musk. And because Elon himself is an extremely stubborn comrade who achieves his goals, he even challenged Putin to a duel, if anything. And if Elon says that he holds Dogecoin, then he is still going to implement his plan called Dogecoin at a price of $1.
It is clear that now he will not pump anything, and relying on the actions of one person is a big risk, even if he has long been the richest man in the world like Elon Musk. But we think that he just clearly understands when it is possible to pump and when not, and he also knows how to wait, and when in a month, six months or several years Bitcoin returns to sustainable growth, then Dogecoin will still show itself.