March 22, 2022 /
Interesting
How To Choose Promising Cryptocurrencies And Get Rid Of Unpromising Ones
The prediction published by crypto analyst Willy Woo notes that the market has already passed through the stage of capitulation and we are waiting for fly to the moon. And here's a Twitter poll from another PlanB analyst, and most expect us to see prices below $40,000 more.
Now it makes sense to reconsider your cryptocurrency portfolio in order to understand which altcoins are worth holding further, and which are not very promising and will only cause you to lose money in the future. Last year showed that coins that failed to live up to expectations could actually be good projects, but something went wrong, like the price of NEM.
Price
First of all, we would look at the price. You just need to find the coin you are interested on CoinMarketCap or CoinGecko. We open the chart for all time and the first thing we look at is how the coin reacted to the bull market in 2017 and 2021. Whether there was an increase, by how many percent and whether it was possible to break the previous ATH. Also look at what price the coin is trading at right now. If it has strong enough support in terms of being in a bear market. That is, whether it has broken through the bottom of the previous cycle.
In addition to the price chart, you will also need Google. You identify the key moments when the altcoin grew the most, and then search the Internet for what the news was at that time. If a cryptocurrency has gained in value due to blockchain updates, the launch of the main network, investments from funds, partnerships and similar reasons, this is a good sign. If you find only news related to promotions from some famous personalities, then the price was driven solely by hype and this asset is considered risky.
After you have conducted the first experiment, do not rush to immediately sell, there are several points in our instructions and it is important to complete all the checks.
Finance
Creating a worthy cryptocurrency project is not a quick or cheap process. You need a development team that needs to be paid for the work and that they have the finances in order to fulfill the obligations that they have taken on in the roadmap – also an important sign of the reliability of the altcoin.
Where can I get information about the state of finance from developers? First of all, in the description of the projects, in their white paper, it should be indicated how the tokens are distributed and how much will remain for the development of the project. By multiplying the number of tokens by the price, you can roughly estimate their financial condition. Also, good projects themselves publish regular reports on their work in their social networks, where they indicate the use of funding.
Another important point is the attraction of third-party investments from funds already at the stage of a launched project. If funds are now giving money for development, they themselves believe in the future growth of this cryptocurrency.
And if you have searched for all possible information and do not understand if the developers have money to work, this is another minus, the more such minuses are typed, the less chances for future growth the cryptocurrency has.
Development
The next thing is state of development. How can you check it? First of all, we find the project roadmap on the cryptocurrency website and then compare its implementation with the current time. What did they do, what did they not do, what were the reasons. It is also important to evaluate how correctly the direction in which the developers are moving is chosen. So that it doesn't turn out that they painted a big roadmap, but in fact, none of this can be done and the project will not become better or more in demand from this.
You can check the implementation of their promises by the developers through the same search on the Internet, but you can also evaluate their progress on GitHub. It is clear that few people are sufficiently versed in programming, but this is not necessary for an approximate analysis. The first thing you do is look for the source code to be released to the public. For example, open CoinMarketCap, find your cryptocurrency and on its page under the name there will be links to the official website, browser, social networks, etc., including the source code – this is the "Source code" button.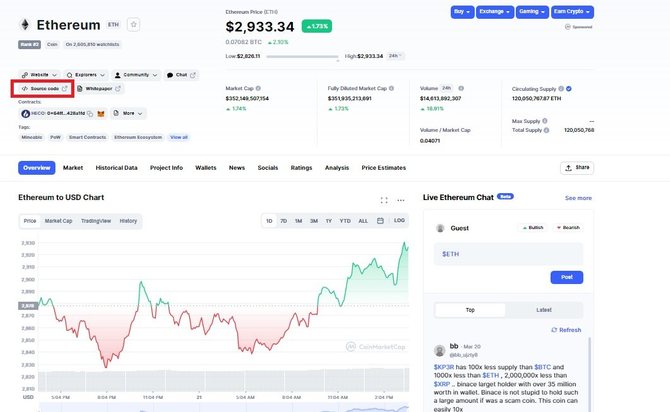 Having open source code is a rule of thumb in the world of cryptocurrencies. We go to GitHub and there we visually evaluate the volume of this code and the dates of the changes, in the active project they will be relatively recent. Also now, graphs have been added to GitHub that show the activity of developers, they can also be used to understand whether the project is alive or not.
For comparison, here is a page for Ethereum and a page for BNB. Here you can clearly see which projects are being worked on, and which ones are on pause. Again, zero activity of developers, as in this case with BNB, is normal, there is work being done in other directions. But if we are talking about a developing project, then we should see it on GitHub.
Community
The next important aspect is community support. How to evaluate it? The easiest way is to go to the Google Trends website and see how popular your cryptocurrency is today. Simply put, is it now in a trend or not.
Then we check how many subscribers are on the social networks of the project, before everyone gathered on Twitter and on Reddit, but now large communities are also formed in Telegram and Discord. What we look at is the number of subscribers and live participants, how often and what the project team publishes, we are especially interested in AMA sessions, progress reports, announcements of future updates and information about partnerships.
If the project has its own YouTube, evaluate what they publish there and how many people watch their videos. And savvy social media users can use analytics systems to see if developers cheated on their accounts to create the appearance of a community.
Tokenomics
Each cryptocurrency has its own tokenomics, for example, bitcoin has a limited supply and the reward for miners is reduced by 2 times every four years. But Ethereum or Dogecoin, the emission is unlimited, although the first one now has burning, which somewhat restrains it. But these are examples known to everyone, but what about the tokenomics of your altcoin, did you figure out how many coins there will be, when they appear on the market, who will get it?
Tokenomics is actually a big topic and you can't describe it briefly, you have to sit down and study hard for each individual cryptocurrency.
But there are a few key points to note:
How many tokens will be issued in total and how many of them are already on the market. So that it doesn't turn out that now the price seems good, because there is a shortage of tokens on the market, but soon there will be a huge number of them and the market will collapse;
How many tokens the developers kept, how many they sold to funds and early investors, and most importantly, what is happening with these coins now. The main risk factor, if the funds have already received all their coins in their hands, then they may decide to take the profit. Or the second option, if the funds have already sold all their tokens, therefore, they are no longer interested in this project;
Also look at emission reduction mechanisms such as incineration. Also, the market supply is limited to staking and tokens, which are reserved for the future distribution of rewards.
Statistics
Now there are various services that allow you to evaluate the current state of the coin. The first thing to look at is which exchanges it is traded on. If the project is more than three months old, as it has already entered the market, and it is still only traded on decentralized platforms, this is a bad achievement. Ideally, during this time you can already get listed on at least one normal exchange, such as Binance or Coinbase.
If we are dealing with a blockchain platform, following the example of TRON, then through the DappRadar website you can see how many applications and how many users there are. Statistics on how much money is blocked in this network can be taken from the Defi LIama website. And just a wagon of statistical data, for those who take the time to figure it out, the Messari website offers.
Using this instruction, if, of course, you approach the issue seriously, you will be able to determine for yourself which cryptocurrencies should be kept further and which ones should be urgently sold.