November 27, 2020 /
Forecasts
How Strong Is Bitcoin Correction: December Forecast
Bitcoin price collapsed from $ 19,450 to $ 16,300. Then buyers stepped in trying to keep the rate above $ 17,000. This sale of BTC affected all altcoins, which are falling by 12-22%. Therefore, Ethereum price has lost $ 100 overnight, and XRP dropped to $ 0.53.
Let's figure out why Bitcoin crashed on the eve of Black Friday.
Bitcoin
Bitcoin did not notice support at $ 17,600 and dropped even to $ 16,300, where it was bought off pretty well:
But if the price continues to fall, then the next support level is at $ 15,600.
We can see that the level at $ 18,400 has passed almost without resistance:
There was a small fight for support at $ 17,600, which the bulls also lost. And now the course is trying to push off from $ 16,700 and there are even hopes to keep the price above $ 17,000.
But we would not be so optimistic, maybe we will keep it now, and tomorrow we will go even lower. It was painfully beautiful that we grew for seven and a half weeks, and such a downward reversal is completely natural:
Of course, before the correction everyone really wanted to upgrade to the $ 20,000 maximum.
There are rumors that the current drain could have been triggered by one of the whales, which could not stand it and decided to make a profit.
The chart shows that it seems like this is not entirely true, there are no too huge candles at the beginning of the correction:
Although Bitcoin could be sold carefully a little and it could not be a crypto whale at all, but one of the new large players.
For example, yesterday crypto-media cheerfully reported the news that MicroStrategy earned only $ 34 million in 2019, while their investments in Bitcoin this year gave a profit of about $ 300 million. Maybe they decided to fix the profit.
Altcoins
Let's look at altcoins, which together fly into the abyss. Let's start with Ethereum, its price has already dropped to almost $ 500, that is, $ 100 in just one night. But he has an important event on December 1 – the launch of the zero phase of Ethereum 2.0.
But as you can see, the price literally collapsed, which indicates the weakness of this event to support the value of Ethereum. And this is not surprising. And in order to take Ethereum from this smart contract for staking, it will be necessary to make a global network hard fork, like the one during which Ethereum Classic appeared, or, more precisely, it remained in the original chain, and Vitalik Buterin's Ethereum went to the alternative.
We also want to say about the XRP price, which is holding up very well. After that insane 190% rally, the current correction should have just smudged this altcoin: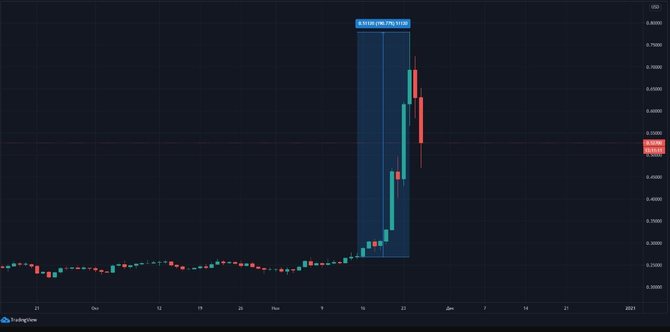 We can see that the price is trying to stay above $ 0.5. If the head of Ripple, Brad Garlinhouse, does not buy it himself, by the way, last quarter they bought tokens from the market to support the rate, it means that they really have a buyer on the current price, which is very good.
As for the rest of the altcoins, they are falling because Bitcoin is correcting. Of the top coins, we do not see any other interesting trend for a separate analysis at the moment.
Forecast
The first thing – the growth for seven and a half weeks should have ended in a correction, so this is completely normal.
Moreover, it is enough for us to close November above $ 14,000 in order to update the historical price maximum at the close of the monthly price.
The second thing – Bitcoin's 21-week moving average is at $ 12,200: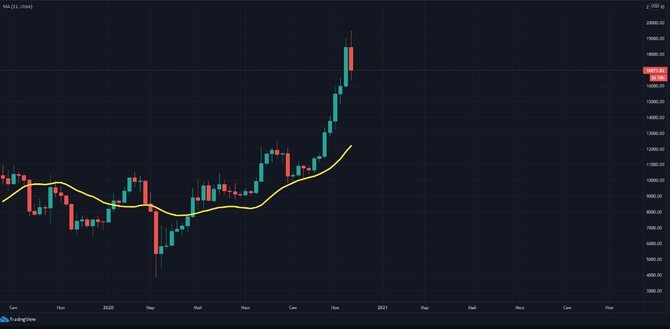 As long as we are above this line, we can be sure that the uptrend will continue. But we don't have to go down that deep. Here is an example from the history of bitcoin in a strong growing market, when after seven weeks of growth there was a correction and then we went up again and updated the current price high: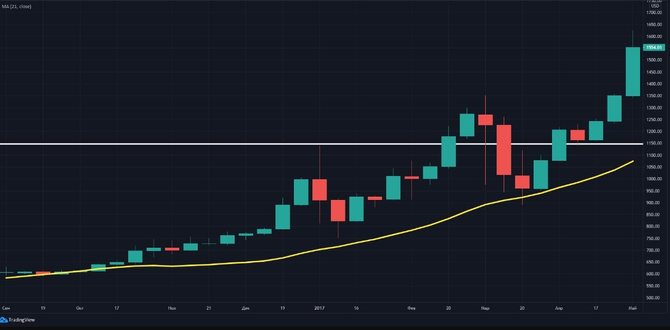 The main thing is that we have a good chance of making a quick correction right now and then in December or January to go and finally renew the $ 20,000 high.
And the third thing – altcoins are falling quite well against the backdrop of an increase in the share of bitcoin in the market. We very much hope that this process will continue in order to allay any fears about a bad scenario, according to which Bitcoin has already passed its peak.
We do not want this to happen, so we rejoice at the fall of altcoins, because their time has not come yet, provided that we are going to a real native.