December 17, 2021 /
Interesting
How Fed's Decision Will Affect The Cryptocurrency Market In 2022
In this article, we will analyze the macro situation in financial markets and BTC in particular, tell you about the hidden meaning of Fed's decision and why it is extremely important. 
FED
Recently, S&P 500 has gained 1.63% in just one day. Now it is actually one step away from the historical maximum.
Bitcoin has had a less significant recovery. In fact, the price for today is 41% lower than the maximum in November.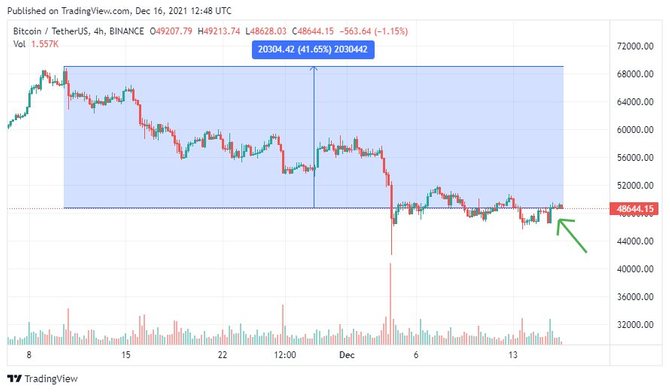 It is important to understand that there is a rather strange correlation between the stock market and cryptocurrency. Bitcoin often supports  S&P 500 drop, which is explained by commonplace fear. Because the US stock market is fundamental to everyone else, and if it goes down, investors try to sell any assets and go out in dollars, including cryptocurrencies. But the reasons for the growth in the S&P 500 and Bitcoin are different. When stocks are skyrocketing, cryptocurrencies can standstill or even fall. This is such an injustice, it needs to be understood and included in your market analysis.
Yesterday there was real euphoria in the stock market on the occasion of the Fed's decision to leave the key rate at zero. After all the head of the regulator, Jerome Powell, frightened everyone with strange hints of a reduction in tapering. And Bank of America was catching up on investors with horror that the Fed could go to extreme measures and raise the rate ahead of schedule. By the way, this is another proof that banks make their forecasts not in order to warn, but in order to earn money themselves.
Having scared the markets pretty much, after in fact the rate was left at zero, and tapering was accelerated only twice to $ 30 billion a month, investors realized that the bull market would still continue and rushed to buy back the drawdown. And few people noticed that the Fed took a very important step, which next year could present an extremely unpleasant surprise for all of us.
So, the tapering will now be finished in March 2022, and not in the summer, as previously planned. It is also planned to start raising the rate next year, very carefully so that the money remains cheap, but the process will nevertheless begin, whereas a couple of months ago it was expected to be launched no earlier than 2023. And one more point that few people paid attention to – the Fed's plans to start selling its $ 8.6 trillion in assets.
See what they do. The Fed began to reduce liquidity, giving the markets less and less money. They will also start selling their assets, which market participants will have to buy, thereby launching the process of withdrawing liquidity from the markets. At first, this may not have a noticeable effect, but gradually the inflow of liquidity will become less and less, and the rate of withdrawal of money will be more and more. And at some point, investors realize that they simply no longer have the funds to buy shares, the bubble cannot grow further and it will have to burst.
This process is not fast, that is, here and now we may have a rally in shares, and at the beginning of next year, the growth may continue. But the Fed has already made its choice and instead of maintaining growth in the stock market, it will now deal with inflation, for which it is necessary to simply take money from people. This is important for you and me, because if the Americans do not have the money to buy shares, then they will not invest anything in bitcoins either. Therefore, if you plan to continue the growth of cryptocurrencies, then you need to catch up to $ 100,000 by March next year, where there may be the first strong shake-up for the S&P 500, and, therefore, cryptocurrencies are at risk of falling.
USA
After the Fed meeting, Jerome Powell gave a traditional conference and there he was also asked questions about cryptocurrencies. The good news for stablecoins is that the Fed is not going to ban them. Moreover, he sees potential for improving the financial system. True, he added that stablecoins should be properly regulated at the same time. And what can be imagined from the previous statements of American politicians, they will seek to ensure that stablecoins are backed by dollars, and these funds are kept on the balance sheets of banks controlled by Fed.
Powell also said that the rest of the cryptocurrencies are speculative assets with great risks.
Speaking of risks, Senator Elizabeth Warren, who constantly hates cryptocurrencies, now demands that the authorities urgently stop DeFi, calling them the most dangerous part of the industry. She has supporters in Congress, but there are also opponents, five congressmen even revealed their investments in bitcoin. So, in general, the political field in America is at least neutral towards cryptocurrencies, and it is unlikely that any radical decisions should be expected there, we are talking about bans.
And then there is such as the International Swaps and Derivatives Association, which is also based in United States.
They recognized that cryptocurrencies are a unique asset class. And they began to develop regulatory rules for cryptocurrency derivatives, that is, futures and options. The good news in terms of adoption, but it could also help reduce market manipulation.
BTC
Cryptocurrency analysts never lose heart, well, at least most of them. For example, here's a post about breaking out of the downtrend of the Momentum indicator, which indicated the previous bullish runs this year at $ 53,000 and $ 69,000.
As they say, we go to $ 80,000 and from there to the correction, it would certainly not be bad. There is good news for those in altcoins too.
This altcoin market capitalization chart shows that we are repeating the scenario of 2017 and the current season, when the coins were shooting and giving a bunch of "Xs" while there was not yet. This forecast tells us that Ethereum at $ 8,000 and XRP at $ 4 are still real, just until their time has come.
And if you look at the comparison of previous cycles with the behavior of hodlers, then in fact throughout this year they accumulated cryptocurrency.
For the market to peak, it must fall from the current 56% to at least 47%. In the meantime, hodlers are taking bitcoins from exchanges, they are bringing closer the time when a shortage of supply will provoke a rise in prices.
This is what analysts think, and we intend to continue to orientate on the price of bitcoin, and so far it does not give an answer for the future continuation.
The key level for us is to close Bitcoin a week above or below the 50 weekly moving average, currently $ 47,700.
As long as the rate is above this line, there is still hope for another deep correction, after which there will be at least one more round of growth. On the daily chart, Bitcoin continues to maintain support from the 200-day moving average, and is slowly but surely heading towards a short-term downtrend, a breakout of which will be the first sign of a reversal.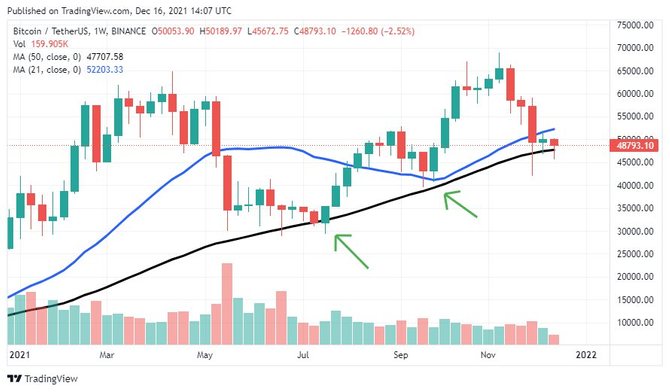 Perhaps this reversal will happen at the end of this week or at the beginning of the next one, at four o'clock there is a formation of a triangle, upon going up from which it can reach the next resistance at $ 55,000.
We looked at scenarios for growth, but it also had key support levels, falling below which would force us to personally consider bearish scenarios. So be careful and keep your finger on the pulse.