March 27, 2022 /
Interesting
Ethereum Classic: Why There Was An Increase; ETC Forecast For 2022
Ethereum Classic has risen in price by as much as 100% in just a few days.
This growth comes amid rumors that Ethereum miners are moving to Ethereum Classic, because the former one will soon switch to Proof-of-Stake. At the same time, applications and users will also migrate to Ethereum Classic, at least those that only trust the Proof-of-Work algorithm.
Price
Let's start ETC price. It should be noted that Ethereum Classic performed well last year when it updated the high of the previous cycle.
Many altcoins have not been able to do this, although they are also well-known projects with a history and great community support.
This is a good sign that indicates the prospect of new growth and, as a result, a reaching new ATH, when Bitcoin returns to a long-term bull market. If we analyze Ethereum Classic rate for today from the point of view of technical analysis, there is very favorable picture.
Let's look at the weekly chart.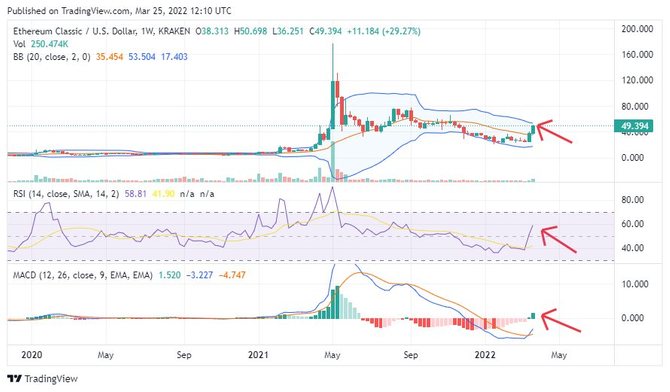 We can see the return of the bulls to the market (MACD), after the sellers prevailed in this coin virtually all the time since last summer. There is a steady growth and there is still quite a lot of potential for its continuation. The RSI indicator has just moved to the top of its chart. The Bollinger bands have reached the upper part of the channel, which can be a hint of a possible correction, However, there is also a chance that the channel will expand further upwards.
We can also see how the buyers have seized the initiative on the MACD, note that the momentum is many times stronger than the previous ones.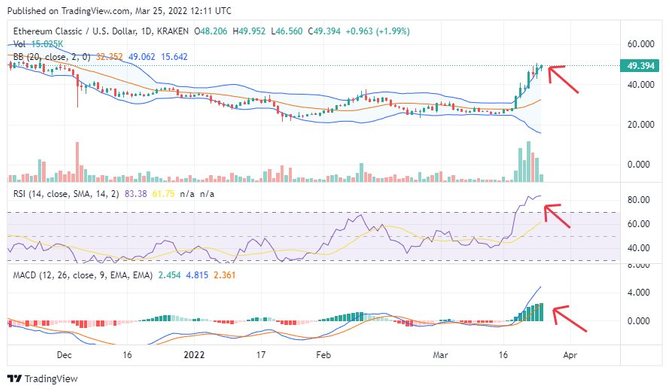 Bollinger Bands show the expansion of the channel into the growth zone, which may indicate the formation of an uptrend. The only thing that confuses is RSI, which signals that the coin is overbought, which means that a short-term correction may follow here and now.
To what level the price will roll back from the current $48?
We can see that RSI indicates overbought and shows bearish divergence.  At the moment, the price is trading between resistance at $50 and support at $40: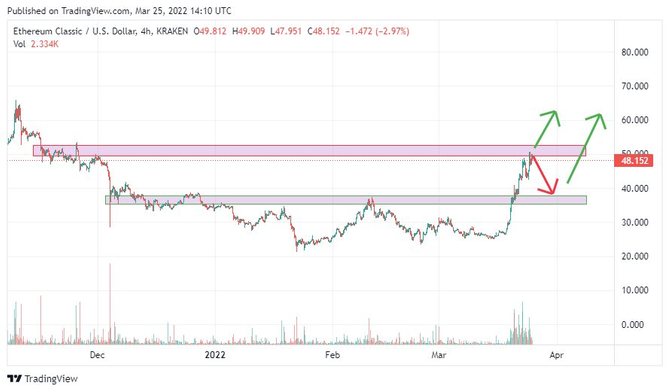 Depending on the future development of Bitcoin, we can see both a continuation of growth from current values, with a slight correction to $45 and further by $60, and a correction in the moment to $40.
How the market behaves will depend primarily on Bitcoin, which at the time of writing the article has reached the upper border of the triangle and this is a very important point.
An upward exit from this figure will confirm that the bulls were right and bitcoin will be able to move to new price highs this year.
Mining
The growth driver for Ethereum Classic was the rumors that miners are switching to the cryptocurrency, because there will soon be no place for them on Ethereum. It is important that the mining algorithm in both cryptocurrencies is the same, and theoretically miners can switch between the two networks without any problems.
But being able to do it there are two very different things. Here is the Ethereum Classic hashrate chart, it has really grown a little in recent days, but this is not a mass exodus of ETH miners, but simply a reaction to the price increase.
Here is a simple pattern. The rate has grown, and one of the miners considered that it is now more profitable to mine this coin, and as a result, they switched to it. If we look at the comparison of the hashrate of both Ethereums, we can clearly see how many more miners support the TOP-2 cryptocurrency, and if they started moving to the Ethereum Classic network, the graph would look completely different.
DeFi
The current cryptocurrency market is chasing money, investors are buying those coins for which we see investments of funds and where the indicator of blocked funds, aka TVL, is growing rapidly. The Ethereum Classic team made a bold decision, they upgraded their code to maximum compatibility with Ethereum and refused to switch to Proof-of-Stake. That is, all users and developers who do not trust Proof-of-Stake or do not want to use it can continue to work using the Proof-of-Work algorithm, but already on the Ethereum Classic network.
This is a very bold decision, the only question is how many such applications will there be? If you study Ethereum Classic ecosystem, then it has many wallets and a large list of supporting crypto exchanges. There are also applications, they are few in comparison with others, but there are. But if you go to the blockchain platform analytics website, then Ethereum Classic takes the last 86th place there with a TVL equal to zero. Well, or open his page, maybe, of course, the site developers did something wrong and show it incorrectly, but so far it all looks very depressing.
Solana, BNB Chain, Terra and other popular networks today are all Proof-of-Stake. They have a lot of questions about centralization, but users don't care, they want fast and cheap transactions. That is why Ethereum also intends to move to Proof-of-Stake to give users what they want.
Ethereum Classic is committed to the ideals of the blockchain, but their plan to stay on Proof-of-Work may fail because we don't see a queue of developers who would like to work on their blockchain right now, just as we don't see a queue of users. If such a request appears as the release of Ethereum 2.0 approaches, then Classic has an excellent prospect. But if it does not occur, then we can see growth in the bull market, however, the coin will not return to the tops.