Ethereum, Cardano, XRP And DOGE: Forecast In The Case Of Bitcoin Growth
Bitcoin fought again for the $ 40,000 level. If BTC does not take this price, we can consider a bearish scenario, the target of which is at $ 28,000.
If the first cryptocurrency falls, then altcoins will not be good either. Even Elon Musk, who is now mining bitcoin, will not be able to save Dogecoin from falling.
Bitcoin
The triangle has been broken, now you need to test its upper limit and you can go to $ 43,000.
The optimistic scenario suggests that the bulls will return to the market. The next important levels for them will be $ 43,000, $ 45,000, $ 48,000 and $ 50,000: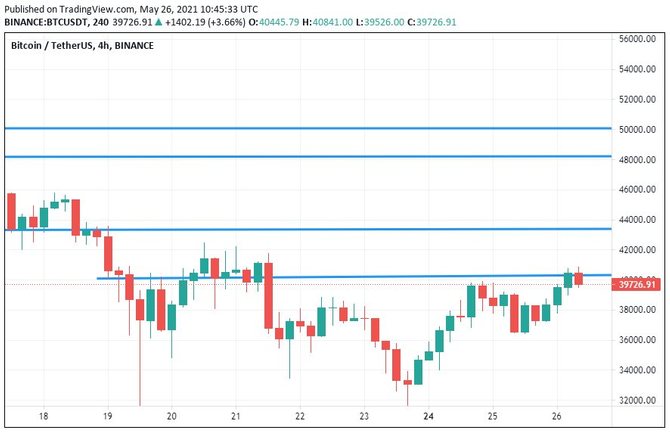 Taking into account how quickly bitcoin fell and how many days it traded above $ 50,000, a strong impulse can be expected when only $ 48,000, and maybe $ 50,000, will become serious resistance on its way.
Again, we can only talk about a full return of the bull market if the price is above $ 50,000. This is not financial advice.
Until we have received confirmation, it makes sense to consider a bearish scenario as well. There is a so-called "dead cat" rebound, given how quickly bitcoin was falling, we can get a pretty strong pullback and then the fall will continue. The weekly chart is still bearish, and the target of the fall may be $ 28,000 on the 50-week moving average: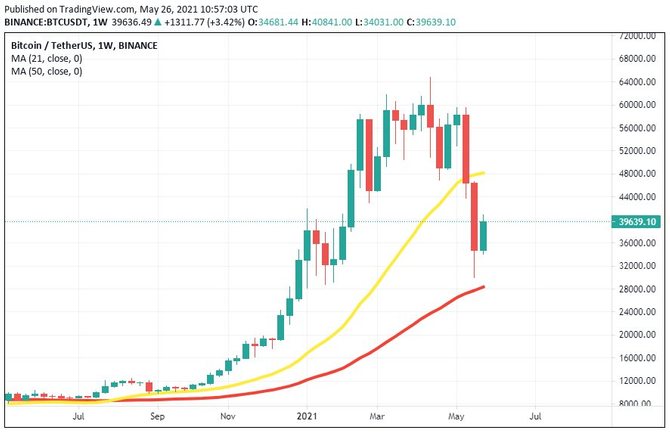 There is a theory that we are repeating the 2013 cycle with a double peak, but there is a completely different picture and the correction from the first peak was as much as 80%. Therefore, if we proceed from the fact that the signal for a bear market when falling below the 21-week moving average could be false, then we would rather support cryptanalyst Willie Wu. According to his assessment of the market, the story with the fall in March 2020 repeats itself, just the reason is different this time. And this opportunity, like a year ago, is actively used by new people to enter the market at an attractive price.
Speaking of analysts, Bloomberg's Mike McGlone confirmed his long-term prediction of $ 100,000 Bitcoin movement:
And here is another study, which says that only newcomers to the market turned out to be in the minus on this fall. It matches the data from PlanB, according to his observations, the realized cost of all bitcoins is $ 23,000:
Therefore, hodlers are stronger than ever and have no reason to sell.
As for the news, fears around mining continue to prevail in the market. In China, illegal miners will be caught in the province of Inner Mongolia, it is possible that similar measures will spread to other regions of the country.
Iran has introduced a mining ban, even for those with a license, until it rains on Thursday. This is no joke, the country has started a drought and until it ends, hydroelectric power plants are not able to produce the required amount of electricity.
And a little Elon Musk, how can it be without him. His latest statements and actions point to a cunning plan to shove a bitcoin miner into every Tesla. The community does not trust him very much now, but the head of MicroStrategy, Michael Sailor, spoke in defense of Musk. He said that Musk did not just meet with someone there, they really form a council of miners, respect decentralization and want to make bitcoin mining safe for the environment. Personally, we do not like that Sailor made friends with Musk, well, there is no more trust in Elon and that's it. But let's see how this story ends.
Altcoins
If you don't know which altcoin to buy, ask Elon Musk how he analyzes it. For example, Dogecoin became his favorite. At the same time, he openly trolls the entire community, at first he writes about the following goal of $ 1:
https://twitter.com/PiratePapyrusVA/status/1397226789257289728?s=20
And after a couple of hours he adds that he is not personally involved and has no official relation to the project.
On the more serious side, I would like to point out the rapid recovery of Ethereum: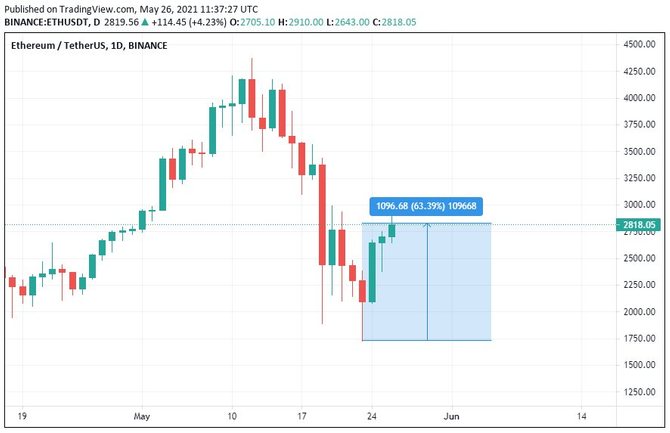 Growth of more than 60% from the lower correction point, and this despite the fact that bitcoin has not given a guaranteed signal for a reversal. If Bitcoin keeps growing, we are expecting an Ethereum price of $ 3,000 in the coming days and more. Its market share is growing rapidly again, and the metrics say that the panic has subsided and the cryptocurrency has begun to be taken from the exchanges, and whales are doing it. And catch the forecast according to which Ethereum will overtake Bitcoin, because it is more useful due to the presence of smart contracts.
The second altcoin is Cardano. The chart also shows a quick price recovery +70%: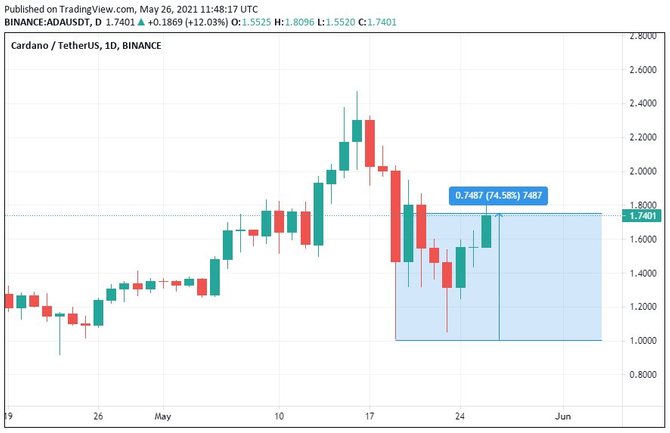 Whoever bought the bottom may already be very pleased with himself. Earlier, we announced goals for Cardano at $ 4 in the near term and $ 10 in the medium term. We are not only waiting for this, many are betting on the launch of smart contracts in the summer, which will allow us to say about the beginning of the full-fledged work of the Cardano blockchain. And we also want to remind you about the tool for transferring tokens from Ethereum to Cardano, they prepare a plan in advance on how to take the best projects from Vitalik Buterin, or at least launch their counterparts.
There is another altcoin that I consider important to talk about today, but you remember that the growth of all of them depends on the price of  Bitcoin.
The price has reached $ 1 and this is not about Dogecoin, we are still waiting there. We are now talking about the XRP recovery: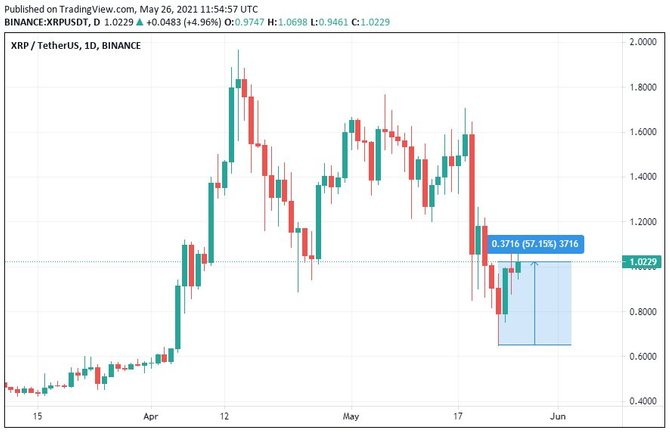 The level of $ 1 could become a strong resistance, but for now we are breaking through, so we can start remembering the forecasts for the price of $ 2 and above. First of all, everyone is waiting for news from the court. The case there is dragging on, the SEC has earlier achieved the right to submit official requests to regulators in other countries. Now they are asking the court to force Ripple to disclose data on a number of financial transactions related to XRP. She also requested information about Ripple's lobbying to promote XRP in the market, which they believe may be evidence of market manipulation. What the court will decide is not yet clear, but Ripple, meanwhile, announced work on adding NFT tokens to the XRP network.