March 11, 2022 /
Interesting
Cryptocurrency News: Bitcoin Growth, Ethereum Development, Shiba Inu Price
Let's talk about the regulation of cryptocurrencies in the United States. Robert Kiyosaki waited for the ban and said goodbye to BTC, but everything turned out quite the opposite. Let's talk about the expectations of market participants and analysts, many are betting on future growth, although we have a slightly different point of view.
BTC
The crypto market was preparing for an unpleasant event, namely, almost a ban on bitcoin in the United States. For example, here is a tweet by Robert Kiyosaki, who has always been against Biden's policies and has become a supporter of bitcoin for the last couple of years, putting it on a par with gold and silver.
Robert was waiting for the ban and was already saying goodbye to bitcoin, but the US decided to follow a completely different path. The U.S. Cryptocurrency Public Policy Executive Order is already waiting for Biden's signature. This document has a more strategic direction and the following principles are enshrined in it:
America should contribute to the development of the cryptocurrency industry and become a world leader in this matter;
There will be no ban on cryptocurrencies, but regulators should ensure that digital assets are not used to evade taxes and circumvent sanctions.
This is a cool policy direction, which once again confirms the fact that cryptocurrencies have come to the financial world in earnest and for a long time. And also that this is still a very young industry and in the future its development will be many times greater than what we have today.
By the way, Dubai authorities have taken a similar position on the regulation of cryptocurrencies. They noted that the industry should be developed, not banned. The country has created a special regulatory body that will deal with the licensing of cryptocurrency companies.
Now let's talk about the price. Many see this as a positive sign for the short term, here are the results of a Twitter poll of almost 40,000 people:
As you can see, the majority believes that we will see a price of $50,000 before $25,000. A well-known crypto analyst PlanB published this chart just a couple of hours ago:
He believes that although bitcoin was stuck near $40,000, liquidation wicks did not fall below $30,000. As far as we understand, this is his hint that we are in an uptrend, you can depict it on charts as follows.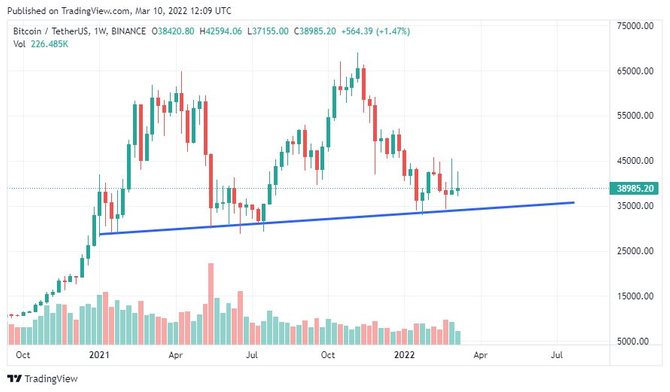 And if we proceed from the rule that the trend is our friend, then let through the consolidation with the flat, which is not yet clear how long it will last, bitcoin should take a course of $70,000.
However, personally, our point of view on the cryptocurrency market is still bearish. We agree that we are now flat, but there are fears that we may see Bitcoin again at $30,000 or even slightly lower. On the monthly chart, there is a direct match with the movements of the price of bitcoin on the Bollinger bands and the MACD indicator. This is very similar to what happened at the end of the summer and autumn of 2018, then bitcoin was trading in a protracted sideways trend, and when everyone was sure that the price would definitely not fall below $6,000, capitulation occurred and fell by $3,200.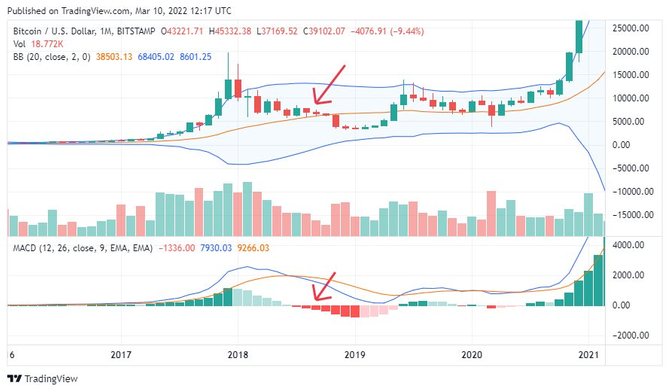 Our concern is that the market is about to be in this phase because previous reversals in bitcoin back to the upside have always been through heavy liquidation in the market, which we have not seen yet since we started falling from $69,000.
ETH
While prices are low on the crypto market, "whales" do not waste time and increase their balances. So, now Bitcoin, Ethereum and Shiba Inu are in special demand among large wallets. And we will talk about these two altcoins further.
Let's remember the burning of Ethereum The total value of the Ethereum that was destroyed has already exceeded $5 billion at the current rate, and the number of burned coins themselves will soon reach 2 million.
Ethereum itself confidently retains the first place among blockchain platforms in terms of the number of funds blocked in DeFi projects, the current dominance in this market is more than 50%. And if you have not made transactions on Ethereum for a long time, because it is expensive, then know that the commissions for today have fallen to $9 as of yesterday.

Of course, it's still expensive, but the dynamics over the past three months is clearly positive.
We recently did an analysis of Vitalik Buterin's last interview and said there that the process of merging the two networks on the Proof-of-Work and Proof-of-Stake algorithms could begin as early as the summer. It is important for us now that if everything goes according to plan for the developers, then in the summer Ethereum may have a serious reason for the price to rise.
Ethereum may also receive support from institutional buyers. Thus, Goldman Sachs will offer its clients investments in ether through the Galaxy Digital crypto fund.
What's the price? It is premature to talk about a reversal to growth for Ethereum, as for the reason that we are not yet waiting for a global market reversal, based on our vision of the bitcoin picture. So is the daily chart of Ethereum itself, which is still in a downtrend.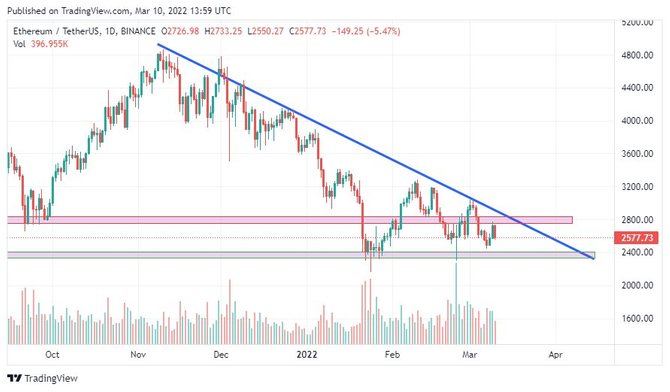 Now we can expect a sideways movement in the range between $2,750 and $2,400, provided that bitcoin remains near the current price level.
SHIB
As soon as we are not going to see what Shiba Inu has there, they immediately surprise us with new news. Our feeling is that their whole huge community puts maximum effort into this. So, on the TOP-1 cryptocurrency exchange of the world Binance, from March 8 to March 21, there is a limited offer for a total amount of $100,000 for new users. This announcement must be found on the exchange website, it has a referral link, and if you create an account using it, you will receive some Shiba Inu tokens. It is important to recall here that as of March 10, Binance no longer supports Visa and Mastercard cards issued by Russian banks.
And one more cool news, the Shiba Inu community managed to get through to a personal meeting with the Minister of Economy of Turkey. The meeting discussed the mass adoption of the Shiba Inu cryptocurrency. No specific agreements followed, but the very beginning of such a dialogue and its level is already strong news in itself. Turkey has a difficult economic situation today and who knows, maybe they decide to try to save the situation with cryptocurrencies.
We want to note that the coin has strong support and can hold as bitcoin holds current price levels.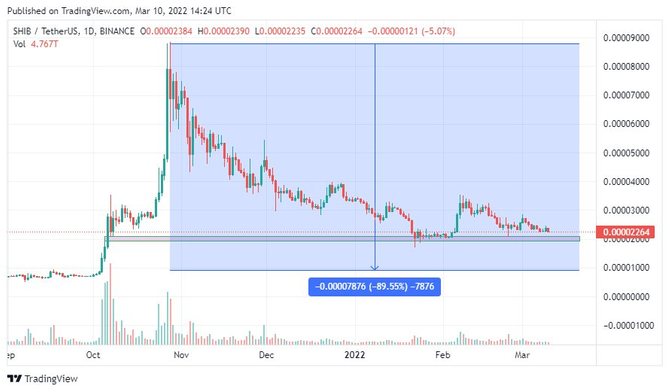 We do not currently see a scenario for Shiba Inu to go down in price by itself. However, you should be prepared for possible problems, because if the fears about bitcoin capitulation turn out to be true, then we can see the prices that were in September 2021.