January 25, 2022 /
Forecasts
Crypto "Superbubble" Of 2022 – When Will It Burst
The last Bitcoin drop occurred along with the US stock market again. The last one called a "superbubble" and a 50% drop is predicted. Can you imagine what will happen to cryptocurrencies in this case? We are not very good yet, because there has never been anything like this in the history of bitcoin and March 2020 does not mention.
Today we are looking into the reasons for Bitcoin drop and assessing the chances of whether $38,000 will be the very bottom from which the reversal will begin, or prices can drop even much lower. Including up to $19,000, we don't scare anyone, but such a scenario is also possible.
S&P 500
If we look at the trading history of the S&P 500 index, there is a very good recovery in the beginning. But then something suddenly went wrong and the index broke into a steep peak, closing as a result 1% lower than the day before.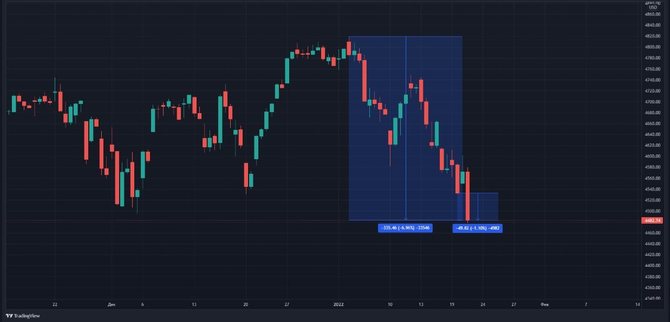 The general correction from the current maximum in the index has already reached 7%, and this makes us think that forecasts of a strong correction by 10% and even 20% in the US market are becoming a reality and, as a result, cryptocurrencies will fall along with them.
Note, 10-year US Treasury yields have declined. Oil has fallen slightly, which is also good, as it will help curb inflation. And if there was anything controversial and worrisome for investors, it was the rise in omicron infections, but without lockdowns. And also data on the labor market – unemployment has risen again, but this can generally be interpreted as a positive factor. After all, the Fed sets as one of its goals the provision of Americans with jobs, and the fact that unemployment is growing may be a reason for them not to slow down the economy to create new jobs.
And despite all these factors, the stock market still collapsed. What is going on? Billionaire investor Jeremy Grantham, who has been called legendary, believes that we are in the fourth "superbubble" in American history and that it must inevitably burst by 50% and this is the minimum. Here is what he says about the current situation:
Such superbubbles, according to Grantham, were in 1929, 2000 and 2008, and indeed, the markets failed by 50%. And looking at how stocks have risen in price since the last crisis, thoughts of a 2022 crisis with a fall of about 2,300 points in the S&P 500 seem quite real.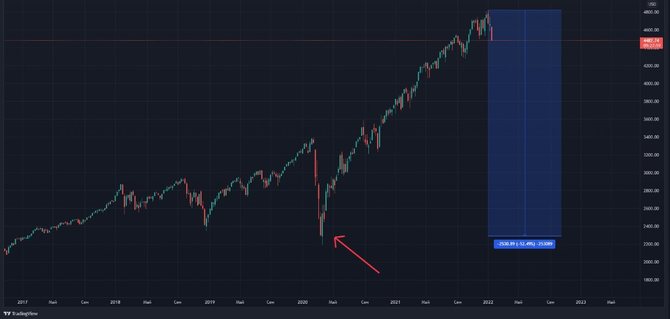 By the way, if such a fall has already begun, then it will return the stock price to the bottom level in March 2022, when they fell due to the coronavirus. And this is generally true, because a huge share of the growth since then has come from freshly printed dollars, which the Fed has been issuing 24/7 without interruption, even on national holidays.
Fueling the fire and the general expectation of trouble was also added by Cathie Wood, the star of the world of investments in 2020 and 2021, she was also called "Buffett in a skirt." She believes that the US economy was in recession, and then the Chinese economy began to slow down, and as a result, the global forecast is not inspiring. It is worth noting here that a few months ago, Cathie Wood promised another ten years of growth in the stock market, but today, when her main fund ARK invest has fallen by 50%, she, of course, has to look for excuses for investors.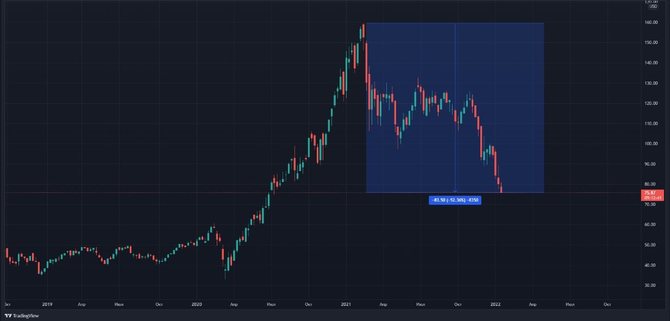 But there is one thing that remained behind the scenes – in order for the superbubble to burst, some kind of catalyst is needed. This time, for example, there was no catalyst for the fall, and we look at the situation as a banal speculation, which means that there is still a chance for the same abrupt cessation of the fall. Also that the Fed can't cut rates now and has to stop printing dollars because of inflation is a bad thing for the markets, but it's a reason for a correction, not a bubble burst.
If there is no reason for the market to crash, then it will simply go sideways, and then it may continue to grow. So we follow the events and do not panic ahead of time.
BTC
The first moment – was yesterday's drop the same capitulation, after which the price should return back to growth? Unfortunately not, we fell much less than we could and there was no main condition, large trading volumes. So it's just another local bottom.
Bitcoin has the following support levels, namely $38,000, $35,000 and $30,000: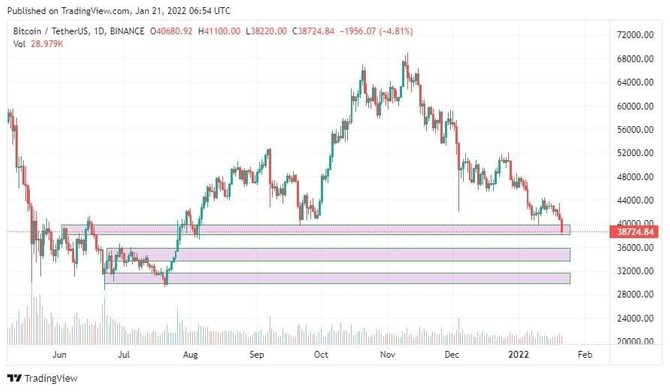 You should pay attention to the weakness of the buyer.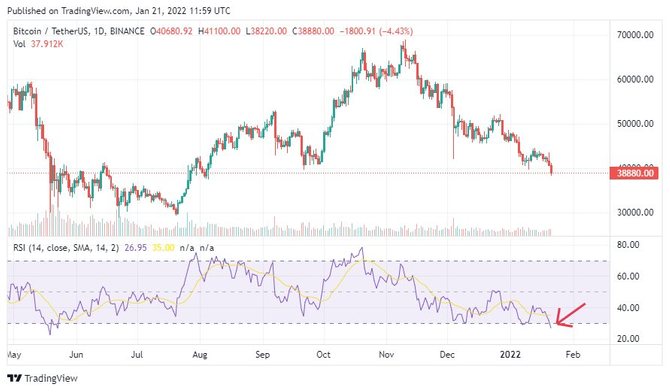 The daily RSI is in the oversold zone at its lowest levels since May last year, but we haven't bounced even back to $40,000. If this price has time to turn into resistance, it will be extremely difficult to overcome it again.
Bitcoin hater Peter Schiff has already managed to rejoice at such a situation.
He wrote that the price of bitcoin is moving by $30,000, and when this mark is reached, the double top pattern will work and we will fall by $10,000. Formally, he is right and such a reversal pattern exists in technical analysis.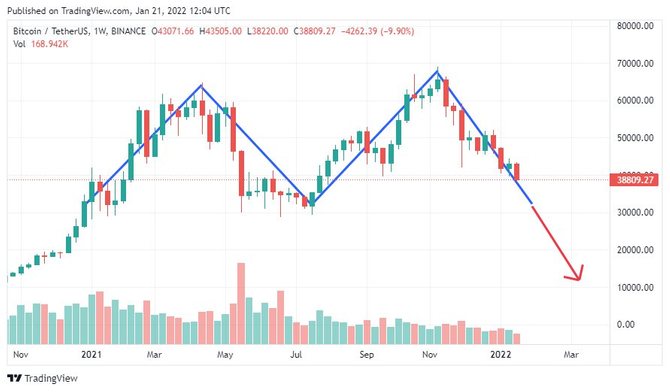 But the community is also happy with this prediction, because Peter Schiff, as a rule, is always wrong in his Bitcoin predictions. He is also a supporter of gold and promised him a price of $5,000 back in 2011, and then in 2020, but so far the price is slightly above $1,800. Also note to Peter Schiff that there is a triple top pattern, that is, Bitcoin from $30,000 may well go back to $70,000 and the probability of both scenarios is generally the same.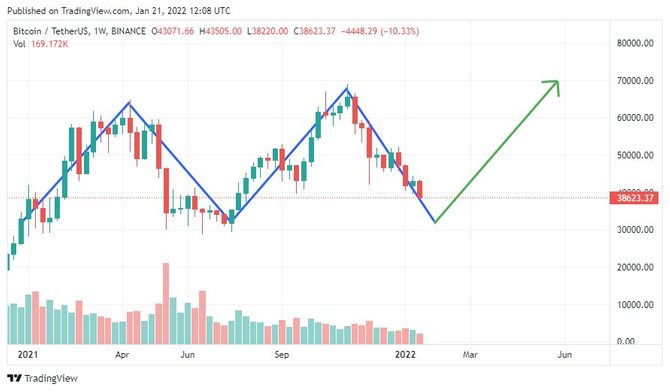 What we really expect next for Bitcoin is that the correlation with the stock market will continue, and now it's time to tell where we got the $19,000 figure from at the beginning of the article?
The fact is that bitcoin appeared after the 2008 crisis and, in fact, financial crises have not yet occurred in its history. The only example for analysis is the coronavirus collapse in March 2020 and. And if we assume that some "black swan" will scare the stock market now and it will fall again by 20% or more.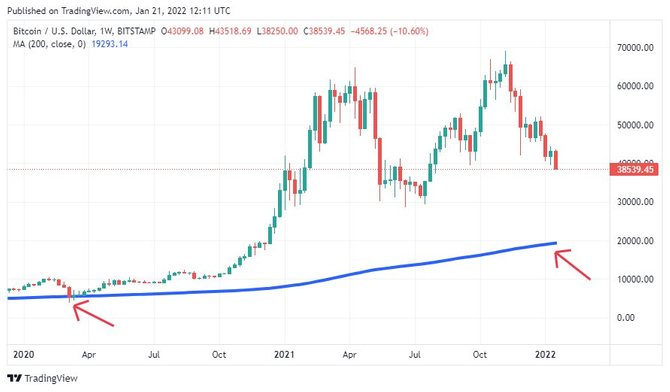 This is a 200 MA and is now at $19,000. But this is an emergency scenario, even assuming that the market has become completely bearish now, we tend to expect a bottom of about $24,000 and it will take several more months, including from possible growth again above $40,000: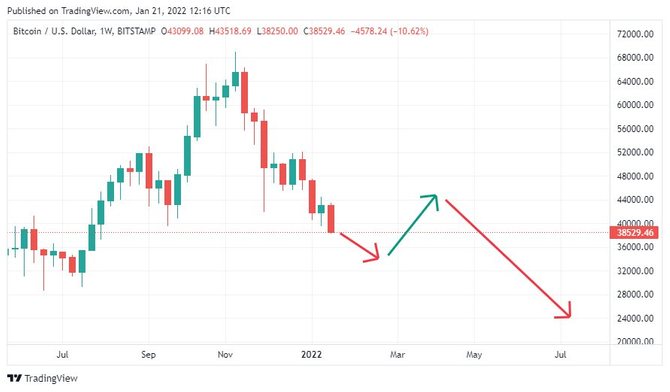 You must understand that we do not give financial advice, but simply talk about possible options based on previous patterns. An important point, which we are constantly drawing your attention to, is that the whole of 2021 was a year of growth on the hype. Therefore, we had two price highs, and for this reason, in the event of a new hype, all bearish scenarios will be immediately canceled. So gather information and do your own analysis.