February 21, 2021 /
Business
Crypto Portfolio Of Billionaire: Bitcoin Or Ethereum

Let's look at why Bitcoin rate corrected after getting close to $ 50,000 and how this might affect the price of altcoins. Here are three scenarios for the further development of BTC price.
Bitcoin
What the current correction could mean and why Bitcoin did not rise above $ 50,000. The paradox of the situation is that Bitcoin could not rise above $ 40,000 until heavy artillery in the form of Elon Musk was used. Before that, he tried to make the market rustle with his games on Twitter, but still, only the confirmation of Tesla's purchase of BTC for $ 1.5 billion made it possible to bring the price to a new level.
Then we saw the consequences, when all the media started talking about Bitcoin, the world's major banks and payment networks began to talk about the imminent introduction of services with cryptocurrencies. And people have started to show interest again, Google Trends data is the best confirmation of this.
HYPE is coming back and this cannot but rejoice, the only question is, will it be enough to continue growth? Option one, and the most optimistic for the bulls, is the release of new super news, similar to Tesla. For example, Ray Dalio has already confessed his love for Bitcoin, he even wrote a whole article about it recently. Imagine if tomorrow or a week later it becomes known that Dalio has gone from words to deeds and bought $ 1 billion worth of BTC. The rest of the hedge funds will then also come into play, and we will sit and rejoice at the new price increase.
Option two, the market forecast implies that we will be stuck for several weeks below $ 50,000, as it was during the first attempt to rise above $ 40,000. In this case, we should prepare for high volatility and movement in the price range from $ 40,000 to $ 50,000.
There was strong resistance, now there is reliable support and everything below it will be bought out very quickly.
There is, of course, a third option, when the Bitcoin price will go down. The reasons for this are obvious, just take a look at the monthly chart and estimate these growth rates: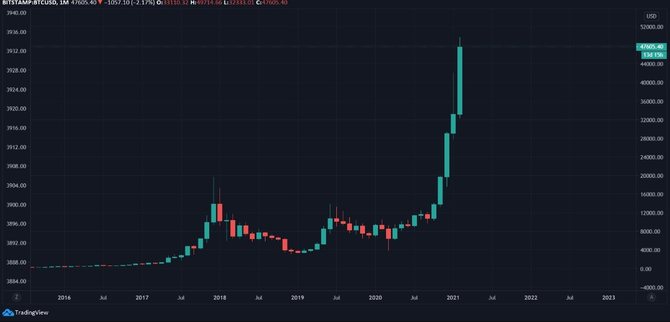 It is very easy to explain why the price should roll back to $ 30,000, and maybe even to $ 25,000. And of course, after bitcoin, altcoins will collapse at the moment, they will have a real bloodbath. But right now, such a deep correction is hard to believe for the reason that earlier we had hope for the adoption of bitcoin by institutions. But thanks to Elon Musk, we now have confidence that this very acceptance is already underway and we just need not interfere with it.
This, as you understand, is not a financial recommendation, but exclusively our thoughts on the cryptocurrency market at the moment.
ETH vs BTC
Billionaire Mark Cuban gave an interview for almost an hour and now we will analyze the most important points:
If only because we see no reason to once again retell you the story of how the Fed prints dollars, and people no longer trust banks and states. At the same time, bitcoin and cryptocurrencies represent an alternative and most importantly honest financial system.
But we want to focus on why Ethereum is better than Bitcoin. As Mark Cuban states, if you want to invest money and make money on it, then Bitcoin is definitely worth choosing. That is, if you are an investor, then your choice is unequivocal bitcoin.
On the other hand, there are not only investors in the cryptocurrency market, but people who want to create something and make money on it. The most famous example today is liquidity mining, which has already enriched many users of decentralized finance protocols. In Mark's understanding, the economy is moving to work through smart contracts. In the future, content authors, such as photographers, will sell their products through smart contracts using non-fungible tokens aka NFT. It will be the same with music, movies, and games.
The Internet of the future will be powered by smart contracts, and you don't need bitcoin to use them, you have to buy Ethereum for that.
The billionaire notes that Ethereum is the main platform for smart contracts today and that it will be the basis for the Internet of the future.
Now there are certain problems with scalability and transaction costs, but all of them can be solved after the transition to Ethereum 2.0. Those who want to have access to this infrastructure are buying Ethereum today, more and more people will come and the price will grow more and more.
At the same time, Bitcoin will forever remain gold in the world of cryptocurrencies and will function as a store of value. But since Ethereum is a gateway to a whole new world, over time it will be able to surpass Bitcoin due to the greater number of users and the variety of use cases. Much of this transformation will be associated with the decentralized finance sector and the ubiquitous use of NFT tokens.