October 31, 2021 /
Forecasts
Crypto Portfolio For 2022: Choosing Profitable Cryptocurrencies
We will tell you about crypto market perspectives, taking into account the current situation. This is not financial advice and what we are talking about is a personal point of view.
BTC
Buying Bitcoin for 30% of the portfolio is, first of all, insurance against any risks. This is not only the first cryptocurrency, but also a potential generally recognized financial asset, which will eventually become on a par with gold, and silver has almost caught up.
We believe that Bitcoin will keep its dominance in the cryptocurrency market and continue to give it the main direction of movement, as it has been throughout history since the inception of the first altcoin.
Also, despite the fact that our views on the current market situation are bullish and most traders and analysts also point to further growth. We still have the risk that we and everyone else are wrong and BTC price will fall or, for example, again shoot by $ 70,000 and then strictly down into a bear market.
That is, albeit very low, but early arrival of "cryptowinter" is possibile. This means that all our investments can be multiplied by zero and it is worth protecting ourselves from these risks. As history shows, those who have held Bitcoin for four years will definitely make a profit. And if it turns out that you bought crypto at the peak of the market, then in four years you will get back the entire amount. Below is a chart showing the difference between the peak of the previous cycle and the current price: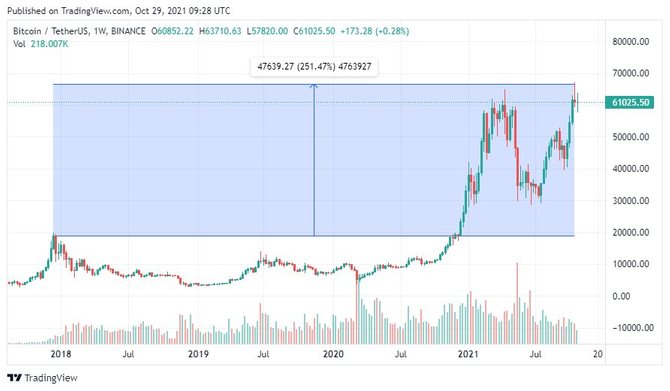 You can increase the percentage of Bitcoin share in the portfolio, for example, up to 40%, and then you also compensate for inflation, as well as remove the risks that all other altcoins will fall to zero and remain there forever. But we would prefer exactly 30% of the investment in BTC as insurance against risks, even from regulatory issues.
Let's add that if the forecasts do not lie, then on this investment we will be able to earn at least another 60%, for conditional six months this is very cool, although in the crypt it seems to be something small. But on what we will make the main money, we will tell you below.
ETH
Ethereum should allocate 20% of the portfolio. Ethereum is another rainy day insurance. Its growth potential is estimated at 200%, if we take into account the current exchange rate and the forecast for reaching the level of $ 13,000: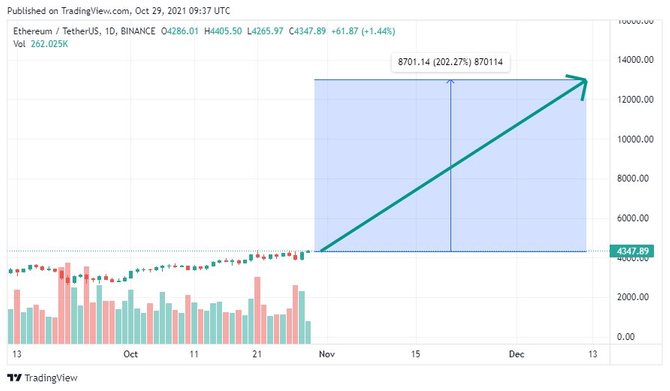 Why do we call Ethereum insurance? Because today it is actually the only project in the blockchain platform format, which has three important components, such as practical application, innovation, and development prospects.
The fact is that BNB has a real application in the Binance Smart Chain network, but this project has nowhere to develop further. All his DeFi applications, a banal copy from projects on Ethereum. As for Solana, Polkadot and Cardano, they have yet to prove that these networks will actually be used, there is potential for improving the platforms themselves, but it is completely unknown whether the original ideas will be in the applications. So far, only copies of DeFi and NFT projects have been announced, which, again, were made for the first time on Ethereum.
TOP-2 cryptocurrency network itself, albeit slowly, is moving towards the transition to the POS algorithm, which is expected next year, and then the need for other blockchain platforms will simply disappear.
Note, that it was Ethereum that was the first among altcoins to rewrite the maximum price during the current cycle, and is now actually the leader of this market. Therefore, even if everyone was wrong and "crypto winter" is already knocking on the door, we are confident that Ethereum will remain on the market, and after a few more years we will take profit from it.
Exchange Tokens
Exchange-traded tokens, namely Binance Coin, FTX Token, Huobi Token, KuCoin Token, and OKB from Okex are an undervalued niche. We would invest 4% of the portfolio in each project.
As you know, regulators put pressure on crypto exchanges, and they are forced to restrict users and force them to undergo verification, as well as to merge data on clients into the tax authorities. Because of what now, as one of the trends in the market, the transition to decentralized trading platforms.
But the fact is that regulators will also get to DeFi services. But cryptocurrency exchanges in our personal understanding will be able to negotiate with the authorities and legalize, which will provide them with an even greater influx of customers. That being said, we have examples from the same Binance Smart Chain, when you access DeFi through a de facto centralized platform. And something tells us that these are the DeFi regulators will like.
We can add that if for BNB with a position in the TOP-3 cryptocurrencies in terms of capitalization, you can count on a profit from 100% to 300%, then the rest of the exchange tokens from this list can bring 500%, 1000%, and maybe more percent. this will already depend on the market and the efforts of the trading floors themselves.
SOL, DOT, ADA
We understand that everyone has their own favorite cryptocurrency and he believes that it is the best one. But the market is showing how often such expectations are dashed against harsh reality, as it was with EOS.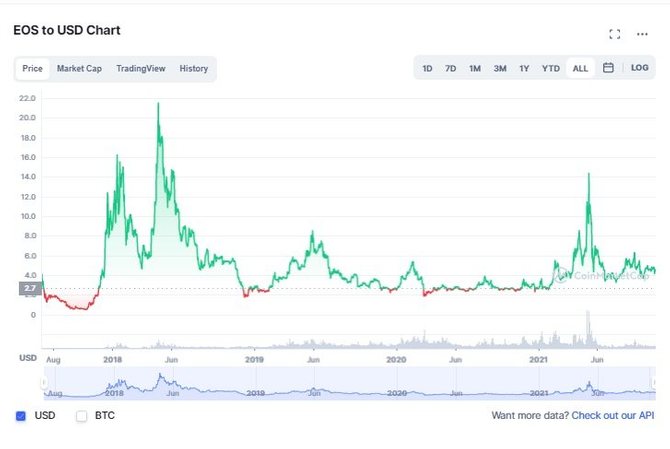 Also, a very promising project at one time, from which many still expect something, but the price speaks for itself.
We will be glad if such cryptocurrencies as Cardano, Solana, and Polkadot stand the test of time and stay with us for a very long time. But for now, we regard them exclusively as promising projects, which can still take off here and now, until a global bear market occurs. We allocate 2% of the portfolio to them.
XRP, XLM, LTC, BCH
It is worth looking at the following four coins, as XRP, Stellar, Litecoin, and Bitcoin Cash. XRP and Stellar have an extremely attractive price at the moment, there is a decent audience, which in some places is even fanatical about these projects, as well as good chances for growth. Because XRP, if the case is successfully completed in court against the SEC, will surely shoot up on the wave of such a victory and re-listing on Coinbase and other platforms. And Stellar is historically pumped next, like a younger brother, plus their team is also actively forging international relations and trying to participate in the release of national digital currencies.
As for Litecoin, objectively it looks bad now. But we believe that we cannot have one store of value in the form of bitcoin and for the role of "digital silver", this coin is perfect. It is actually called that, and the network metrics show that the coin is being used, and everything that is needed for growth for Bitcoin to provide this fuel, bringing new buyers to the market on the FOMO wave.
We make a similar calculation when we add Bitcoin Cash to the portfolio. People who come to the market can give some of their money in Bitcoin Cash, because the original Bitcoin seems too expensive to them.
This is the most risky part of the crypto portfolio. Please note that especially the XRP rate will have to be caught at the moment of growth, which will be short-lived.
In addition to these cryptocurrencies, you can invest in the most unpredictable ones like SHIBA INU. Now on the market every day new "dogtokens" appear. Or it could be tokens of new blockchain games that dream of repeating the success of Axie Infinity. There is always a place in the crypt to hunt for X's and 10% of the portfolio – this is a completely normal idea.