Coinbase Launched Services For Cryptocurrency Beginners
The leading U.S. cryptocurrency exchange, Coinbase, has introduced several services for beginners. 
We're rolling out a suite of new features to help people understand, explore, and buy their first cryptocurrency. Learn more about Coinbase Bundle, Coinbase Asset Pages, and Coinbase Learn here: https://t.co/djQbqGkDKI

— Coinbase (@coinbase) September 27, 2018
Service Coinbase Bundle allows its users to invest in several crypto assets, including Bitcoin, Bitcoin Cash, Ethereum, Ethereum Classic and Litecoin. At the same time, the specific weight of each currency in the user's portfolio formed in accordance with the share of these assets in the market. The minimum investment in the Bundle is only $ 25.
The update is positioned by Coinbase developers as "a convenient way to acquire all five of the listed cryptocurrencies without having to create a separate order for each coin."
Users of the platform from the USA, EU countries and Great Britain will be able to use the new tool. The commission for acquisition of Bundle will make 1,5%.
Also, the company introduced Coinbase Asset Pages service, which displays information on 50 leading cryptocurrencies, including their market capitalization, the current price and its changes, as well as links to relevant information sources.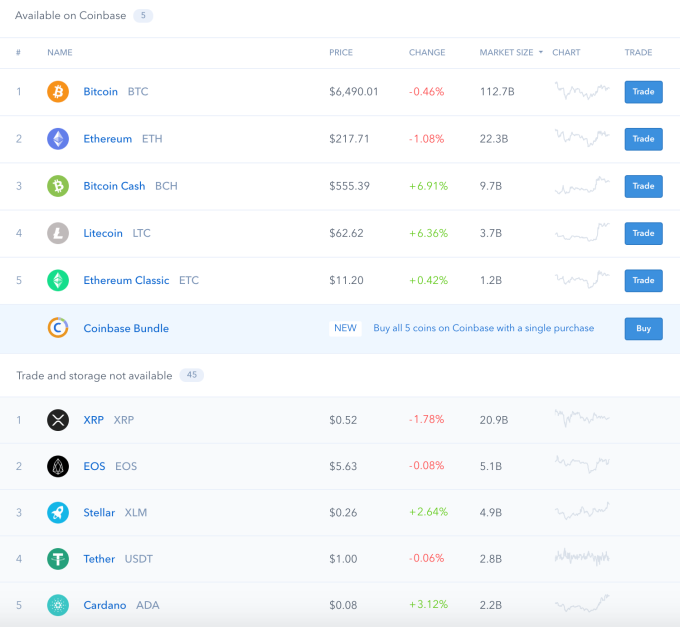 Coinbase Asset Pages is available to everyone and is not limited to the user base of the company.
In addition, the company introduced the educational service Coinbase Learn, designed to familiarize users with the basics of working with cryptocurrencies.
We're also launching asset pages for people to explore and educate themselves about different cryptocurrencies. Check out market cap, volume, prices and more for the top 50 cryptocurrencies by market cap. This resource is available to anyone—not just Coinbase customers.

— Coinbase (@coinbase) September 27, 2018
Recall, recently Coinbase introduced the rules for listing new digital assets.