Bittorrent, Polygon, Dash and SHIBA INU: Price Review
We'll take a look at BitTorrent, Polygon, Dash, and SHIBA INU in this article.
BitTorrent
BitTorrent token has shown a very good growth of 110% in recent days despite the critical and completely unclear situation on the cryptocurrency market as a whole: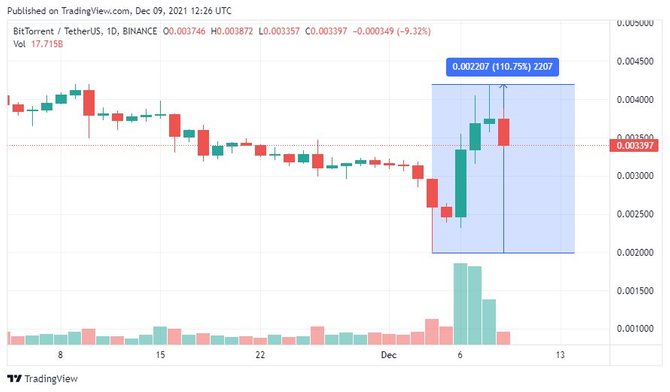 What happened: everyone is waiting for BitTorrent mainnet launch, because previously it was just a token on the TRON blockchain. Now it will have its own network, where BTT coins can be used as a management token, pay a commission with them, and earn on staking.
https://twitter.com/BitTorrent/status/1467827849134587904?s=20
It sounds interesting, especially when you consider that BitTorrent, unlike many projects where there is a stupid network with its own token and the ability to stake it, here we have a working product.
However, the question of monetization is still open, because the founders of Torrent sold the TRON project not because of a good life. They offered people a freebie, and when they wanted to monetize it, nothing happened, because no one wants to pay for what was free yesterday. So far, the addition of the token has not solved this problem and the launch of the main network is good, but the economic component of the BTT token, why it should grow in price, is still in question.
It is also worth talking about the change in the token that will occur immediately after the launch of the network on December 12. All BTT coins will be denominated in a ratio of 1 to 1,000, in human terms, which means that for 1 old-style token, you will immediately receive 1,000 new tokens. Smart contracts for the exchange will be launched together with the network, and will work for an unlimited time until everyone who wants to make an exchange.
It is important to understand that your savings will not grow 1,000 times, they will remain exactly the same, only instead of one token at a price of $ 0.34, you will have a whole 1,000 coins, each of which will cost 1,000 times less. We cannot find a logical explanation for why the developers decided to increase emissions to 990 trillion. Already now the BitTorrent token looks cheap, now it will be 1,000 times cheaper, maybe the developers are counting on the SHIBA INU effect.
BitTorent's recent growth has been accompanied by good trading volumes, everyone wants new coins and expects the mainnet to bring value to the project.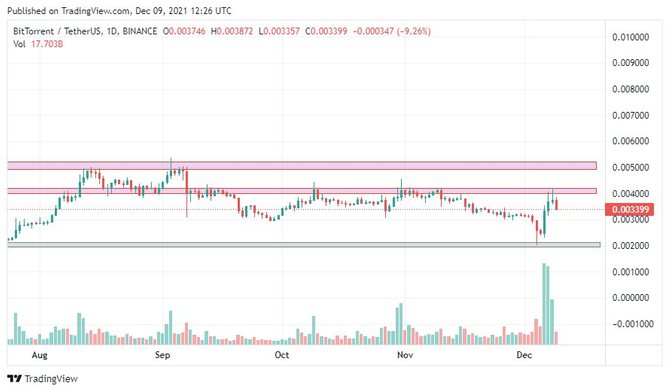 Before the growth itself, we pushed off good support at $ 0.2 and ran into resistance at $ 0.4. There are still a couple of days until December 12, perhaps the price will even manage to reach the second resistance zone at $ 0.5 and show an increase of another 50%: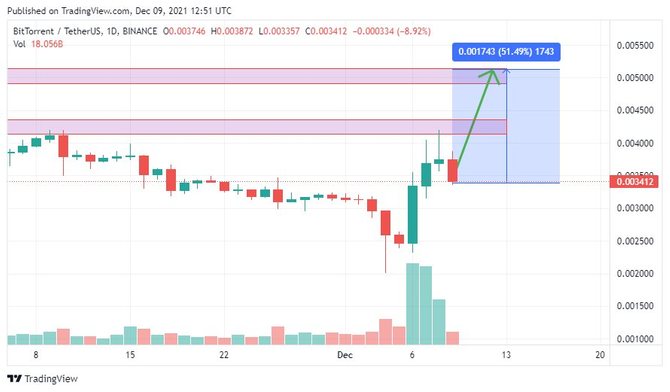 This is not financial advice, this is just a theoretical possibility, because the market loves such events. We can also completely neutralize the growth after December 12, as in the very fact of an accomplished event, when everyone will stop selling new tokens, or simply because of a deeper correction in Bitcoin. We should also note that BTT today is 300% below all-time highs and in order to return to those levels, something more than voting and staking must appear in their main network, there must be a real economy.
MATIC
Polygon (MATIC) is one of the few altcoins that in the current market shows strength no worse than Ethereum.
Let's start with an interesting pattern: the previous high for MATIC was set on May 18, when Bitcoin was looking for its bottom after a panic sell-off.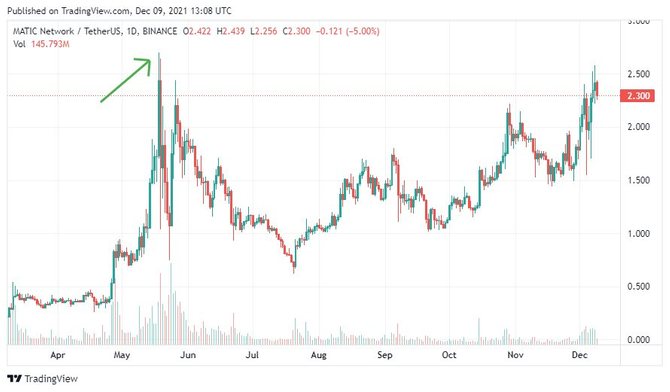 Today we have a similar situation with Bitcoin and what MATIC is doing – it is again near the maximum and is preparing to update it. Also why we named this coin the same as Ethereum, because we look at the weekly chart and see.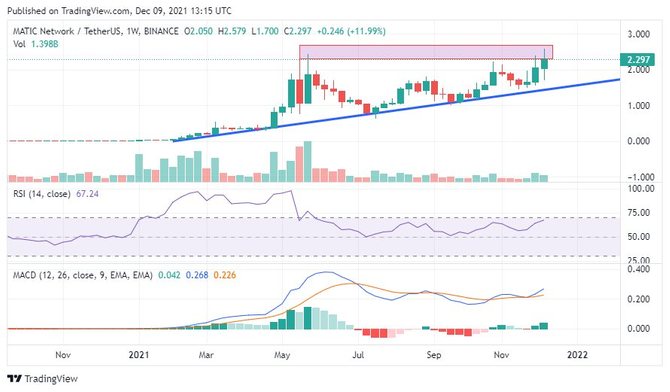 We have an uptrend that has persisted since February of this year, at the close of the weekly candle, we can very soon renew the maximum, the RSI has not yet reached the overbought zone, and the MACD is again on the side of the bulls.
Thus, we must say that Polygon is not like Ethereum, it really looks even stronger, and if we pass the last resistance in the form of updating the price high, then there will be no higher restrictions, and the coin will begin its movement in the TOP-10 cryptocurrencies.
The Polygon ecosystem continues to evolve, so they gave a grant of $ 500,000 to provide liquidity on the new DEX exchange. Altcoin is interesting for large players, yesterday two large wallets bought tokens for over $ 2 million.
Well, and some news from the project itself, they hold new conferences, attract developers and build their own ZKVerse.
If Bitcoin starts to recover, we will wait for the rise in Polygon to $ 3: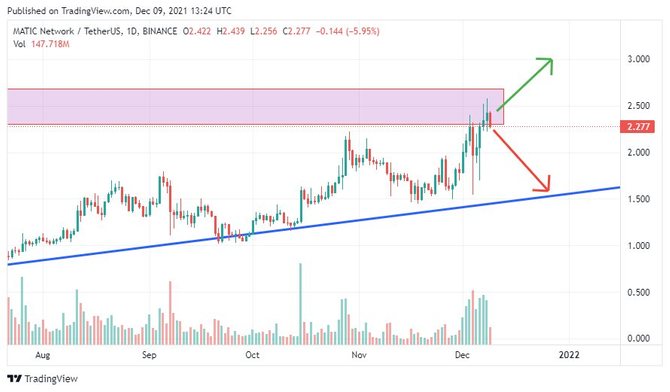 And the negative scenario, if bitcoin decides to start "crypto winter", then we'll see if Polygon keeps the uptrend.
DASH
Цe started as usual with the latest news щт ВФЫР. The media write only about the DOGE DASH project – a game, which starts on December 15. But it was released on the Binance Smart Chain and has nothing to do with the DASH cryptocurrency. But on Twitter itself of the real DASH, we saw activity, which is very good, but did not find any important events that would make it worth waiting for the growth of the coin.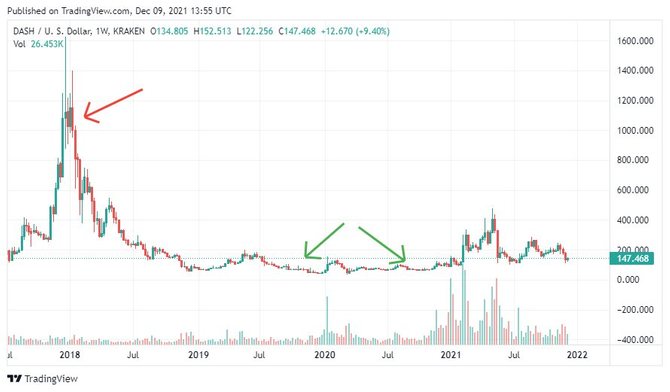 Today, DASH is 1,000% lower than its all-time high, and at its local peak this year, the price was still 250% lower than in December 2017.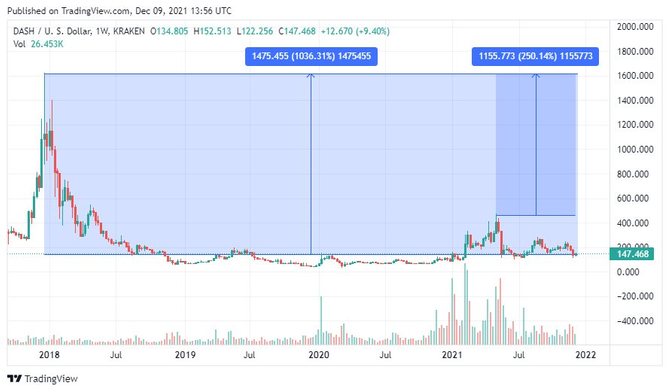 We understand that many will not like this, but there are now a lot of altcoins on the market, for which we very much doubt that the highs of the previous cycle will be rewritten and DASH is one of them. Because it did not become a store of value like bitcoin and did not become a payment network. At the peak of 2021, the number of transactions on the network per day was kept at 30,000, but now it is about 11,000.
Also on the negative side, the coin did little to respond to the crypto market recovery that began in August. The last correction in bitcoin actually canceled all growth and we are in a downtrend.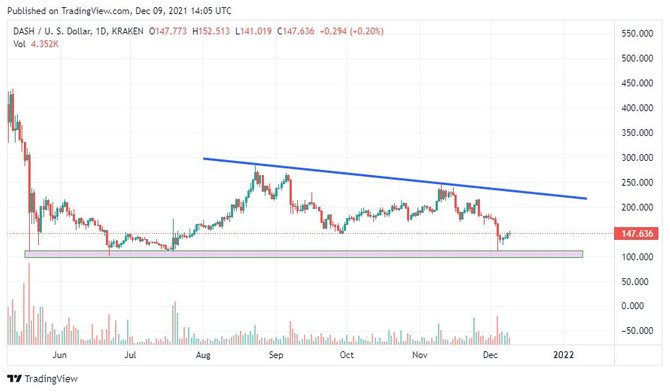 Some positive move in DASH is possible, provided the price breaks above the downtrend, about $ 230. But at the expense of what to do such growth, we do not see yet, only together with the market following Bitcoin. And we must warn you that if Bitcoin chooses a bearish scenario now, then DASH will fall below $ 100.
SHIB
The token already has over 2 million followers on Twitter, and this army is growing at an unrealistic pace.
From the latest news: the project has a new "whale", which was purchased by SHIBA INU for $ 120 million.
https://twitter.com/WhaleStats/status/1468517455605923845?s=20
In general, this is far from the first "whale" and given how often they appear, we begin to suspect that someone is simply manipulating someone else's opinion, driving billions of tokens between accounts, without a real purchase. There is no evidence, but we see a pattern between the pumps and the news of the whales.
A "bridge" with the Avalanche blockchain also appeared. And everyone was still waiting for a listing on the Bitstamp crypto exchange, but the pump did not happen.
SHIBA INU is a very risky coin, its developers hype on all trends, without exception, without bringing anything new to the industry. And the main strength of this project is their community, which is growing at an incredible pace.
For this reason, we cannot say when we expect new growth, if there is a reason for a cool hype, they can try to organize a new pump.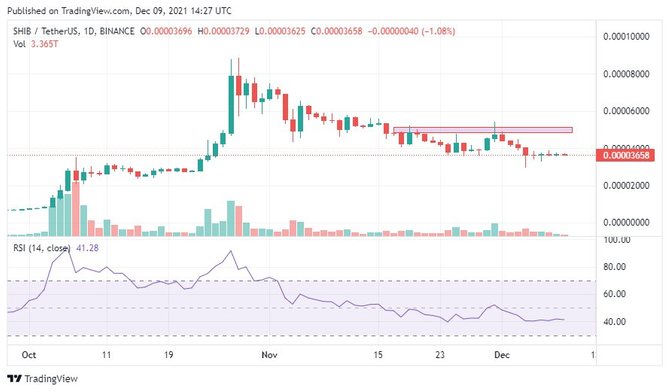 And then the first resistance will be $ 0.00005. This is where we ended our last attempt to break out of the downtrend.
We should also note that for 2.2 million followers on Twitter, there are only 1 million wallets with SHIB tokens on the balance. Being considered a member of ShibaArmy and actually buying a coin is two big differences, and without buying, we can easily break down by $ 0.00003 or -20%. And it will be very good if this level holds.
Here's what we think about BitTorent, Polygon, Dash and SHIBA INU at this point in time, and in conclusion, we remind you that a lot of these coins will depend on Bitcoin.