November 20, 2020 /
Interesting
Bitcoin's Unprecedent Growth And What Future Holds For Altcoins
Bitcoin market cap has already renewed its historical maximum, and the current price is above $ 18,000. What are the chances that the rate will continue to rise and we will soon see $ 20,000 for 1 BTC?
Bitcoin For $ 20,000
If we assume that the growth of Bitcoin can no longer be stopped, then according to its four-year cycle, we should be in the analogue of December 2016, when BTC price broke the maximum of $ 1,000 set during the previous to the moon in 2013:
Therefore, we still have about 2-4 months of volatility ahead of us, during which Bitcoin will finally renew its maximum by $ 20,000 and will never return to this price again.
Note, that for now, it is enough for us to close November above $ 14,000, and this will actually be a new high. Thus, the path is only open further up without stopping.
Such a forecast may seem incredible and it is by no means a financial recommendation, but only our personal reflections. But bitcoin is going mainstream again right now.
The purchase of Bitcoin continues through the Grayscale crypto fund. According to the latest data, their assets exceeded $ 10 billion. And the eternal enemy JPMorgan believes that the capitalization of bitcoin can grow 10 times, gradually taking the market away from gold. But this is only the beginning, and now Citibank said that at the end of 2021 the price of bitcoin could reach $ 318,000.
This fits into the idea that within a couple of months bitcoin will upgrade to a maximum of $ 20,000. Then the cryptocurrency will go straight up for a whole year. And then there's Bloomberg analyst Mike McGlone adding fuel to the fire with his forecast that if bitcoin rises above $ 20,000, then further its capitalization will reach $ 1 trillion:
Fidelity Investments published a report, answering the main questions of why the cryptocurrency is not considered an investment asset.
And if something confuses us at this celebration of life, then these are two points. The first is whether regulators will again intervene in the growth of bitcoin, because after the fact in 2019 we learned how the launch of futures on CME was actually a tool to deflate the price of bitcoin.
This may not be a direct impact, it is just that, unlike you and me, they have a dossier on all cryptokits and may just hint that the party is over, they have earned, and good.
And problem number two – why, with such an increase in prices, Google Trends show that there is no growth in interest in Bitcoin?
Altcoins
Last time when Bitcoin costed $ 18,000, Ethereum traded at $ 700, XRP – $ 0.8, and Litecoin showed $ 300 at all. What course for today, you probably know, and closest to those values ​​now Ethereum. The question is, why are altcoins not growing in proportion to Bitcoin, so that its market share has already exceeded 66%?
The obvious answer is that investors believe only in Bitcoin, so they bring money into it. This conclusion is also partly confirmed by the findings from the material Fidelity Investments. According to the giant, you can make as many cryptocurrencies as you want better and faster than bitcoin, but they will never have the same level of trust as the first cryptocurrency. And without trust, there will be no money invested in them.
But there is another theory: altcoins do not grow for the reason that their time has not come yet. If we are right about the Bitcoin price period, which should now be in December 2016. Then the share of bitcoin in the market was 85%, moreover, it was growing steadily from September to December, and we are seeing similar processes right now: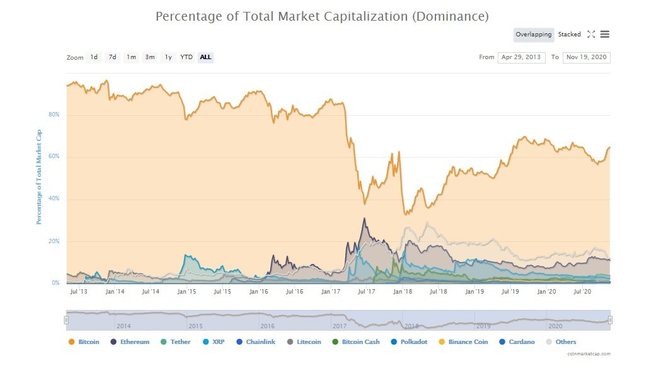 But altcoins at that time cost ridiculous money at all and the rate was also lying at the bottom, not keeping up with the growth of Bitcoin. You can check the prices at that moment and their dynamics yourself, just sit down first – they are really very small there.
The final conclusion is that it is simply not time for the explosive growth of altcoins. It will come after Bitcoin confirms the movement towards $ 50,000 and above.
In the meantime, everyone is buying Bitcoin, and we also have a theory about why Google Trends is not showing an increase in interest in cryptocurrency. Earlier, we talked about mindlessly investing new unafraid players in stocks because they are growing.
The situation can be exactly the same when we speaking about Bitcoin. We can buy it in the Square app, now PayPal has also connected to this market. Plus, Grayscale shares are traded on the stock exchange, by the way, with a 10% markup. But this does not bother anyone – people were given a buy button, on which it is so convenient to press with a thumb, and the graph shows that this thing is growing awesome now, which means that you have to take it, and few people will go into details of what kind of Bitcoin it is.
This state of affairs upsets us personally, as people who believe in a bank-free crypto economy. Once this idea was presented to the whole world by Satoshi Nakamoto.
But technical progress and the rules of trading on the exchange made it so that for the majority, and especially for those new to the crypto world. This is just a way to make money. What can I say, if these people want to re-launch Bitcoin to the moon, then we do not mind taking a ride on this train and have already taken first-class tickets for a long time?