Bitcoin Price Analysis: The Next Key Support Is Level Of $3,000
For the first time since October, 2015 the price of bitcoin was trading below the key support line, and the mark of $3000 can become the following significant level. 
According to the monthly chart the EMA 21 acting as the lower limit of the price was surely broken through on November 15th.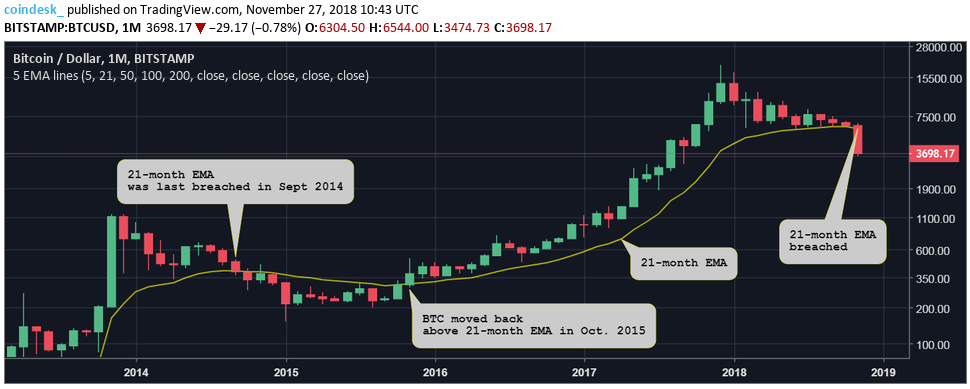 Last time such crossing happened in September, 2014. After that the price was below EMA 21 for 13 months, till October, 2015.
EMA 21, which has already become a resistance level, was passing through the $ 5896. At the same time, the price of Bitcoin is trading at around $ 3,700 on the Bitstamp exchange.
Dropping below EMA 21 marks a continuation of a protracted sell-off, which lasts from the second half of December last year, when BTC came close to the $ 20,000. This means that the path of least resistance is heading south.
In the short term, it is likely that prices will leave the deep oversold zone. However, the chances that Bitcoin will return to the level at EMA 21 are currently extremely low. It is unlikely that there will be any doubts that the monthly candlestick will close below this key support level.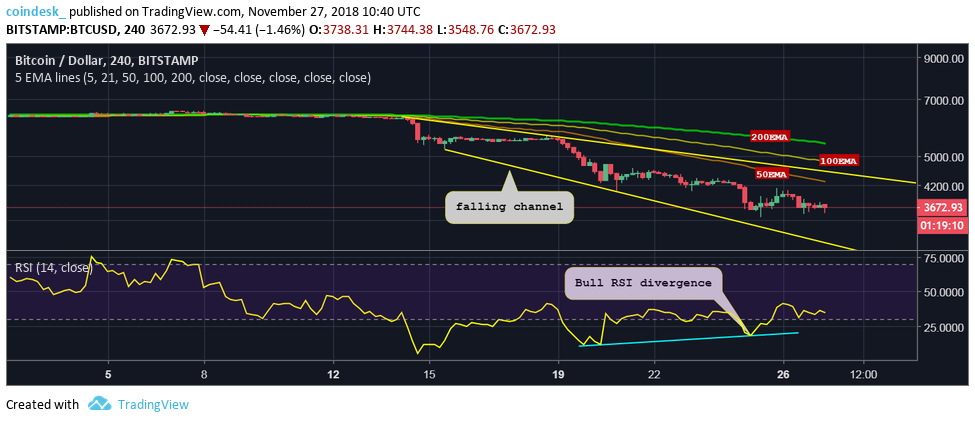 For the next 24 hours, the technical picture in the BTC/USD pair will remains bearish. The price of bitcoin is trapped in the downstream channel.
"Heavy" EMAs with periods of 50, 100 and 200 are arranged in series, one above the other, and directed downwards. It also speaks about the prevalence of sellers in the market.
At the same time, RSI shows bullish divergence. However, the model is credible only if the price of Bitcoin overcomes the resistance level of $ 4,000.
If Bitcoin will breaks down the $ 3473 corresponding to the minimum of 2018, the recent recovery to the $ 4000 mark can be regarded as a dead cat bounce ("dead cat jump" means a temporary price recovery after a prolonged fall without a subsequent change in trend). After that, the BTC price is likely to rush to the next level of psychological support at around $ 3,000.
On the other hand, price can test the level of $ 4,500.
Earlier, the head of Genesis Trading, Michael Moro, expressed the opinion that the fall in the price of bitcoin would stop at around $ 3,000.