December 11, 2020 /
Interesting
Bitcoin OTC Price Climbed Above $ 24,400 – What's Next Step?
Bitcoin hasn't hit $ 20,000 yet, in the case if you're looking at BTC rate on cryptocurrency exchanges. At the same time, investors buy the first cryptocurrency with a 30% premium through the Grayscale crypto fund. Bitcoin price has already risen above $ 24,400 at this platform.
We will give our answer to the main question for everyone who owns cryptocurrency today in this article.
Bitcoin Price
An argument often made by opponents of Bitcoin's growth is that no one will buy BTC at such a huge price. Nevertheless, MicroStrategy continues to invest in Bitcoin and bought another $ 50 million worth of cryptocurrencies at a price higher than $ 19,000:
Note that the story with MicroStrategy is partly dubious. If you look at the graph of the change in the value of the company's shares over the past 5 years, it is obvious that buying Bitcoin can save its operations. Therefore, MicroStrategy needs to squeeze this topic and believe in the best.
Why are they so confident in their actions? First, the price has been trading above $ 10,000 for 133 days, and the 50-week moving average is also above this level: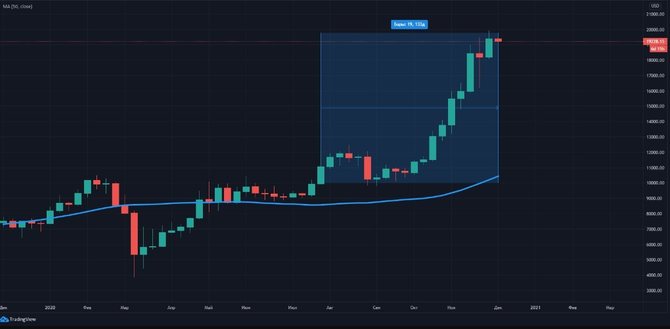 Below this line, Bitcoin fell only during the protracted crypto winter of 2018, as well as in March 2020, when the coronavirus pandemic crisis hit.
Not so big, but quite an important record for Bitcoin, is that the price is above $ 19,000 for seven days in a row: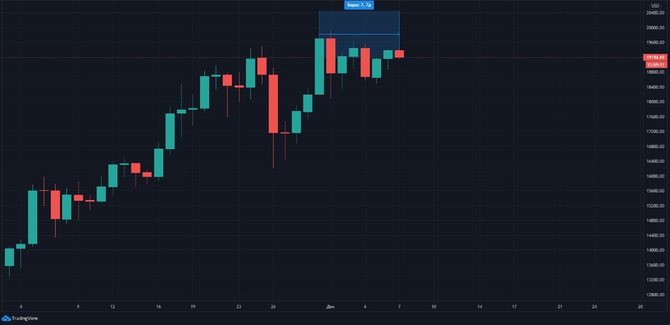 We draw attention to this for two reasons. Firstly, in the already distant December 2017, the rate was above this mark for only three days, and if someone managed to enter the market then and held it until now, then he could definitely finally sell everything. And the fact that despite all the bears' attempts to reverse Bitcoin for a correction, the price still returns above $ 19,000, tells us that there is even a buyer for it.
And do not forget about the trend that Bitcoin has been driving for $ 20,000 since mid-October: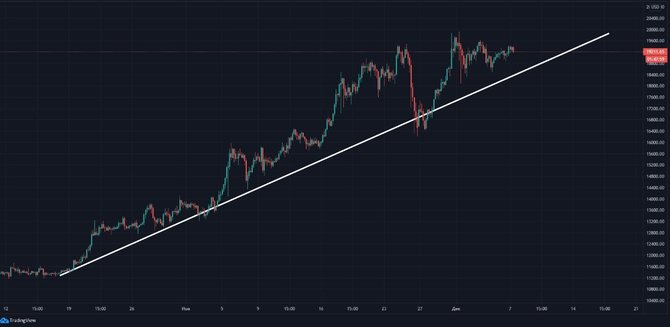 If it persists, then Bitcoin history may repeat itself and the decisive days will again be the period from December 17 to 19.
Only this time we will finally pass the level of $ 20,000. Moreover, in fact, it has already been passed and they pay much more for Bitcoin.
Adoption
When we say "cryptocurrencies adoption" we mean its usage in real life. Over the past couple of years, the number of Bitcoin ATMs, Bitcoin payment acceptance points, and bank cards linked to cryptocurrency accounts has increased significantly. Those who penetrate deeply into this area will certainly note the growth of the domestic labor market and services, where the calculation is carried out in BTC and other cryptocurrencies.
But all this has not yet reached the level to be noticeable to ordinary people in the street, for many Bitcoin is still something incomprehensible and distant.
However, these walls are gradually crumbling and largely not due to the growth of infrastructure, but as Bitcoin becomes available for purchase as an investment asset.
We have already said that in the last couple of years, and especially after the Covid-19 pandemic in March, everyone went to investors and this mass movement does not adhere to any principles that Benjamin Graham bequeathed and Warren Buffett follows his whole life.
Today people buy because they can, the main reason for choosing is the growth of an asset, since it grows, it means that it is necessary to take.
And it is extremely simple to do this because the exchange terminal today easily fits into your smartphone.
Remember, in 2018 and then in 2019, we looked forward to the approval of the Bitcoin ETF so that the cryptocurrency would become available to a wide range of people in the stock market. US SEC ultimately rejected all applications. But now we got Square and PayPal, in whose applications you can buy bitcoin without any problems. And on the OTC market, Grayscale Bitcoin Investment Trust of the crypto fund is traded. The price of one share is now $ 20.
And its equivalent is 0.00095153 BTC. With a little math and you will see that the price of a whole bitcoin from Grayscale is about $ 24,000. That's 27% more than the current Bitcoin price, but people are willing to overpay.
And we do not exclude that many of them did not even understand that much, that you can buy Bitcoin cheaper on the exchange and store it yourself. They are ready to overpay for the fact that the Grayscale fund offered them a convenient tool for trading Bitcoin, besides, they have a license for it from the same SEC.
And it seems to us that just such a trading acceptance, when Bitcoin can be bought from a phone without having to start a wallet or register on a cryptocurrency exchange, can bring the price to a new level. Especially now that the markets are booming.
Bitcoin appeared in January 2009, and since February 2009, the key US stock market index S&P 500 has been growing virtually non-stop. The most difficult period was in March this year, but thanks to the printing press, the stock quotes quickly returned to normal and the last couple of months have regularly set new price highs.
During this time, bitcoin has already gone through several market cycles, and if we look at the graph of its price in the long term, it has been constantly growing for 11 years and continues to do so.
Both in 2009 and 2020, the growth of stock market assets was provided not so much by the economy as by the depreciation of cash. And this trend may continue for the next couple of years, while the United States and other countries remove the risks of deflation and bring inflation back to the required level.
This is extremely high risk because on the one hand, they may fail and the world economy will follow the Japanese path. Inflation will accelerate so much that it will be difficult to bring it under control.
In both cases, this suggests that assets with a clear and fixed issue will grow in value. And since Bitcoin is one of them, we just have to wait a bit for the price to reach a new level.
And for crypto-adepts, the growth from $ 19,000 to $ 50,000 may seem like something very big. For those who buy through Grayscale, and we are sure there will be more and more such funds, the price will change from only $ 23 to $ 60. And this is not at all an overvalued market in the understanding of an ordinary investor, an urgent need to buy even more.