January 20, 2022 /
Forecasts
Bitcoin For $40,000: FOMO In 2021 And FUD In 2022

This tweet best shows the difference between the cryptocurrency market in 2021 and today.
https://twitter.com/DocumentingBTC/status/1483144664538656771?s=20
The price is exactly the same, but a year ago the market was in a state of extreme greed at $ 40,000, and today we are already experiencing horror when the rate approaches the same $ 40,000.
Why is this happening? After all, it's obvious that it's not just that the price was going to this milestone from below, and now it's going down to it. And the reasons are that more and more often we hear about the threat of bitcoin's surrender. And the US stock market was on the verge of collapse. Along with it, cryptocurrencies usually fall.
BTC
The anomaly with the altcoin season, which seems to have come, according to the index of the same name, ended ahead of schedule.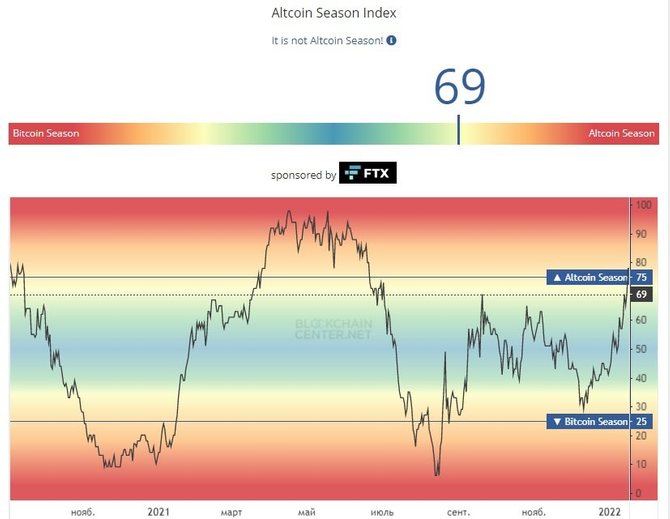 Altcoins have not shown massive growth faster than bitcoin, and all for the reason that bitcoin has not shown any growth at all. We are still waiting that if bitcoin holds $42,000, we will have a chance to rebound to at least $45,000 and the rest of the coins against this background may also show growth, but without a full-scale reversal of bitcoin back to the bull market, this will not last very long.
We have a "death cross" with intersection of 50 MA and 200 MA. If we assume that BTC repeats the correction of last summer, then after a similar cross, another local minimum was set.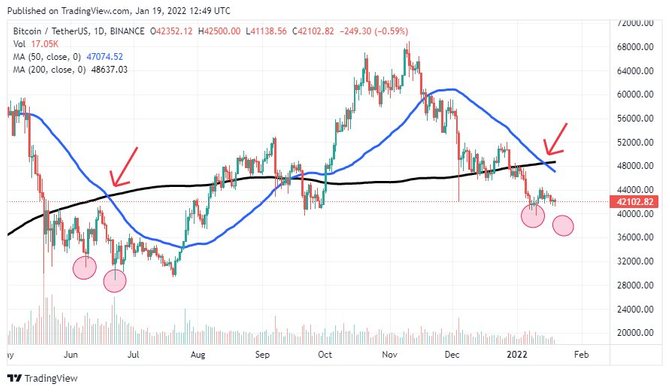 And now BTC finally became the very bottom below which coin did not go and in the future we got a new maximum.
It is worth noting that such a minimum can be in the range of $39,000 to $38,000: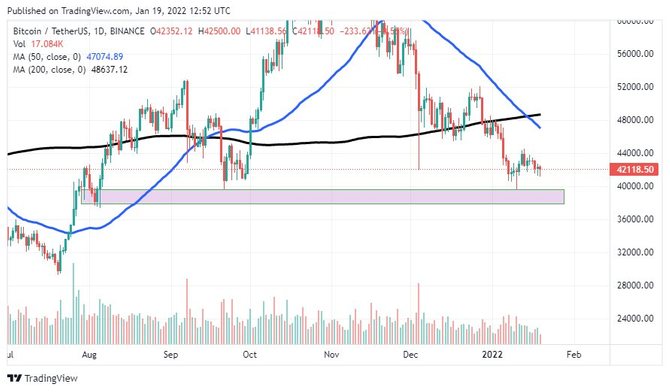 We don't like this option for two reasons. The first one is actually the last strong support, and we can fall below up to $30,000. And the second, in order for this point to really become a reversal, some strong reason is needed. Elon Musk this morning on Twitter promised an early return to the moon and urged to believe in the future.
But the market has not yet been led, we can only hope that Tesla's report for the fourth quarter of 2021 with a profit will be released soon.
Going back to bitcoin, analyst Benjamin Cowen believes that in order for bitcoin to turn around, it first needs to go through capitulation. He points to such key moments in the history of bitcoin as the bottom in December 2018, the collapse in March 2020 and the fall in May 2021.
After each of these events, a strong bull market came and the price went steadily up. But they always started with capitulation, which means a strong drop in the market by 50% in a couple of days at once, and an important point is that this should happen on very large trading volumes. The drop in bitcoin that we saw at the beginning of December 2021 looked terrible in percentage terms, but there were no large trading volumes then. That is, it was not a capitulation, and for the market to truly become bullish, it has yet to go through something similar. The analyst does not know whether this will happen tomorrow or in a few months. Statistics show that before moving to strong growth, you need to survive the capitulation.
FUD
We saw off last year with talk that in Russia 2022 could begin with a ban on cryptocurrencies. And the Central Bank has not abandoned its idea to block any circulation of cryptocurrencies in the country, including just the opportunity to buy them. And, it seems, they have begun to act, it is reported that the regulator has sent requests to the main banks regarding their operations with a number of cryptocurrency exchangers. That is, the checks have already begun and the next logical step is blocking.
It is necessary to recall statements in Europe about the need to limit the mining of bitcoin and Ethereum. Eric Teden, vice-chairman of the European Securities and Markets Authority, made it, and he was talking outright nonsense for anyone who understands cryptocurrencies, like there is a Proof-of-Stake, let's make bitcoin switch to this algorithm and everyone will be happy.
S&P 500
Yesterday was an extremely bad day for the US stock market, for example, the S&P 500 index lost more than 1% yesterday, and since the beginning of this year it has already fallen by almost 5%.
This cannot but affect bitcoin – stocks and cryptocurrencies are risky assets and when the former fall, the latter follow. The main reason for investors' worries is the Fed's rate hike too quickly, as well as the sale of $8 trillion worth of assets from their balance sheets. And they will do this in order to curb inflation as quickly as possible, which in the US has already reached 7%, which is the maximum for the last 40 years.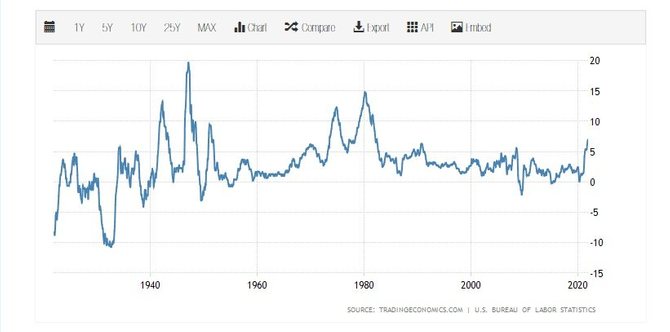 Add omicron here, when they register a million cases of infection per day and expensive oil — they give $88 again for a barrel of Brent.
The situation is bad, but there is a way out of it. The US and China have agreed to fight expensive oil and if they succeed, inflation will remain at the current level. Consequently, the Fed will have no reason to raise the rate ahead of schedule, and stock investors will return to the market with purchases again. Thus, there is a chance that we will see a reversal on the S&P 500 back by 4,700 points, which in turn will support bitcoin, which will once again try to draw us a rebound to $45,000 to begin with.
That's what's happening on the market today, we hope this information will help you form your own picture of what is happening.