July 21, 2021 /
Interesting
Bitcoin Dropping Below $ 30,000 – Further Decline Or Resumption Of Growth
Bitcoin fell below $ 30,000, for altcons the fall is even greater, and we can now assert the beginning of the BTC season. Today in the article we are discussing whether the current bitcoin dump will cause a new panic sell-off in the cryptocurrency market, as it was on May 19.
$ 30,000
The bears got their way and pushed the price below the psychological level of $ 30,000 yesterday. Notice how the trading volume rose on 4-hour chart during the fall: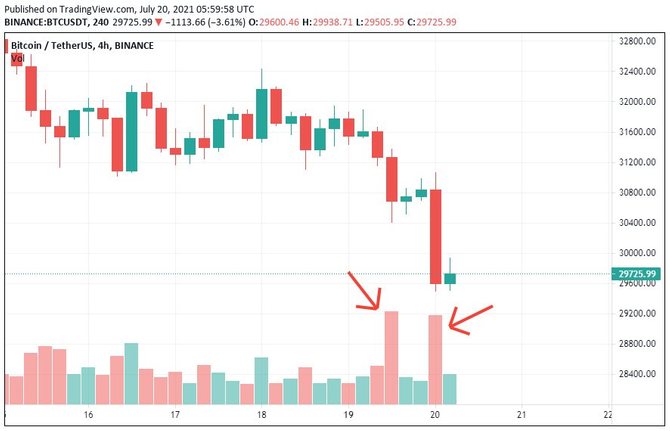 But what is not visible is the reciprocal volumes from buyers, which could bring the price back and restore the status quo. But if we look at daily volumes, they are not impressive and this is already an argument in favor of bulls: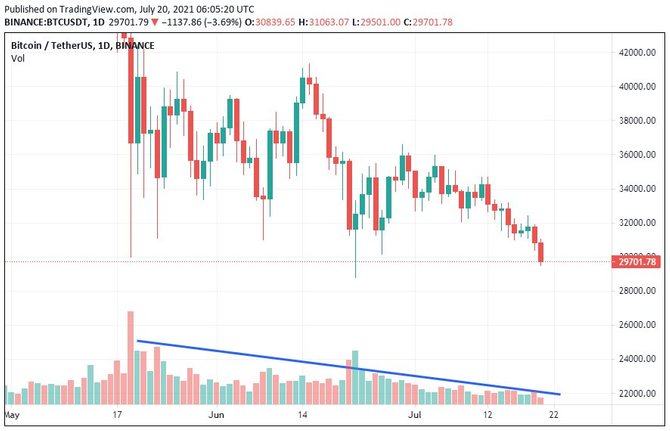 This indicates a limited potential for bears, by the way, they are already continuing to close short positions: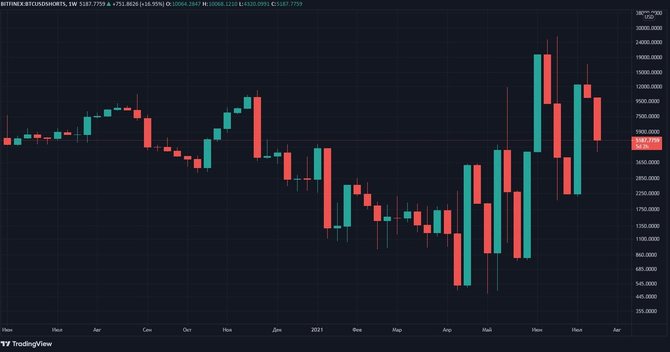 Bitcoin's Fear and Greed Index is only 19 points at such a low price. For comparison: on June 22, with the previous fall below $ 30,000, it fell to 11 points and this is one of the lowest values ​​for the current year. Based on this, it can be concluded that the majority of market participants are ready for such a development of the event. And if we were expecting a drawdown, therefore, we will not panic and sell everything at a loss.
Altcoins
We open the altcoin season indicator and see that it has officially moved to Bitcoin zone:

What does it mean? This index is based on assets that have grown more over the past 90 days – coins from the TOP-50 by market cap. And now we can see that Bitcoin is back to the market leader and then everyone who has a full crypto portfolio of altcoins will have to be patient.
This buildup has been going on for more than a month when Bitcoin is growing faster than other cryptocurrencies. But on the other hand, they fall by a larger percentage when bitcoin is again in the red zone. Today the picture is similar, -7% for Bitcoin and immediately from -8% to -15% for altcoins. It goes to all coins without exception, for example, Cardano is almost $ 1, XRP is moving by $ 0.5, Polkadot's course will soon hit $ 10, Litecoin is almost $ 100, and the list goes on and on.
Should you sell altcoins now? We do not provide financial advice, any decision whether to buy or sell is a matter for yourself. Obviously, if bitcoin falls even lower, your altcoin losses will grow. But there is a chance that in the future the market will turn around and the coins will return to profit, everything here depends on bitcoin and, of course, on those altcoins that you have chosen. It's just that if you are sitting in something incomprehensible, like, for example, another hype chip ANON INU, when they managed to cram a hype on Anonymous hackers and meme cryptocurrencies like Dogecoin into one token, then the ending may be like this: they did not have time to appear on the market, how they merged into zero.
On the other hand, if you have high-quality altcoins, with a team, future updates, your own niche in the market, community support and other goodies, then there is a good chance that their prices will return to growth after the Bitcoin reversal and receive a very good profit. In 2017, which was the most successful of the latter, from June to December, it was also the Bitcoin season, when altcoins took a decent roller coaster ride. But in winter, almost all of them shot and renewed the maximums. And as you know, the history of cryptocurrency prices is cyclical and often repeats itself.
Forecast
Will we get a 30% drop in a day, as it was on May 19 again: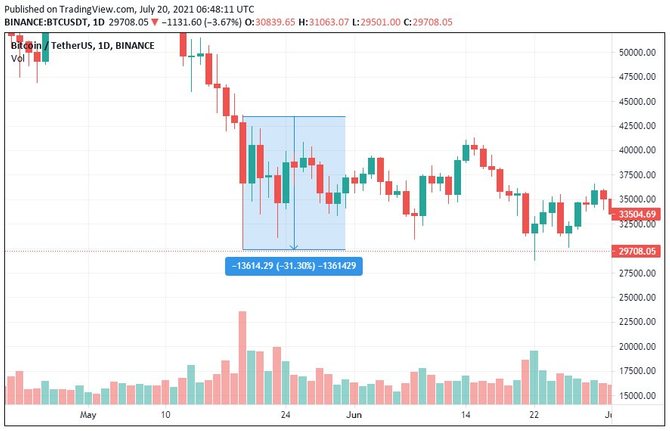 Here are some market studies to help answer this question.
Let's start by trading altcoins and the demand for dollar loans on the Bitfinex exchange. Whenever the focus of futures trading shifts in favor of altcoins, it signals an overheating of the cryptocurrency market. Everything is clear and known for a long time. But the second part is more interesting: before a strong correction, the lending rate on dollars rises. That is, the bulls are sitting long, and even with a shoulder, for which the market punishes them with liquidations and this leads to a cascading fall in the rate. This graph shows how this dependence works: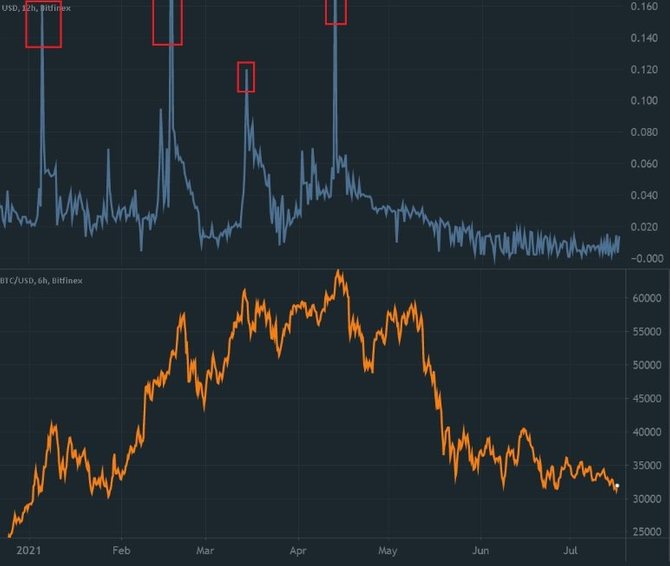 And now there is no peak in the lending rate, which means there is no fuel for the sale either. Bulls have learned the hard way and try to act with minimal risk.
Another study shows that most bitcoins that are currently being traded in the market close at a loss. That is, purchases were made in the last six months at a price above $ 30,000, and the market has not yet gotten rid of these buyers. The lower the rate, the more difficult it is for them to remain calm and not sell with the expectation of further growth. At the moment, 33% of the bitcoins in active circulation are still in negative territory, and the next important support for current coin holders is the price of $ 26,500.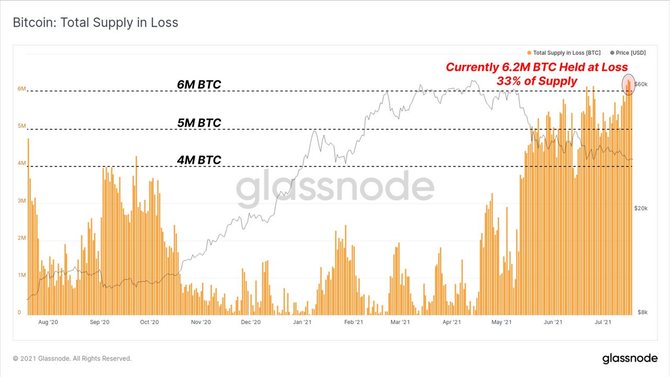 Whether all those who are at a loss will be able to keep the price further, only time will tell.
But if you look at the data of the balances of the wallets of cryptocurrency exchanges, they indicate a monthly outflow of 36,000 BTC: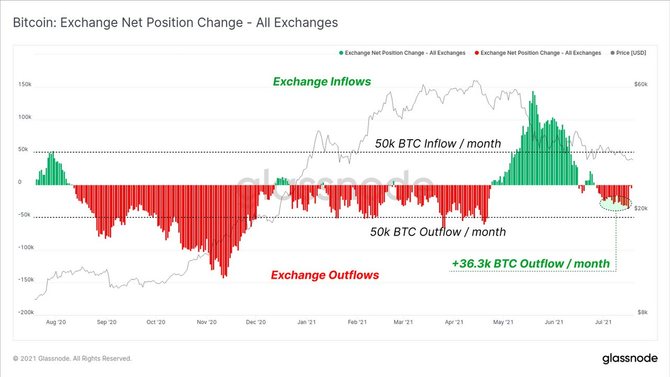 This is a good sign, which indicates the desire of the current owners not to sell cryptocurrency.
We also see that miners, despite all the difficulties with escaping from China, accumulate BTC on their wallets and do not sell them: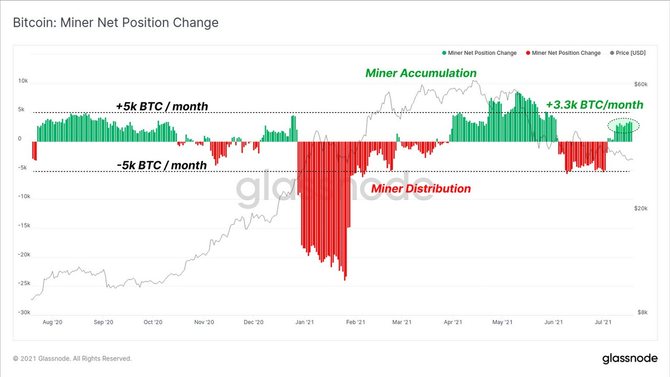 According to some sources, this is China, where ASIC miners are cheaper to crush with a roller and turn in metal, according to others, this is the confiscation of a large batch of equipment in Malaysia, where the miners thought to move. But even in such conditions, miners do not sell Bitcoin.
And another graph that shows that after the sale in May during the current flat, long-term holders are accumulating cryptocurrency: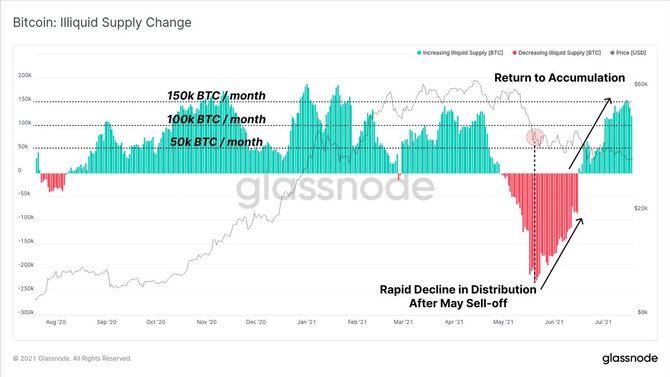 To summarize: despite the fall below a psychologically important level, there is no panic in the market, so each new step down will be given to the bears with even greater difficulty. But buyers are not in a hurry yet, their actions are extremely restrained, everyone is waiting for some important event. Possibly July 21, when Katie Wood, Jack Dorsey, and Elon Musk will go to the common stage to talk about Bitcoin.