What Is Behind The Sharp Rise In The XRP Price
Ripple price has shown a sharp rise within last 24 hours, rising to a certain point to $ 0.39. Were there any specific factors behind this growth, or was it a question of a jump in the majority of cryptocurrencies related to the growth of Bitcoin in general?
As you know, the market of the most liquid altcoins traditionally follows the Bitcoin price, and this factor definitely cannot be excluded. This, in particular, is testified by the data of CoinMarketCap, according to which almost all leading cryptocurrencies have increased in price over the past week simultaneously with BTC.
At the same time, a sharp increase in XRP draws special attention to itself. So, if as of 11:00 UTC on Tuesday, May 14, Bitcoin rose in price by 12.97%, then the Ripple token showed an increase of 20.10%. On a seven-day period, these figures were 35.86% and 25.83%, respectively, and from this point of view, on the weekly segment XRP is second only to the traditionally speculative Bitcoin Cash (34.29%).
However, it is impossible to throw off other factors behind this increase in XRP. So, on the eve it became known that the second largest stock exchange in Germany, Börse Stuttgart, gave the green light to listing exchange notes (ETN) linked to Litecoin and XRP.
In particular, Börse Stuttgart allowed the placement of four securities issued by the Swedish supplier of stock notes XBT Provider and tied to Litecoin and XRP courses, which are quoted in pairs with the euro and the Swedish krona, respectively.
"For the first time in German history, investors can buy and sell stock notes based on Litecoin and Ripple (XRP)," said Jürgen Dietrich from Börse Stuttgart.
However, the positive news on XRP has not been completed. Later that day, the leading US cryptocurrency company, Coinbase, announced that XRP was available for buying, selling, storing, and transacting by users of the main platform Coinbase.com from New York State.
XRP (XRP) is now available to Coinbase users who are New York residents. New Yorkers can now log in to buy, sell, convert, send, receive, or store XRP on https://t.co/bCG11KMQ6s or using our iOS and Android apps.https://t.co/5VE1WklrWo pic.twitter.com/Zp5odgaoHs

— Coinbase (@coinbase) May 13, 2019
In general, the XRP price chart from the beginning of the year is as follows: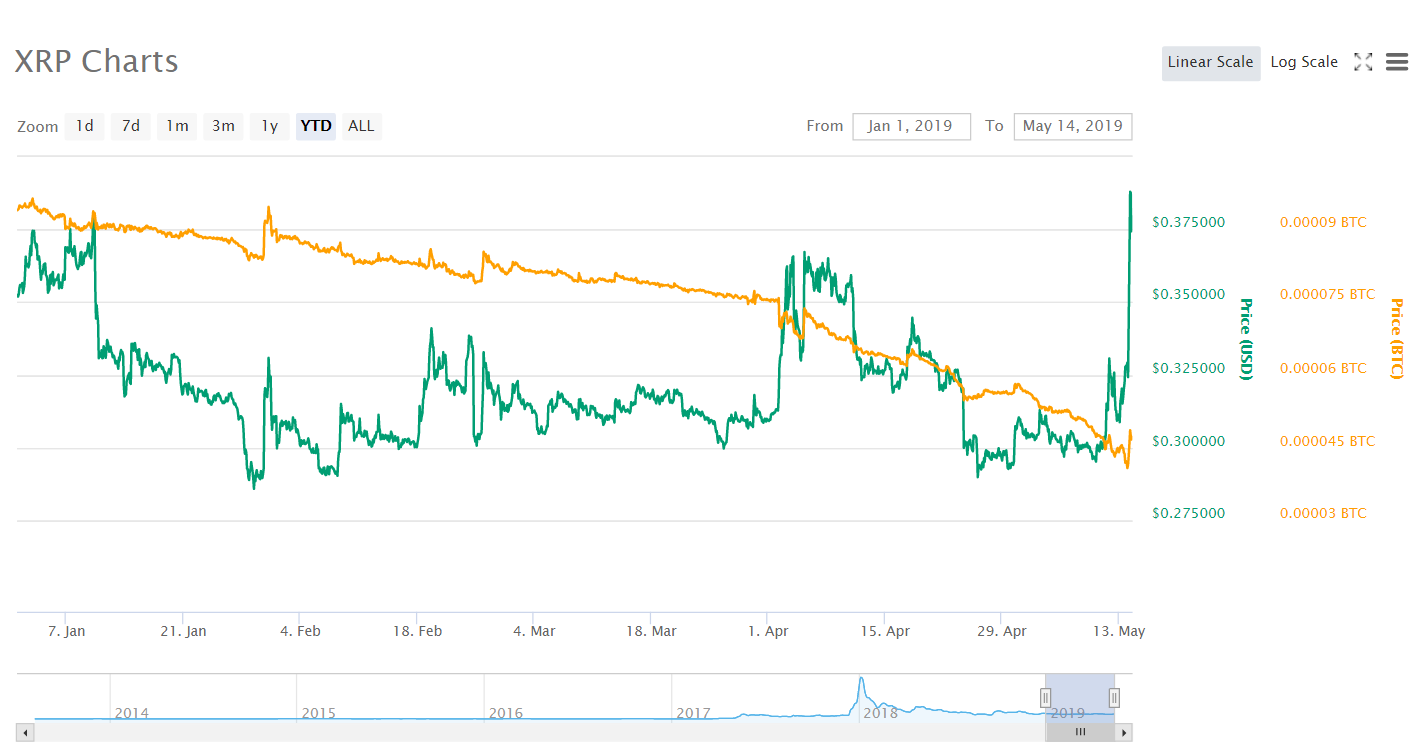 As you can see recent events have allowed the token to reach a new maximum of 2019 (in relation to the USD), although it is still far from its previous heights.
Recall also that from May 1, the XRP token began to display the second largest stock exchange in the world, Nasdaq.