Altcoins Price Analysis: Downward Dynamics Continue
Events of last week in the cryptocurrency market "have set the tone" current and, perhaps, the next week. Some coins are "at their peak", some are slow going. In the near future, one can expect a pullback or a stop in the development of a downward trend. But the main downward dynamics continues.
Many cryptocurrency enthusiasts called Ethereum a favorite of decline, because the speed of removal from the last significant minimum is simply staggering. The main purpose of the current impulse of decline is the support line for the medium-term downtrend corridor and a psychologically important level of $ 100. The short-term downtrend tends to the support line at $ 155. At the same time it is visible that on MACD and Stochastic indicators convergences which a signal of the future break to the line of resistance — to the level of $220.
Bitcoin Cash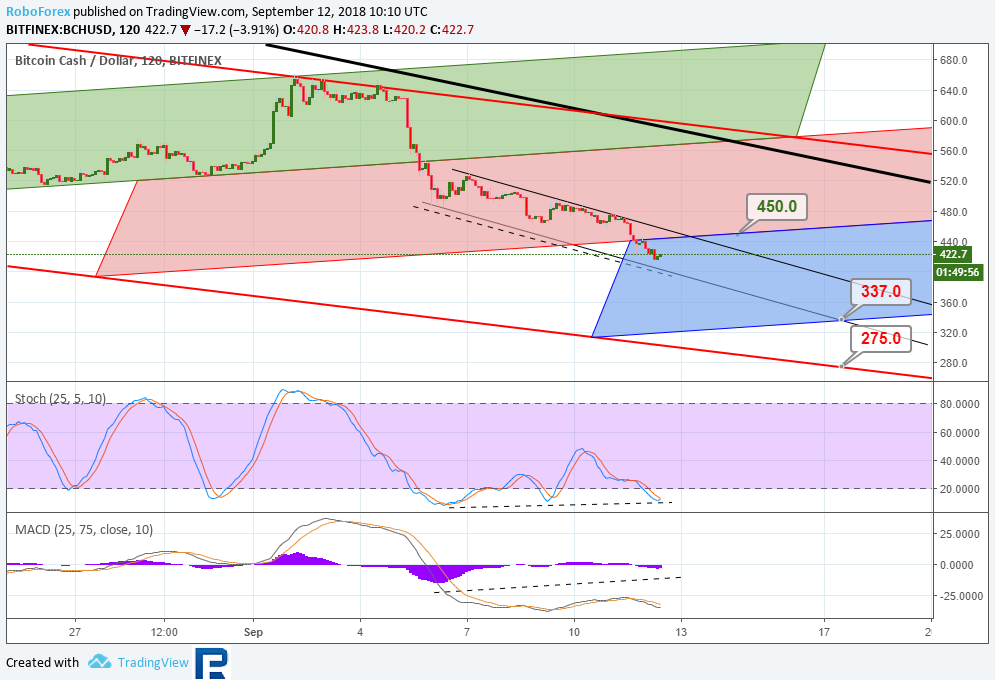 BCH/USD demonstrates the continuation of the development of the downward trend. According to 2-hour chart the quotes are aimed at the line of support for the current downward trend - the level of $ 275. At the moment, there is overcoming the support of the projection channel with the move to the next one. The support line for the new projection channel is the immediate goal of the decline. It should be noted that the indicators Stochastic and MACD formed convergence, which indicates the weakening of the downward momentum. This circumstance can warn of a rollback to the resistance level at $ 450.
EOS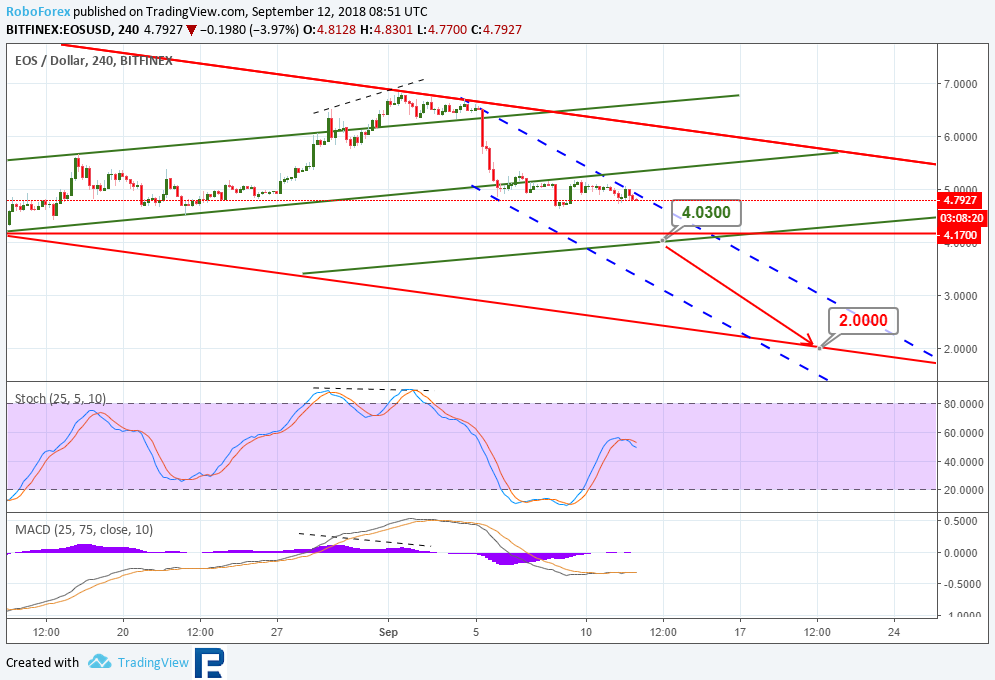 EOS/USD has overcome the support of the last growth corridor. After the breakdown and testing of the overcome line, the quotes are sent to the main low at $ 4.17 and the support line of the projection channel at $ 4.03. But the main purpose of the current impulse is to support the main downlink at $ 2.00. Achieving this goal is possible only after overcoming the basic minimum.
Litecoin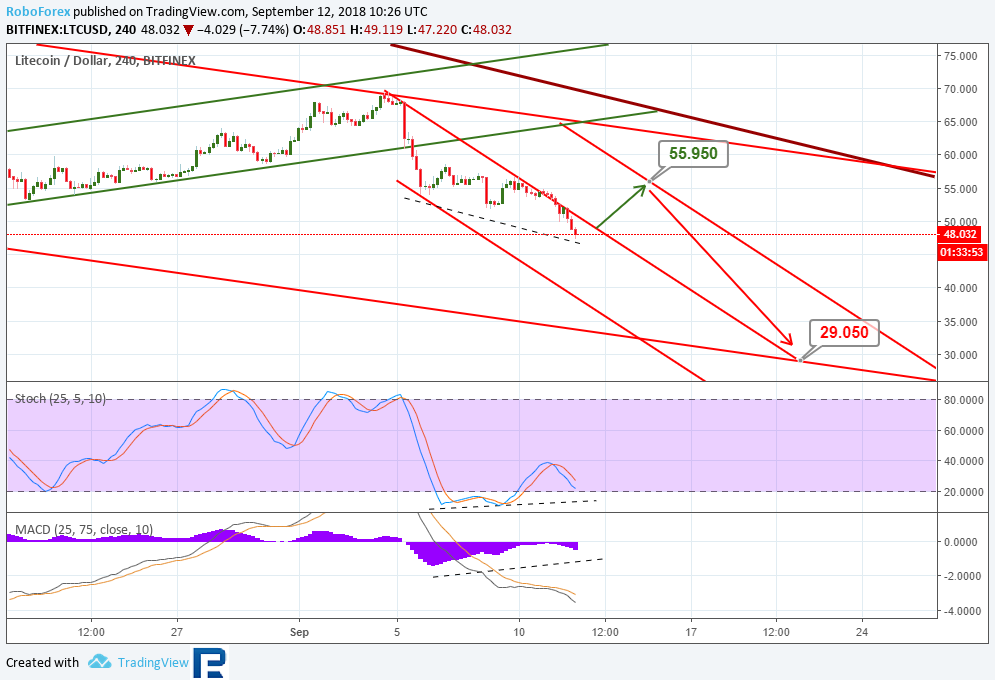 Having overcome the support line of the corrective upward trend, the market began to form a new impulse of a downtrend. The main objective of the current trend is the support line and the level of $ 29.05. Given the formation of convergence on MACD and Stochastic, we should expect a rollback upward, into the projection channel near the level of $ 55.95.
Ripple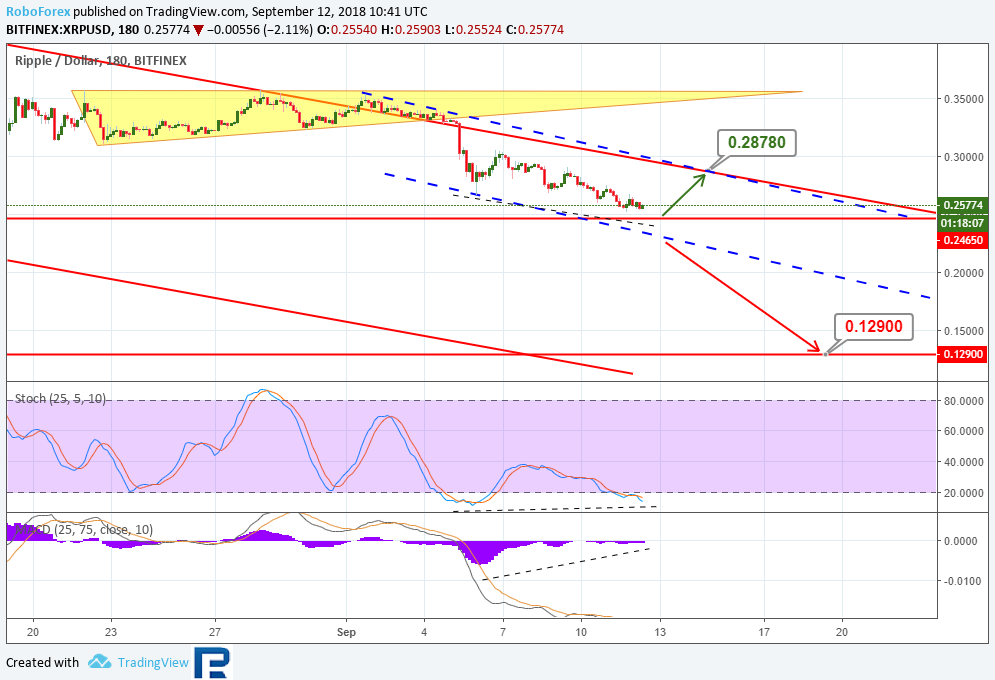 XRP/USD after exiting the consolidation "Triangle", aimed at a significant minimum - 0.2465. Approach to it, as well as the formation of convergences for MACD and Stochastic, may soon trigger a pullback to the resistance line of the main corridor - around 0.2878. But, if we look at the potential for the development of a downward trend in the medium term, we can assume that the market tends to a fractal support level of 0.1290.