February 17, 2018 /
Beginners
All What You Need To Know About The Upcoming Hardfork Litecoin Cash
On 18 February, at the block 1371111, will happen hardfork of the blockchain Litecoin called Litecoin Cash. The new chain has already criticized by the creator of "digital silver" Charlie Lee. He stressed about the possible fraud by any forks LTC.
First, the name and the logo of the project has obvious similarities with Bitcoin Cash.
The official press release on the upcoming split released on Monday, February 12, and as it says, after the snapshot of the network at block 1371111, all LTC holders will be able to receive LCC coins in the ratio 1 LTC = 10 LCC (Litecoin Cash token). It is also noted that unlike "original" Litecoin, Litecoin Cash uses Proof-of-Work. The network security is provided by the SHA256 algorithm.
According to the press release, this allows an extension of life for older Bitcoin mining hardware, which is no longer powerful enough to mine Bitcoin. The lower anticipated difficulty of mining Litecoin Cash will put such legacy hardware to effective use.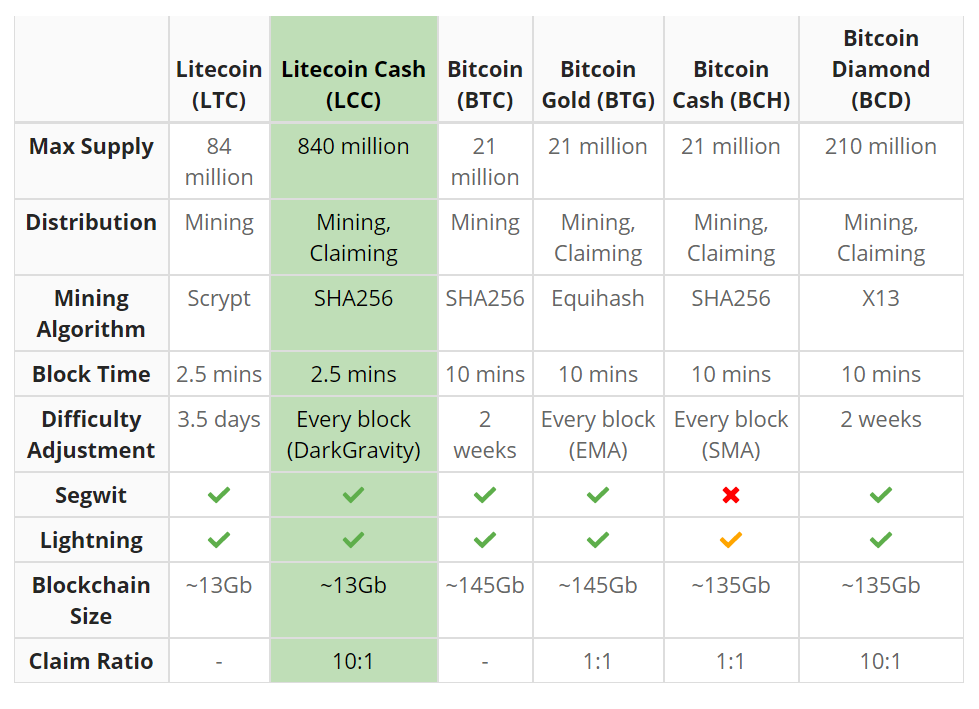 It is also claimed that Litecoin Cash will have a significant advantage over other major SHA256 coins as Bitcoin and Bitcoin Cash. If the average time to create new BTC and BCH block is 10 minutes, LCC will have 2.5 minutes, which will provide a faster confirmation of transactions.
In comparison with Litecoin itself, a new fork, has a more preferable recalculation of complexity. It is based on the algorithm DarkGravity, which, in particular, used by the cryptocurrency Dash. In addition, users are promised a 90 % reduction in commissions, which should be an additional incentive to use LCC in commerce.
To avoid confusion, Litecoin Cash will use a new address prefix, as well as use replay protection. Like the original Litecoin, the new fork supports Segregated Witness (SegWit) and Lightning Network protocols.
Criticism of Litecoin Cash
Charlie Lee, stressed in Twitter about using of fake accounts that are acting on his behalf and offering credulous users "bonuses" in LTC, also stressed that neither he nor the Litecoin team are involved in any forks.
PSA: The Litecoin team and I are not forking Litecoin. Any forks that you hear about is a scam trying to confuse you to think it's related to Litecoin. Don't fall for it and definitely don't enter your private keys or seed into their website or client. Be careful out there!
This idea is widely born in social networks and forums, but the developers of Litecoin Cash in response to these statements have submitted a counterargument:
Over the past few months, markets have become accustomed to the forks of bitcoin, but Litecoin Cash brings this concept to a new plane and is potentially aimed at a new spectrum of users. In this regard, the development team is committed to educating users and responsible forking.
They also emphasize the importance of respecting security rules for private keys and encourage users to move their LTC to other addresses and only then use the old address to receive LCC.
Judging by the description on the official website, the project team has not yet developed its own wallets, but it is expected that they will be available for computers on Windows (64-bit), Mac OSX and Linux. Mobile versions are not mentioned at this stage, however, anyone can read the source code on GitHub.
Attention is drawn to the fact that, unlike the vast majority of the recent hardforks of bitcoin, the Litecoin Cash team does not mention exchanges on which the coin will be traded.
Another interesting point is the project team. The site of the project lists the names of developers and posted their photos, but fans of conspiracy theories also should not pass by the head of the PR Department of the project. Indicated as "Roger", it is presented instead of a photo, it is represented by a unicorn image, and in the description it is called "an experienced project manager for large exchange platforms".
"Involved in large — scale cryptocurrency projects over the past five years, he is also a unicorn," says about Roger.